Last Updated on September 5, 2023 by Reiner Chase
To rock a hot pink shirt in style, pair it with neutral bottoms like black or white pants. Accessorize with complementary colors and keep makeup subtle. Hot pink can make a statement; just balance it with classic pieces for a chic look.
What To Wear With a Hot Pink Shirt
1. Denim Jeans: A classic pair of blue or black denim jeans is the simplest yet fashionable built-in to complement the dazzling vibes of a hot pink shirt. The contrast created by the neutrality of denim and the vibrant pink makes it an eye-catching and flexible outfit.
2. Monochrome Trousers: If one prefers something more sophisticated, pair up the hot pink shirt with monochrome trousers. It offering an elevated aesthetic that is perfect for office days or business meetings.
| Shirt | Trousers |
| --- | --- |
| Hot Pink | Monochrome Black |
| Hot Pink | Monochrome White |
3. White Shorts: For those summertime adventures, nothing beats pairing a hot pink shirt with white shorts. This combination offers a refreshing and chic look that perfectly suits beach trips or afternoon picnic dates.
4. Leather Skirts: Push fashion boundaries by pairing a hot pink shirt with a sleek black leather skirt. This ensemble creates an edgy yet feminine look that's great for evening parties or night-outs in town.
5. Neutral Blazers / Jackets: In chillier weather, team the hot pink shirt with neutral-toned blazers or jackets such as beige, brown, or even gray to balance out the splash of color.
6. Vibrant Printed Bottoms: If you're feeling adventurous, opt for vibrant printed bottoms – be it skirts, shorts or trousers, and pair it with your hot pink shirt for that bold statement.
7. Pastel Bottoms: For a more subdued but effortlessly stylish appearance, consider pairing your hot pink shirt with pastel bottoms such as mint green or baby blue to create a soft contrast.
To finish off these looks in style, remember to pick neutral toned shoes and accessories that won't compete with your statement piece – your hot pink shirt!
How Do You Style Hot Pink Shirt?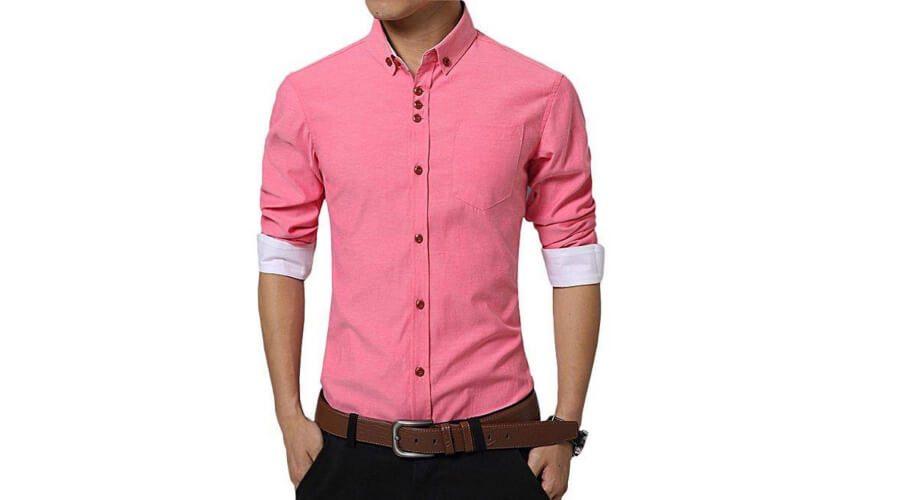 Although pink can look stunning with various colors, some hues work best with hot pink. Subdued tones work well with the pink color. Such tones include navy, black, white, and grey.
Combining your colors in an aesthetically pleasing way is vital. A safe choice is pink with beige, grey, and white shaded with darker shades. Once comfortable with the basics, you can try more creative combinations.
When done right, pink can make you stand out as a style icon. If you have fair skin, it's advisable to choose bolder colors, while if you have dark skin, choose lighter colors. Pink is quite a flattering color for both sexes. Choose shades that complement your skin tone.
When it comes to menswear, simplicity is critical. A balance of colors is essential to reveal your unique personality. For instance, adding pink layering pieces to a winter wardrobe offers contrast, peeking out from under heavier outerwear. The difference breaks up the monotonous look.
What Does It Mean To Wear A Hot Pink Shirt?
 Seeing a man wearing a hot pink shirt usually means he is confident, fashion-forward, and doesn't have any qualms about expressing himself.
 We can't deny that pink is a versatile color. Pink looks good on any skin tone. Men with darker complexions look good in lighter pinks such as carnation pink, cherry blossom, and lavender pink.
 Hot Pink Shirts For Men
1. Hot Pink Short Sleeve Shirts
The pink short-sleeved design is perfect for wearing chinos or shorts in the summer. This kind of shirt looks relaxed and stylish. Dress down this shirt with lightweight cotton fabric to stay calm as temperatures soar. You can also choose a light cotton shirt to rock casual wear.
Alternatively, you can choose pastel pinks if you prefer a subtle vibe or brighter salmon tones for a more vibrant look.
2. Hot Pink Long Sleeve Shirts
It is a noble idea to invest in a pink long-sleeve shirt. Not only is this a significant change from your regular white or blue shirt, but also, pink shirts are flattering and versatile.
The pink long-sleeve shirt can work for any occasion, whether it's a business function, cocktail event, semi-formal gathering, or a casual gathering with friends.
3. Hot Pink T-Shirts
 A pink T-shirt can be an excellent choice for those who prefer a casual look. Wearable with chinos or jeans, a pink T-shirt is surprisingly versatile. You need to pick the perfect shade for you.
Pick a tone that flatters your complexion. For example, a washed-out or dusky pink will convey an understated appearance. For a bolder look, select a sorbet hue or watermelon hue. It would be wise to mind your skin tone when choosing your pink.
4. Hot Pink Striped Shirt
A pink-striped shirt may be the right choice for you if you are trying to ease into wearing pink. Your shirt will be easily wearable when you add a subtle hint of color. Pick the right style based on your needs – for instance, if you plan on wearing it to work, choose geometric patterns instead of more intricate designs. For weekend wear, however, opt for a striped T-shirt.
5. Hot Pink Polo Shirts
 A pink polo shirt makes a worthwhile addition to your wardrobe, even if it's not as versatile as a standard pink button-up.
Pink polo shirts make a stylish and straightforward garment ideal for the office on casual Fridays and weekend sports and outings. Pair it with dark denim or chinos and white sneakers for a stylish yet practical outfit.
 Hot Pink Shirt Outfits
1. Blue Suit with Pink Shirt
A blue suit and pink shirt combination is a thoughtful look for an upcoming cocktail party or summer wedding. Stylish and unique, this look is perfect for men who like to stand out.
Elegant and eye-catching, this outfit will suit gents who are passionate about their style.
A range of blue shades can be worn with the outfit, such as pale hues, deep midnight tones, and even cobalt, which means there's an option that suits every skin tone.
2. Navy Suit With A Pink Shirt
Donning a pink shirt with a navy suit is one of the best ways to rock the trend. It's both stylish and flattering. Just ensure you match the intensity of the shirt's color to your suit's.
Adding dark brown or black shoes and a navy tie completes this fashionable look. You can also wear a pink pocket square to add to the fashion-forward appeal of this look.
3. Grey Suit With Pink Shirt
A Grey suit with a hot pink shirt is a classic combo of a grey suit and a pink shirt that never fails to look stylish and sophisticated. A pink shirt is more intriguing than your standard white shirt and will add a touch of flair to your wardrobe without overwhelming you.
For a well-balanced appearance, pair pink shirts with similar shades of suits, for example, pink shirts with light gray suits or pink shirts with dark grey suits. Finally, wear classic black or brown dress shoes to complete the look.
4. Black Suit With Pink Shirt
 It is always appropriate and stylish to wear a black suit for formal functions. However, the typical black case and white shirt combo can sometimes feel a little dull; if you want to stand out, try switching that white shirt for a pink one. A pink shirt will instantly add a touch of flair while still maintaining an elegant appeal. Consider avoiding overly shiny suits or patent leather accessories when wearing a pink shirt to avoid looking jarring.
How To Wear A Pink Shirt Tips
Pink shirts are an excellent choice for cocktail ensembles that need a dash of color.
Make sure the shade of pink you choose complements your complexion and the rest of your outfit.
You should wear a slim-fit pink shirt with neutral or dark pants, dress shoes, and a belt for a business event.
Wear a relaxed pink shirt with dark jeans and desert boots or sneakers for a casual look.
Shoes You Can Wear with a Pink Shirt
1. Classic White Sneakers
A staple in anyone's wardrobe, the classic white sneakers are versatile footwear that pair well with almost any outfit in the injection. Their ease of wear and comfort make them a safe yet stylish choice to complement a pink shirt.
2. Light Brown Leather Loafers
Light brown leather loafers ooz sophistication and class. This classic shoe is an excellent contrast to the playful tone of a pink shirt, creating a balanced outfit that emanates professionalism.
3. Navy Blue Boat Shoes
Boat shoes are an awesome idea if you are aiming for that leisurely laid-back look. Paired with a pink shirt, navy blue boat shoes create an adorable sunny day outfit that is perfect for weekend outings.
4. Tan Derby Shoes
For men who lean towards formal occasions, sporting tan-coloured derbies with your light or hot pink shirt can craft a daring statement; one that blends an adventurous spirit with a traditional essence.
5. Black Formal Shoes
Black formal shoes with your pink shirt can offer an assured sense of elegance specifically when styled appropriately for business or formal occasions.
6. Pink Pumps (for women)
Matching your pink top with pink pumps can make for a great monochromatic look that's both fun and sophisticated to see.
7. Strappy Sandals in Neutral Colors (for women)
Neutrals are always reliable footwear choices when in doubt about color coordination since they blend well with any color – pink shirts included.
| Shoe Type | Suitable For | Occasion |
| --- | --- | --- |
| White Sneakers | Casual wear, Both Men & Women | Casual Outing, Daily wear |
| Light Brown Leather Loafers | Semi-Formal Wear, Men | Office, Official meetings |
| Navy Blue Boat Shoes | Weekend Wear, Men | Weekend Outings |
| Tan Derby Shoes | Formal Wear, Men | Business Meets, Formal events |
| Black Formal Shoes | Formal Wear, Men & Women | Business Meets, Formal Events |
| Pink Pumps | Casual/Semi-Formal wear, Women | Parties, Casual Outing |
| Strappy Sandals in Neutral Colors | Casual/Semi-formal wear, women | Office, Casual Outing |
Clothing harmonization greatly hinges on personal style preferences but it's undeniable some certain fitting suits enhance particular colors better and more often than not lead to more aesthetically pleasing outcomes.
Conclusion
Adding hot pink to your wardrobe is not just a fashion statement; it shows a comfortable man in his skin and security in his sexuality. He doesn't bother to consider stereotypes or outdated beliefs as no longer applicable. Wearing pink takes an extra amount of confidence. Pink comes in various shades, from cerise to salmon to peach and pastel. So you are spoilt for choice in multiple ways to wear it.
References:
https://www.thetrendspotter.net/how-to-wear-a-pink-shirt/
https://consciouslylisa.com/what-to-wear-with-a-hot-pink-shirt/