Last Updated on September 22, 2023 by Reiner Chase
Persol is a luxury Italian eyewear brand known for its high-quality sunglasses. Persol sunglasses are made with premium materials and construction, and feature unique design elements such as the iconic Meflecto temple hinges.
Persol sunglasses are available in a wide range of styles and sizes to suit different needs and preferences. Here is a list of some of the most popular Persol sunglasses and their available sizes in millimeters:
Persol PO0714: 52mm, 54mm, 56mm, 58mm
Persol PO3025S: 52mm, 54mm, 56mm, 58mm
Persol PO3155S: 54mm, 56mm, 58mm
Persol PO3225S: 52mm, 54mm, 56mm, 58mm
Persol PO3048S: 54mm, 56mm, 58mm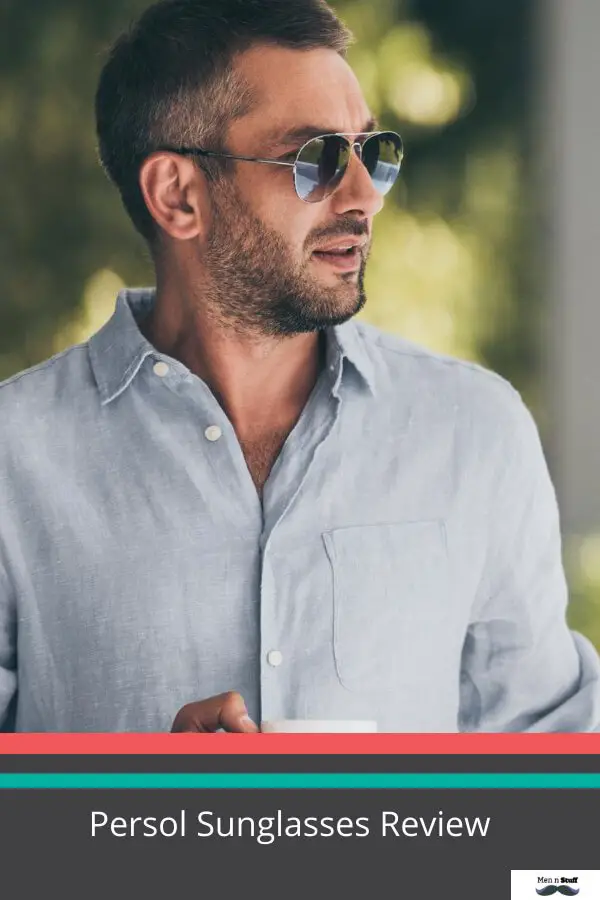 The Persol Model
In 1957, Persol composed the model 649. It was developed for the tram drivers in Milan. The idea was meant for the large frames, to protect them from dust and light. Hindsight, model 64 distinctly marked the actual beginning of Persol as a sunglass brand of fashion even though at the time, they did not see themselves as what they have achieved by now. 
Steve McQueen In The Thomas Crown Affair
Later in the 60s, model 714 was launched in the market with novelty within the sense that it can fold. Except for some minor changes, it is the model 649 that could be folded. In 1962, Persol sunglasses were launched in the US.
In 1968, Steve McQueen magnificently wore them in one of his most famous movies "Thomas Crown Affair". The model consists of caramel brown acetate with the light blue colour lenses. This model's appearance put Persol on the map, so the 741 styles became compatible with the brand. It is the reason why today we are appraising and discussing that specific model and not any of the others that they are offering today.
Steve McQueen wore these sunglasses so often that people were always talking about how obsessed he is with them. He did not just wear them in the movie, but he was seen multiple times wearing those unique sunglasses in his spare time. Eventually, these Persol sunglasses became the paradigmatic "Steve McQueen look" especially whenever paired up with a "Baracuta G9 Harrington jacket."
Persol was obtained in 1995 by Luxottica of Real, known as the world's largest eyewear brand. It usually seems like almost every brand has their sunglasses launched by Luxottica, because of its revenue per year which is over 9 billion dollars per year. However, Persol sunglasses are still produced in Italy, and their iconic symbol is a silver arrow that you can notice at the beginning of the temple.
What Makes Persol Sunglasses Famous?
Persol sunglasses have gained fame for several distinctive features and qualities:
Italian Craftsmanship: Persol is an Italian luxury eyewear brand known for its exceptional craftsmanship. Each pair is meticulously handcrafted in Italy by skilled artisans, ensuring impeccable quality and attention to detail.
Iconic Design: Persol sunglasses are recognized for their iconic design elements, such as the signature "arrow" or "Supreme Arrow" hinges. These unique hinges not only add a stylish touch but also provide durability and flexibility.
High-Quality Materials: The brand uses premium materials, including acetate and metal, to construct its frames. These materials are selected for their durability, comfort, and aesthetic appeal.
Crystal Lenses: Persol often features crystal lenses in their sunglasses, known for their clarity and scratch resistance. These lenses offer excellent optical quality, enhancing the overall viewing experience.
Polarization: Many Persol sunglasses come with polarized lenses, which reduce glare and improve visibility, making them ideal for outdoor activities and driving.
Timeless Style: Persol sunglasses have a timeless and versatile style that appeals to a wide range of fashion tastes. They are known for their classic shapes and subdued, elegant aesthetics.
Celebrity Endorsements: Persol sunglasses have been worn by numerous celebrities and iconic figures throughout history, adding to their allure and popularity. Notable wearers include Steve McQueen and Daniel Craig as James Bond.
Limited Editions: The brand occasionally releases limited edition collections, featuring unique designs and materials. These limited releases attract collectors and enthusiasts.
Heritage: With a history dating back to 1917, Persol has built a rich heritage in eyewear. This legacy of quality and style has contributed to its enduring fame.
Global Appeal: Persol sunglasses have a global presence and are available in many countries. They cater to a diverse audience, further solidifying their fame in the eyewear industry.
Steve McQueen Wearing Persol Sunglasses With A Navy Harrington Jacket
The secret behind this kind of obsession or affection is that these sunglasses most likely flatter men of all ages. If you are a younger person, it will make you look a bit more mature. On the other side, it would make you look more relaxed, vintage styled, and seasoned if you are an older person. However, they are never so outdated, which means that these sunglasses are meant to add some spice to your look.
In my opinion, another secret for their success could be the way they bridge the gap or the difference between casual and formal amazingly. Most of their sunglasses are seen either being casual or formal.
Persol sunglasses, the 649, 714, and the Steve McQueen are lying right in the middle of that scale. Because of this reason, these sunglasses are worn with a three-piece suit, precisely like Steve McQueen wore in "The Thomas Crown Affair."
So you see you could wear it casually at any pool party or you can go for it with your Harrington jacket. By the end of the day, you would have observed how this style of Persol sunglasses has proven itself and became one of the most adjustable frames out there. 
Why Is Persol So Iconic?
Persol is known for being the most iconic brand because it introduced the system of Meflecto. It was eventually started in 1917 by Giuseppe Ratti as a luxuriant sunglass brand built to focus on aviators and athletes. Around the 1930s, Persol was responsible for a spring forward in The World of Sunglasses by introducing the Meflecto System.
It is a very flexible metal piece inside the temple built in a way, so it gets adjusted. It is adaptable to change quickly according to your head shape so you don't have to face any problem around pressure points that might cause any discomfort. I could say this undoubtedly that no other major brand today still uses that system. 
Persol 649, 714, And Steve McQueen Models
As we know, all these models are manufactured in Turin, Italy within acetate, which is way too expensive to handle. It is because of its procedure which requires it to be cut and hand polished. It means that there is so much waste of the products that are needed in the process. By the same time, you would not have noticed the closure of injection-moulded sunglasses which you usually see in the market these days.
Here Is The List Of Sunglasses And Their Available Size In Millimetres.
| | | | |
| --- | --- | --- | --- |
| Sunglass Frame Shape | Small | Medium | Large |
| Aviator  | 45 – 55 | 56 – 61 | 62+ |
| Wayfarer  | 45 – 49 | 50 – 53 | 54+ |
| Clubmasters | 45 – 49 | 50 – 53 | 54+ |
| Butterfly  | 45 – 49 | 50 – 53 | 54+ |
| Cat-eye  | 45 – 50 | 51 – 56 | 56+ |
| Oval | 45 – 53 | 54 – 59 | 60+ |
| Oversized | 45 – 53 | 53 – 58 | 59+ |
| Rectangle  | 45 – 55 | 56 – 61 | 62+ |
| Regular  | 45 – 55 | 56 – 60 | 60+ |
| Round  | 40 – 48 | 49 – 54 | 55+ |
| Shield  | 40 – 58 | 58 – 65 | 65+ |
| Sports  | One-size | One-size | One-size |
| Square | 45 – 52 | 53 – 58 | 59+ |
| Swimming | One-size | One-size | One-size |
FAQs
1. Is Persol A Good Brand?
Apart from its high quality, the enticing attraction of its design and the long-term working or usable facility is the reason for the brand's success, making it the trustworthy mark of excellence.
2. Are Persol Lenses Made-up Of Glass Or Plastic?
This brand has offered its customers a 1.8 super-light polarized lens. It is said that these lenses are way more comfortable due to the reduction in thickness and decrease in weight.
3. Are All Persol Lenses Polarized?
Every pair of Persol lenses is made with polarized lenses and the Persol's Supreme Arrow design features, not only at the swivel where the stems meet the lens but at the joint within each stem.
4. Do Persol Sunglasses Provide UV Protection?
All the Persol sunglasses designed lenses are built with very high UV (ultraviolet rays) protection, which means that these lenses are designed to protect your eyes from UVA and UVB.
References: