Last Updated on September 21, 2023 by Reiner Chase
Cufflinks are decorative fasteners used to secure the cuffs of a dress shirt. They're worn on formal occasions like weddings, business meetings, and black-tie events. Cufflinks add a touch of sophistication to a well-tailored outfit.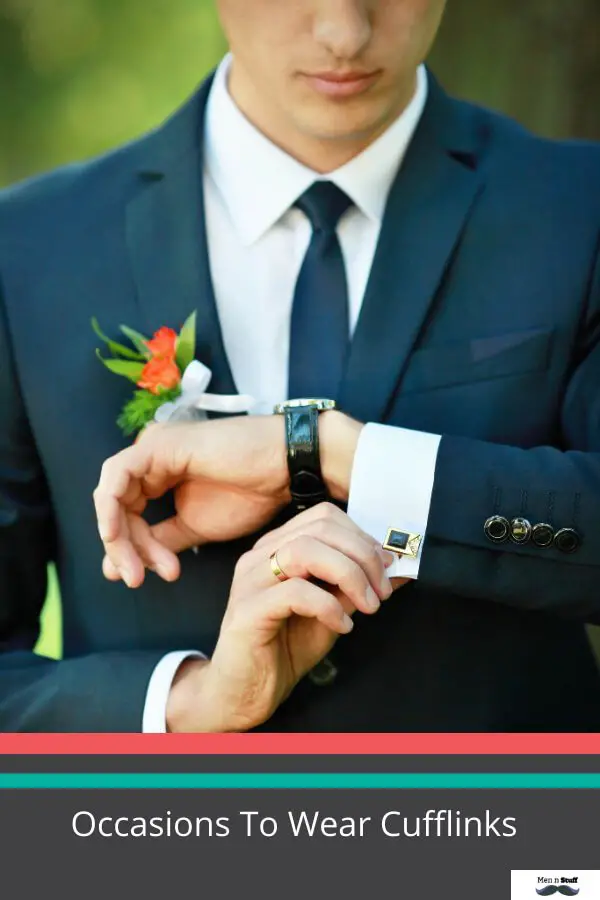 What Are Cufflinks?
Cufflinks are decorative fasteners used to hold together the two sides of the cuff on a dress shirt or blouse. They usually replace the buttons and add an elegant touch to the outfit.
Historical Background: The use of cufflinks dates back to the 17th century, in the era of Louis XIV, when they were seen as a symbol of nobility and wealth. Over the centuries, their design and use evolved, making them favorites for men of every status.
Cufflink Design: Cufflinks are designed in a multitude of shapes, sizes, and materials. Some can be as simple as a basic stud, while others can be complex and ornate pieces of artwork. Popular materials include gold, silver, mother of pearl, and sometimes, precious stones.
Types of Cufflinks: Cufflinks can be categorized into different types based on their mechanism of fastening. These include:

Whale Back Cufflinks: These have a flat face for the design, connected to a "whale tail" which flips back to close the link.
Bullet Back and Toggle Closure Cufflinks: These have a bullet-shaped or cylindrical post that is set between two short lengths of a metal bar, and rotated to close.
Stud or Button Style Cufflinks: These have a large head or 'button' connected to a straight post, with a smaller inner button that is detached to close the links.
Chain Link Cufflinks: Feature two identical, decorative heads connected by a short chain.
Locking Dual-Action Cufflinks: Advanced mechanism cufflinks that are locked in place by a dual-action fitting.

Functions: Besides being decorative, cufflinks act as a small canvas that allows a man to express his personal style. They also make a memorable gift, especially when personalized or engraved.
How to Wear Cufflinks: Cufflinks are generally worn with shirts that have cuffs—at the end of the shirt sleeve—that can be folded back to create a double cuff, also known as French cuffs. The cufflinks go through the 'cuff holes' to fasten the double cuff together.
Price Range: The cost of cufflinks can vary significantly based on the design, materials used, and the brand. They can range from affordable, costing as low as ten dollars, to high-end luxury pieces costing thousands of dollars.
How Do Cufflinks Give A Different Look?
Cufflinks are those adornments that you can use to secure your shirts' sleeves. It gives your shirt, a snappy look, and improves your general look. Whether it is to tie the cufflinks to provide a different shape to your shirt's sleeves or get an alluring look, sleeve fasteners or cufflinks are decoratives to utilize on the sleeves of your shirt.
You can choose a cufflink according to your preference to get a distinctive look. It is an enormous enriching sleeve fastener to give an alternative look to your shirt.
Cufflinks come in many shadings and shapes as it is according to your inclination. It will give you a unique look and will enhance the general look of your dress.
The regular buttons of the shirts usually don't attract the attention of the viewers. But when it comes to cufflinks, they are used on special occasions, and they glitter even from a little distance.
Occasions To Wear Cufflinks
Cufflinks are elegant accessories that add a touch of sophistication to a man's attire. They are typically worn on occasions where formal or semi-formal dress codes are expected. Here are details about occasions to wear cufflinks:
Business Meetings and Corporate Events: Cufflinks are a symbol of professionalism and are often worn by businessmen at meetings, conferences, and corporate gatherings. They convey attention to detail and a polished appearance.
Weddings: Cufflinks are a popular choice for grooms and groomsmen. They add a stylish element to the wedding attire and can be personalized to match the wedding theme or colors.
Black-Tie Events: Cufflinks are essential for black-tie affairs, such as galas, formal dinners, and award ceremonies. They complement tuxedos and formal dress shirts, elevating the overall look.
White-Tie Events: The most formal of occasions, like state dinners or royal events, require a white-tie dress code. Cufflinks are a must in such settings, often paired with a wingtip collar shirt and a tailcoat.
Anniversaries and Special Celebrations: Cufflinks can be worn on personal milestones and special celebrations, such as anniversaries or significant birthdays. They make a thoughtful gift and can be engraved with meaningful dates or messages.
Theater and Opera: Attending cultural events like theater, opera, or ballet is an opportunity to showcase cufflinks. They enhance the elegance of evening wear and formal attire.
Job Interviews: Cufflinks can leave a positive impression during job interviews, especially in industries where a professional appearance is crucial. They indicate attention to detail and a well-groomed demeanor.
Charity Galas and Fundraisers: Events aimed at raising funds or supporting charitable causes often have a formal dress code. Cufflinks are a stylish choice for attendees looking to make a statement.
Formal Dinners and Fine Dining: When dining at upscale restaurants or attending formal dinner parties, cufflinks can elevate your look and show respect for the occasion.
Cultural and Religious Ceremonies: Certain cultural and religious ceremonies may require formal attire, where cufflinks are a suitable accessory to wear.
Types Of Cufflinks
Cufflinks are available in different types. It is a jewelry item for boys and girls to secure the cuffs of their shirts. Cufflinks are alternatives to the buttons that are sewn commonly onto the cuffs of the shirts.
It is the best way to add a personal touch to a dress shirt or a suit. It comes in many new styles to get a unique sense of style. Below are the types of cufflinks that will give you a complete look.
Ball Return Cufflinks: These cufflinks heavy, small opposite to their decorative head. These types of cufflinks are found in both fixed and chain link-closure variations. The face of these varies in designs, and the back end is differentiated as the shape of the ball.
Bullet Back Cufflinks: These cufflinks have a small cylindrical look, set between the two tiny it is the best to wear in the office or at formal events. These are also known as Toggle Closure or Toggle cufflinks.
Button Style Cufflinks: These are also known as Stub or fixed back cufflinks. They are durable as it has no moving parts.
Chain Link Cufflinks: These cufflinks are connected with a chain and allow loose cuffs. These are fastened easily, and many of them are reversible. 
Dual-Action Cufflinks: These kinds of cufflinks look the same as the closure of metal watchbands. These are folded, inserted, and are locked with a system of foldable dual-action.
Knotted Cufflinks: These are quite similar to the chain cufflinks. The two heads are connected with a short cord. You can wear them for informal occasions. They are easy to use and give pops of color.
Whaleback Cufflinks: It looks like a whale tail, which is like bullet backing. It is a straight post with a flat head, and a whale tail flipping entirely flat against the post. The closing mechanism and the large post make it very simple and easy to use. They are also known as Swivel or Whale Tail cufflinks.
Cufflinks And Their Materials
Cufflinks are the ideal versatile addition to men's wardrobes.  These are such accessories that can turn your attire from drab to fab. They are the perfect gift for men.
The material of cufflinks plays a significant role to pick up the appropriate ones for a particular occasion. Although there is no rule to choose the perfect pair of cufflinks, it is a must to know the basics to wear an ideal pair of cufflinks for a particular occasion.
Choosing the material for your cufflinks is as vital as the overall design and the type of cufflinks. Here are some of the materials for the types of cufflinks.
| | | |
| --- | --- | --- |
| S. No. | Material Of Cufflinks | Utilities |
| 1. | Crystal | -It comes in a wide range of shapes, colors, and sizes. -You can wear them on formal occasions and are fascinating for their natural sparkle. |
| 2. | Gold | -It is the king of metals and is worn on formal occasions and is great to gift someone. |
| 3. | Mother of Pearls | -These are organic and valuable materials are sourced from shells, and are used for high-quality shirts. |
| 4. | Platinum | -It is a rare precious and valuable metal. -It looks elegant when you wear them. |
| 5. | Titanium | -These are made up of titanium alloy.-They are greyish in appearance and are light in weight. |
| 6. | Silk | -This material is used for cord and knot cufflinks.-These are appropriate for casual occasions.These are convenient and very common. |
How To Wear Sleeve Fasteners Or Cufflinks?
You can wear cufflinks with single cuffs as regular-buttoned cuffs of shirts, or as a both-sided opening. You can also wear it as French cuffs with two holes on both sides.
You can fasten cuffs by lining up the cuff opening with the holes on both sides. You can insert the cufflinks and run the post through the holes, and set the link into the closed position. 
Why Are Cufflinks Expensive?
Cufflinks are the only jewelry that a man wears. It is considered as the fine jewels for men in the last century. As compared to bracelets or rings for women, fine-looking cufflinks are produced in gold and gemstones.
However, there are many affordable cufflinks available in the mainstream. Some of them are mentioned below that you can afford easily:
1. Baublesforboys' Simple, Silver Colored, Oval Cufflinks
2. Bjeweled Vintage Beach Glass Cufflinks
3. Cuff-Daddy's Silver Knot Cufflinks
4. Cuff Daddy's Silk Knot Cufflinks
5. GrammaKathys Treasure's Vintage Black Stone Cufflinks
6. HelenSmith Originals Blue Glass Cufflinks
7. Katscache's Black and Silver Cufflinks
8. Nostalgishop's Vintage Cufflinks with Natural Stone, Copper Cufflinks
Frequently Asked Questions
Q1. When Can You Wear Cufflinks?
Ans: You can wear cufflinks for weddings, formal events, funerals, or with business attire.
Q2. Are Cufflinks Expensive?
Ans: Cufflinks are expensive as they are produced in gemstones and gold. It reflects both the level of workmanship and the high price.
Q3. What Type Of Accessory Is A Cufflink?
Ans: Cufflinks are the type of buttons that are used to close the sleeves of your shirt. 
Q4. What Is The Right Color For Cufflinks?
Ans: If you are wearing cufflinks for the first time, choose a gold or silver pair. You can match the color of cufflinks to the color of your wristwatch or your belt's buckle. 
References:
https://www.lorensworld.com/style/fashion-2/tips-on-wearing-cufflinks-to-the-right-occasion/
https://cufflinks.com/blogs/news/when-to-wear-cufflinks-how-to-wear-cufflinks