Last Updated on September 23, 2023 by
Cufflinks can be worn with any shirt that has French cuffs. There are many different types of cufflinks available, including bullet back cufflinks, whale back cufflinks, chain link cufflinks, knotted cufflinks, and custom cufflinks.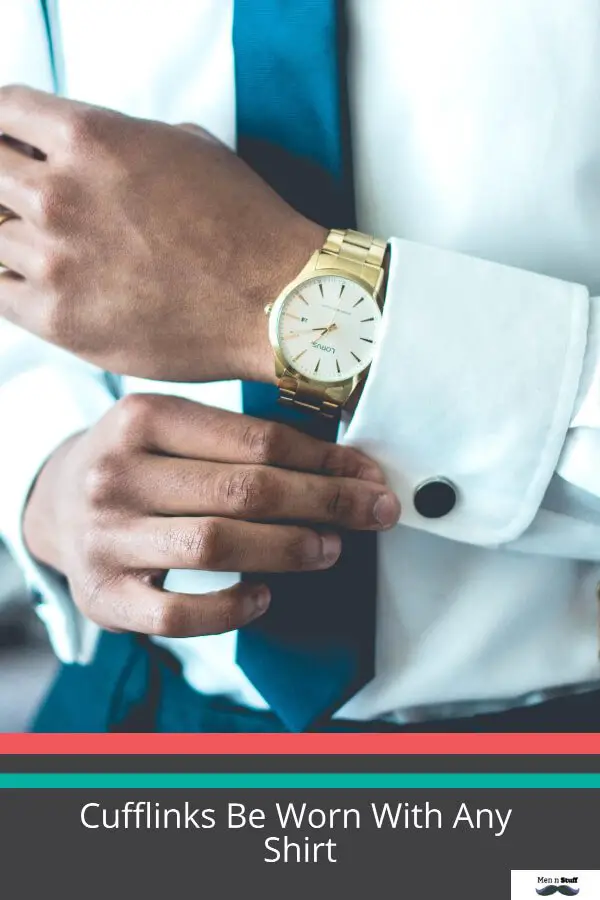 Can Cufflinks Be Worn With Any Shirt?
Cufflinks are quintessential men's accessories that enhance the overall look of formal attire. However, the common question that arises is, can cufflinks be worn with any shirt? Although cufflinks are traditionally linked to formal wear, modern fashion etiquettes have broadened their use, making them compatible with various shirt styles. Let's delve deeper into this topic. 
1. French Cuff Shirts
This shirt style is the classic choice for cufflinks. French cuff shirts are double-layered and folded back, creating an elegant look when paired with cufflinks. This combination is perfect for ultra-formal events, such as black-tie affairs, weddings or highly formal business meetings.
2. Single Cuff Shirts
Although less common than their French counterparts, single cuff shirts that have cufflink holes can also be paired with cufflinks. They are a great pick for a sophisticated yet casual outfit, falling somewhere between dressy and laid-back.
3. Barrel Cuffs
Barrel cuffs, aka button cuffs, are the typical cuffs found on most shirts. However, they usually aren't designed to be worn with cufflinks, as they are typically closed with buttons instead. Alterations can be made by a tailor if desired, but keep in mind that this may not suit the shirt's overall style.
4. Convertible Cuff Shirts
Convertible cuff shirts are a versatile choice since they can be fastened with buttons or cufflinks. This gives you the freedom to decide when to wear your favorite cufflinks and when to keep it simple.
5. Casual Shirts
The use of cufflinks with casual shirts is a bit complicated. With the right cufflinks and the perfect style setting, it can make an excellent impression. However, casual shirts seldom come with cufflink holes, and adding them might throw off the shirt's balance.
| Shirt Type | Compatibility with Cufflinks |
| --- | --- |
| French Cuff Shirts | Highly Compatible |
| Single Cuff Shirts | Compatible |
| Barrel Cuffs | Not Compatible |
| Convertible Cuff Shirts | Highly Compatible |
| Casual Shirts | Bit Complicated |
In conclusion, while cufflinks can't be worn seamlessly with any type of shirt, there is a wide variety of shirts that they can indeed be paired with. Beautiful and versatile, cufflinks are additions that can elevate your look, lending an air of sophistication and elegance to your attire.
What Are Cufflinks?
Many of us don't have much idea regarding cufflinks. So, let me assist you with it. Cufflinks are a kind of button that men generally wear with a shirt and fastened to close the sleeves. The cufflinks are not new. They were established during the time of King Louis XIV. He used to wear cufflinks, and from there, many people tried the style and found it stylish.
So, we can conclude that from there, the cufflinks became a style statement. Some decorative items are adorned with gold and silver. You can place those in the place of buttons. It helps in securing the sleeves together so that the cuffs fit around the wrists.
Types Of Cufflinks
| | | |
| --- | --- | --- |
| Serial Number | Types Of Cufflink | Characteristics |
| 1 | Bullet Black Cufflink | -These types of cufflinks are like the small cylinder, which is situated between two short bars. -You can also refer to these cufflinks as Torpedo or Toggle Closure Cufflink.  |
| 2 | Whale Back Cufflink | -As the name suggests, a whaleback cufflink is similar to the shape of a whale. -It is simple to look at and easy to use. -The head of the cufflink is flat. -The other name of it is Whale tail cufflink or swivel cufflink. |
| 3 | Fixed Back Cufflink | -It is stylish and possesses a unique design. -It is reliable and does not have any moving fractions. -It is also termed as button style cufflink or stub cufflink. |
| 4 | Chain Link Cufflink | -As the name suggests, the cufflink is linked with a chain.-It looks beautiful to wear and possesses a different style.-You can wear it differently.-The ends of the cufflinks are connected with a thin and robust chain. |
| 5 | Ball Return Cufflink | -The ball return cufflink is different from the other cufflinks. -There are two big balls attached with the curved post. -These types of cufflinks were very famous in ancient times. |
| 6 | Looking Dual Action Cufflink | -This type of cufflink possesses a hinge mechanism, which is quite similar to the metal wristband.-It has a dual-type of locking system, as the name suggests so. |
| 7 | Knotted Cufflink | -Knotted cufflinks are moderately identical to that of chain cufflinks. -The two knots are connected with a short chord. -It is simple to use, and one can wear it in the office or on any occasion. |
These are the categories of cufflinks found so far. Nowadays, people can customize the shape and color, even design. So, if you like, then you can also do so.
Can Women Wear Cufflinks With A Skirt?
Women can wear cufflinks with a skirt or with any traditional dresses. Nowadays, wearing cufflinks has become the hottest trend especially for women. We researched and concluded that cufflinks were introduced in the 16th century. Heretofore, then it has become a style to wear. At that time, the women didn't go outside, so they didn't get a chance to adorn themselves with cufflinks.
However, it has also been noticed that high-class women often wore cufflinks, but that was rare. When the Industrial Revolution started that time, cufflinks became so popular that people began to wear them. It also became affordable. The women too found it stylish and started to have those with different dress styles and create their style and fashion. 
Cufflinks show a style status symbol for those who wear them—coming to the topic of whether it looks good on women or not. Then I must say that of course, it looks good on women. Nowadays, every woman tries cufflinks for a formal or informal occasion.
Stylish Cufflink For Women
We have already asserted that cufflinks look good on women. Here we are going to say some unique and stylish designs of cufflinks that women can have. Let me tell you that cufflinks look amazing on any dress. The aspect is that you have to create your own style.
1. Cufflink With A Skirt: Many women think about whether a cufflink will look good with a skirt or not. Let me assure you that it will look amazing with skirts. Nowadays, many women dress in skirts and put on cufflinks. But, you have to be slightly comprehensive about it. If you are wearing a light-colored skirt, you must put on dark or deep-colored cufflinks. If you do so, then the cufflinks will be visible. You can repeat the same thing by wearing a dark-colored skirt and faded-colored cufflinks. It is a unique style, and you will look great and relaxed in this attire. It is a formal dress, and you can wear it to your office or any party.
2. Cufflink With The Shirt: Women look impressive in cufflink, especially when they wear it on a shirt. For instance, if you have any office event, you can wear a formal shirt and put on the cufflink on it. We are pretty convinced that you will look cool and unique in the entire attire. It would help if you kept in mind the color combination that we stated earlier.
Cufflinks look great with a skirt. If you are suspicious, then you should try those once. You will look amazing. The unique design of the cufflinks looks fantastic with the short and long skirts.
Frequently Asked Questions 
1. How Many Types Of Cufflinks Are There?
Answer: There are around seven types of most liked cufflinks available worldwide. All are different from one another. The cufflinks look elegant if you wear them on your shirt as well as your skirt. You can try all the cufflinks as they are reasonable and come under your budget.
2. Are Cufflinks Only Meant For Men?
Answer: No, it is not that. Cufflinks were worn by men previously, but from the 17th century, women also adorned themselves with cufflinks.
3. How Do Cufflinks Increase The Style?
Answer: You have to create your own style. Cufflinks increase your style as the designs are unique and special. Many men and women wear this and improve their look.
References:
https://www.quora.com/Can-you-wear-cufflinks-on-shirts-with-buttons
https://www.cufflinksgifthub.co.uk/cufflinks-tips/wear-cufflinks-regular-shirt/