Last Updated on August 28, 2023 by Reiner Chase
Taper fit narrows gradually from hips to ankles. The narrow fit offers a snug feel throughout. Slim fit is narrower than regular, emphasizing body shape. The regular fit is classic and comfortable. Straight fit maintains consistent width.
The Difference Between Taper Fit, Narrow Fit, Slim Fit, Regular Fit, and Straight Fit Jeans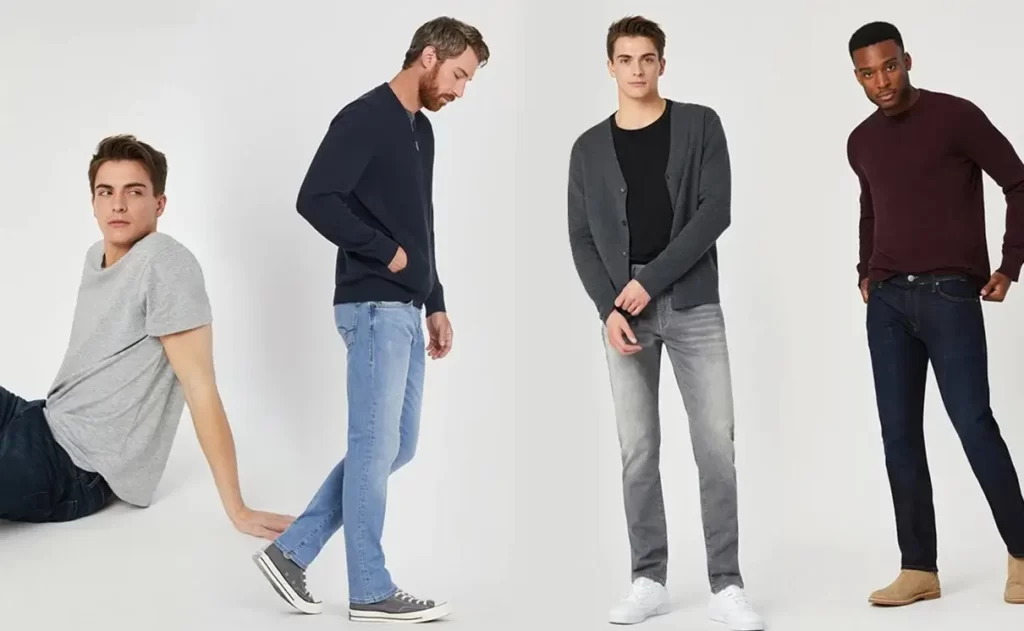 | Fit Type | Description |
| --- | --- |
| Taper Fit Jeans | Taper fit jeans gradually narrow down towards the ankle. They provide a snug fit on the thighs and are less tight on the knees and ankles. They offer a neat, defined silhouette and are perfect for individuals with an athletic body type. |
| Narrow Fit Jeans | Narrow fit jeans are not too tight but not too loose either. These jeans hug the body's contours closely without being overly restrictive. They are ideal for lean or slender body types. |
| Slim Fit Jeans | Slim fit jeans closely follow the natural body shape without feeling too tight. These jeans are tailored, not overly tight, and reduce in width from the hips to the ankles. They work best for medium-built individuals. |
| Regular Fit Jeans | Regular fit jeans offer a balanced, classic fit that neither clings too closely nor drapes too loosely on the wearer's body. They maintain equal width from the thighs to the ankles, providing ample legroom while also affording comfort and ease of movement. These jeans suit all body types. |
| Straight Fit Jeans | Straight fit jeans maintain an equal width from the hip all the way down to the ankle. They do not taper or flare out and offer a simple, clean line suitable for various body types, particularly those with larger builds as they balance out proportions. |
Taper Fit Jeans
Taper jeans are similar to slim-fit jeans, and it is a classic style that flatters most body shapes. The jeans are tapered around the ankle and have a slim fit from hip to knee. They are also cut straight at the thigh and calf and have a wide hem.
The most significant difference is that they are looser around your ankles than slim-fit pants. Men and women of all sizes can wear this style, although those with thin legs should avoid purchasing taper jeans.
A size twenty-nine taper jeans will fit the waist when you wear a size thirty-one slimmer fit jeans. If you're deciding between taper and slim-fit styles, remember they both have a tapered leg opening, just different degrees of tightness below that point.
Both styles work well for people who want a fitted look without being overly restrictive. If you're shopping for new jeans, it's worth giving these options before opting for relaxed or straight-leg jeans. When you try at the shop, and it doesn't feel right, please don't buy it.
It's not worth wearing uncomfortable clothes just because they're trendy. Ensure you like how something fits before buying it. You might find skinny jeans aren't suitable for you at all. You can wear taper jeans with any shoes or boots, but they look best with boots or heels, and this is because they create an illusion of longer legs.
They are very versatile when it comes to styling as you can wear them in many different ways depending on your preference for style; when tucking into boots, ensure your belt loops are tucked in to keep the jeans from falling. Wear it with a low heel, boots, or sneakers for a casual look.
Slim Fit Jeans
Slim fits are a form of jeans that have become popular lately. As the name suggests, slim-fit jeans are slightly slimmer fitting than a regular fit. It is ideal for someone who has a more petite frame and a slenderer build, and it is an excellent fit if you want more of a fashion statement in your jeans. There are different styles of slim-fit jeans, from high-end designer jeans to more affordable options; you will find various types of slim styles to fit your needs.
A slim fit should fit snugly around the waist and the hips while allowing for room in the thighs. It ensures that you may consider opting for slim jeans instead of regular-fitting jeans.
They are also sometimes referred to as slim straight or skinny jeans. Unlike other styles, slim fits do not fit at all around your hips but still taper in at your ankles, making them appropriate for people with relatively narrow hips but wide calves. These jeans tend to be more expensive than others because they need to be custom-made due to smaller leg openings.
The rise in these jeans is usually relatively high compared to other types of jeans. You should always try them before buying to ensure they don't sit too high up on your waist.
You may find that some brands offer a lower-cut version of these jeans called Low Rise Slim Fits, which has a slightly lower rise; therefore, it sits lower on your waist. It's best to avoid purchasing these unless you've tried them first.
When wearing slim fits, it's best to wear a belt. Otherwise, your jeans will look baggy and lose their shape. If you prefer skinny jeans but want something that will feel less constricting when sitting down, try out skinny straight jeans instead.
The main difference between skinny straight jeans and regular straight jeans is the cut. The cut matters as it will show how tight they are around your thighs. In comparison, regular straight cuts will feel tight right from your knees to your crotch area. Skinnies only start feeling tight after about an inch or two above the knee area, where they then begin tapering off again towards your crotch area.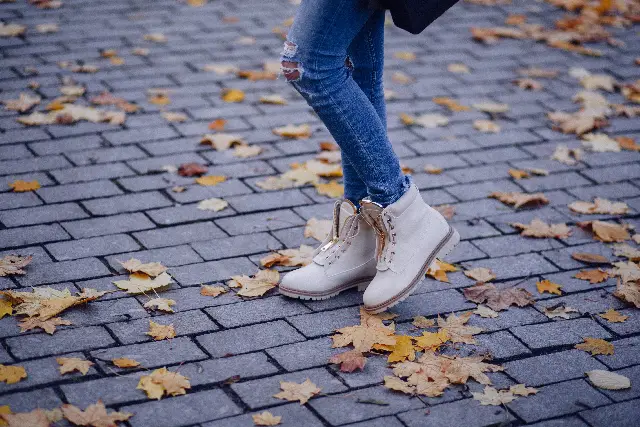 Regular Fit Jeans
Regular fits are characterized by a loose waistband that sits well below your belly button and has wide leg openings. These jeans will have some extra room in the thigh area to allow unrestricted movement, making them better for layering during colder months.
Think of your regular-fit jeans as your everyday go-to. The jeans are work-appropriate but not overbearing. Find them at Levi's or The Gap for about thirty to seventy dollars depending on what kind of style you choose, for example, khaki, chino, or black skinny.
Regular-fit jeans are more of a middle ground between a taper and a straight fit. It is the most common fit for most brands. It's slightly baggier than a straight fit but not as baggy as regular. There are many different types of regular fits. You can go with a tailored fit with a slightly wider leg opening.  
Know that there are no rules for a fit. Size eight means nothing across all brands, so try your jeans before buying.
If they don't fit, don't buy them, and maybe you can order online if you don't find a pair locally. Ensure to never purchase denim with rips, tears, or holes. You may be able to wear ripped jeans if you're young and thin enough.
When shopping for these jeans, look for words like regular and straight on the tag; however, sizing differs between brands, so ensure to read reviews first.
Straight Fit Jeans
Your standard fit comes with a leg that starts straight from your waistline to your ankle. It's a straight line from top to bottom.
However, if we're looking at them from behind, there should be no curve/relief in your thigh areas. A perfect example of straight fits is Levi's 501 or any other Levi's jeans. They're very comfortable but not necessarily suitable for those who want definition in their thighs.
You should invest in straight fits if you don't mind showing off your body.
Narrow Fit Jeans
Suppose you have ever worn slim or skinny jeans, then the chances are that they were not too loose or too tight. But with a pair of narrow jeans, that isn't always guaranteed. The upside of owning a pair of narrow-fit jeans is that they look more appealing than your everyday tight-fitting denim. The jeans will feel tighter due to how thin they are from top to bottom.
When looking at narrow-fit jeans, you will notice that they taper off towards the end of each leg. It is where it gets its name because of how tapered it looks when wearing it on your body.
The only downside about these types of jeans is that some people may not like how tight or uncomfortable they can be, depending on their size.
If you want to wear these jeans, ensure to try them on first before buying them to see if they fit well enough for your body type.
References:
https://taperedmenswear.com/blogs/tapered-blog/tapered-fit-jeans-vs-straight-fit
https://pediaa.com/what-is-the-difference-between-tapered-and-slim-fit/