Last Updated on March 17, 2022 by
When it comes to online thrifting, most people think of ThreadUp. The consignment store has affordable prices and plenty of items on sale. That's no wonder the store is so popular and is an excellent resource for ladies' and kids' clothes. It's is also very easy to find what you want in the store, even with the assortment. All you need to do is search for your favorite brand and click on categories based on size and color. Nonetheless, you can also find excellent garments at other stores, including Poshmark, ASOS marketplace, Vestiaire collective, Swap.com, TheRealReal, and eBay. 
If you are looking for a shop for online thrifting, consider trying one of these recommendations.
Alternative Sites to ThredUp
Poshmark
Poshmark is one of the most popular social commerce marketplaces for selling new and used shoes, clothes, and accessories. The platform allows users from Canada, the U.S, and Australia. The store used to sell used clothes, shoes, and accessories but it later extended and permitted children's and men's merchandise, beauty products, pet products, among other items. 
Shopping at Poshmark is an excellent way of saving a few coins as you can get items at a much cheaper cost than the original cost. Sometimes the prices at Poshmark are lower than most stores online hence why many consumers love shopping at the affordable store. 
The lower cost on items does not compromise the quality of goods sold on the site. You will find exclusive listings such as vintage dresses, unique jewelry, and antique dishware.
The good thing about shopping at Poshmark is that customers can negotiate prices with the retailer, and you may even get free shipping from the sellers. The site is safe and easy to use, and you will find all on-trend styles and brands here. If you receive a counterfeit item, you can return it three days upon receiving it and get your money back.
ASOS Marketplace 
ASOS Marketplace is a great place to buy vintage clothing and independent brands. A user can buy and sell new and second-hand clothes such as sportswear, shoes, jeans, jackets, etc. If you want to discover the latest fashion trends, ASOS is the store to visit. 
You can also buy retro-branded products at low prices on the site. All items listed on the platform are authentic. ASOS marketplace has a zero-tolerance policy to purchasing and selling fake products.
Vestiaire Collective
Vestiaire is an online marketplace for men's and women's clothing, jags, and jewelry from luxurious brands like Coach, Prada, and Versace. The site also accepts high-end vintage products and some lifestyle goods. 
Vestiaire collective focuses solely on high-end brands and has made a name as the best site for pre-owned luxurious items. The site caters to a global audience, operating on a peer-to-peer sales system. Users also get an authentication service when they have concerns regarding the items they receive.
A seller must send a photo and description of their items to the website for reviews after approval, Vestiaire Collective will list the items, and the seller can hold on to them until they sell them. 
After making a sale, the consignor gets a prepaid label for sending the items directly to a buyer. Suppose a buyer has doubts about the authenticity, the goods are sent to the store for a checkup by the quality control team.
The website gets a flat fee according to the price of an item. If an item is priced under $80 and $2,000 and sold for over $16 500, the site gets a commission of $10. There is also a 3% payment processing fee for any item except those that cost less than $80. For goods below $80, the processing fee is only $2.
Swap.com

Swap.com is a digital consignment store offering used men's women's and children's clothing. The store also allows users to sell and buy accessories. The site offers a particular Premier Seller program with over 250 high-quality products. 
Sellers who need to join the Premier Seller program must fill out the application provided and send it in the text box. If the items meet their criteria, you will be invited to join the program.
Nonetheless, you can still sell your goods at Swap.com even if you are not a member of the program. After the quality inspection teams inspect your items, you can sell them. However, because the site has a strict acceptance criterion, you should ensure your review is standard for clothes before sending the items.
Your clothes should not have any pet hair or odors. They should be freshly laundered, and you are not allowed to sell altered and niche-branded items. If they reject your items, you can ask the team to recycle them or send them back to you, although you will need to pay a shipping cost of $9 and may even charge you more if 40% of your goods are rejected.
If the site accepts your goods, they promote them for you, and after selling, you will pay a commission based on your final sale price.
TheRealReal
TheRealReal online consignment store focuses on luxury brands including Chanel, Prada, and Louis Vuitton. You can sell many things on the site, including clothing, accessories, and jewelry. 
If you are a seller, you should create an account and select the designers you want to consign. You must also choose how you would like to send in your items. After receiving the items, the team sets the price and prepares the items for sale. 
After selling an item, you earn a commission, and the amount you make will depend on the things you sell and the level of seller you are. The cost of the items will also determine your commission. Some designers such as Christian Louboutin and Gucci may earn you a bonus too. They send payments through check, direct deposit, and site credit. 
If buyers don't purchase your items, you can ask the team to donate them or return them at no cost.
eBay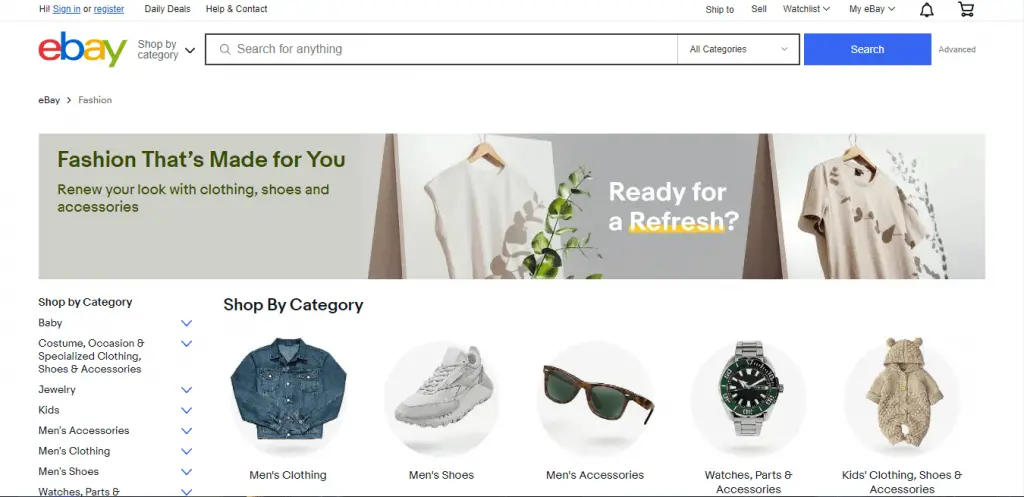 eBay debuted in 1995, and since then, it has earned a reputation as a digital auction site. If you would like to sell clothes on the site, select "Sell" at the top of the eBay page. Once you make a listing and confirm your details, you can add the automatic payment method for all the eBay fees. 
A buyer can buy your clothes immediately at the established "Buy It Now" price. They can also get involved in an auction for the item or make an offer.
You will also set the shipping fees, and you can choose to have the buyer pay for the shipping or cover the shipping costs yourself. Some available payment methods include credit cards and PayPal, and the payment gets to your account immediately. Nonetheless, accessing the funds depends on the customer's chosen method.       
eBay fees can pile up quickly since the seller pays fees after selling the items and receiving payments through PayPal. The only way you can offset the costs is to charge more for the items, although this may impact the number of offers you get. If there is any payment dispute or returns, eBay will protect and help you.