Last Updated on September 3, 2023 by Reiner Chase
There's no single piece of clothing that defines a "fine woman." Fashion preferences vary widely. A woman can wear anything and look smoking hot in it! However, that will hold if she loves what she wears.
What Does Sexy Look Like?
Whether it's confidence, intelligence, or a flair for fashion, everyone has their own ideas about what makes a person sexy. Perception varies from one person to another, meaning there's far more to sexiness than what meets the eye. Here's a look at some attributes and qualities often linked to sexiness. 
1. Confidence
A person's confidence has an undeniable draw. Someone who is sure of themselves, their worth, and their abilities has an aura that is attractive. Confidence steps beyond being self-absorbed, it's about knowing who you are and not being afraid to let it shine.
2. Intelligence
Brains over beauty is a phrase that describes the appeal of intelligence. To many, someone who continuously strives to learn and nourish their mind is a person who is sexy. Intellectual conversations and debates can be stimulating, resonating with a sense of sexiness to counterparts.
3. Physique
This category often strikes first when the question "What does sexy look like?" arises. It's an undeniable fact that physical appearance matters when it comes to attraction. However, sexy physique varies from toned muscles to thick thighs, or whatever a person finds visually appealing.
4. Sense of Humor
A person who can make others laugh or appreciate a good joke ranks high in the sexy department. It shows their light-hearted nature and easy-going attitude, making them more approachable and attractive.
5. Ambition
People are typically drawn to those who have a sense of ambition, and a vision for their future. Ambitious people have a drive and determination that can be incredibly appealing. It indicates dedication, focus, and a strong will, all of which are sexy traits to many.
6. Mystery
An element of mystery can make someone more intriguing, drawing others in to learn more about them. The mystery might lie in their personal life, their thoughts, or their experiences, and this elusiveness can be sexy.
7. Kindness
Being kind to others is a universally attractive quality. Someone who genuinely cares for others helps without expecting something in return and empathizes with the pain of others emanates an undeniable sexiness.
8. Style
Investing time in self-presentation through a unique and personal style also determines sexiness. Whether it's classic, chic, casual, or eclectic, the style has a say in one's sex appeal.
9. Independence
Being self-reliant and independent is a character trait viewed as sexy. If a person can take care of themselves, make their own decisions, and not rely too heavily on others, it speaks volumes to their self-confidence and assurance.
10. Passion
A person who is passionate about something, be it a hobby, profession, or cause, often radiates an aura of sexiness. Their fervor shows that they can love deeply, care truly, and be dedicated, which are attractive qualities.
Tips To Dress Sexy
Dressing "sexy" is subjective and can vary greatly depending on personal style, body confidence, and comfort levels. Here are tips to help you dress in a way that makes you feel confident and attractive:
Know Your Body: Understand your body shape and identify the features you want to emphasize. Choose clothes that flatter your figure.
Fit is Key: Well-fitting clothes are essential. Avoid items that are too tight or too loose; instead, opt for pieces that highlight your curves without being overly revealing.
Balance: Balance is crucial. If you're showing off cleavage or wearing a short skirt, pair it with more modest options like a long-sleeve top or flats to avoid looking too provocative.
Highlight Your Best Features: Choose clothing that showcases your best assets. If you have great legs, go for skirts or dresses that accentuate them. If it's your waist, consider belted dresses or tops.
Confidence is Sexy: Confidence is the most attractive trait. Wear what makes you feel good and confident. If you feel great in what you're wearing, it will show.
Accessorize: Accessories can enhance your outfit's allure. Consider statement jewelry, a stylish bag, or heels to elevate your look.
Colors Matter: Red is often associated with sexiness, but any color can be alluring. Choose colors that complement your skin tone and make you feel attractive.
Undergarments: Well-fitted undergarments can make a significant difference in how your clothes look and feel. Invest in quality lingerie and shapewear if needed.
Quality Over Quantity: Invest in a few high-quality pieces rather than a large quantity of cheap items. Quality fabrics and construction can elevate your overall look.
Dress for the Occasion: Consider the context. What's appropriate for a night out may not be suitable for a professional setting. Dress in a way that aligns with the occasion.
Maintain Personal Hygiene: Good grooming and hygiene are essential. Make sure your clothes are clean and well-maintained.
Experiment and Have Fun: Don't be afraid to try new styles and experiment with your look. Fashion is a form of self-expression, so enjoy the process.
How To Dress Hot And Step Out Like A Queen
Isn't it about time you changed up your look? Do you wish to dress up your everyday attire with a touch of class and sophistication? Perhaps you've started a new job and need some new attractive business casual apparel or maybe you've migrated to a new location and need to update your look to match what you've become.
Are you unclear about how to dress stylishly for the transition? In this article, you will learn about the mature, fashionable, and classy manner that you'll be able to wear for years (if not your entire lifetime). 
The modern style will never go out of fashion. In ten years, you'll be able to wear the blue pleated skirt and camel-colored shoes you purchased. It is ideal to invest in a good set of pearl stud earrings as it trumps buying ten pairs of trendy statement earrings that will be out of fashion a year later. 
You can wear your ensembles to work, Sunday brunch, a city shopping excursion, or even throughout the world if you have an elegant and classy style.
The Basics Of Wearing Hot Clothes
Wear Clothing That Is Made Of Classic Fabrics
Ensure you add to your essential wardrobe with fashionable, traditional clothing made of materials that will last for an extended period. Linen, Cotton, wool, and silk are just a few examples. 
Given proper care, these four fundamental fabrics will last a lifetime. Items composed of these fabrics, when cleaned and pressed, tend to give off a refined vibe on their own.
Fit is Key
Clothing that is hot and sophisticated is usually tailored and form-fitting (not too tight, but you can show off your figure). Your hottest dresses, like your skirts, should hit just above or below the knee. 
You don't have to wear everything perfectly fitted and form-fitting. For a more laid-back vibe, mix in some unstructured items. Wear a flowy maxi skirt with a clean white button-down shirt or a blue-striped t-shirt with chinos and a denim blazer.
Choose The Best Neckline
The most common necklines are collared, boat neck, crew neck, and V-neck. You can also try square, coil, and scoop necks for some variety.
Style Your Hair
Make sure you style your hair. If you are short on time in the mornings, or you don't enjoy styling your hair, go for a quick-to-put-up or short haircut. When thinking about attractive and trendy hairstyles, a sleek bun or ponytail comes to mind. For instance, if you have a lot of hair, and it's rather long, you know that you will have to spend at least 30 minutes on it if you want to wear it down. 
However, when you don't want to spend a lot of time on your hair, you go for a sleek low bun. Find a hairstyle that is simple to style daily and that you enjoy!
The 9 Hottest Clothing Ideas That A Woman Can Rock With Confidence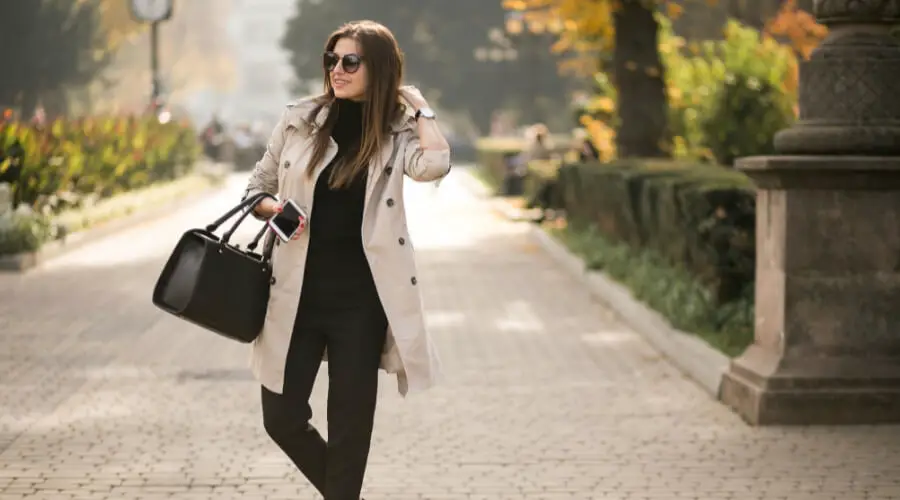 A dress that makes a woman feel comfortable in her skin will suffice. When someone is self-assured, they are attractive. This clothing can be worn during bedtime too.
They include the following:
Bralettes 
They are not to be confused with crop tops. A sultry bralette is 100 times more seductive than a basic crop top. If you go hunting for some, don't be fooled by the lacey ones; they're all over the place and worn out. 
Look for ombre-colored or corset-style bralettes with 3D flowers and embellishments instead. This season's top bralette collections can be found on Etsy and ASOS, especially if you enjoy unique items that aren't readily available elsewhere.
Pearl String Footwear
Whereas the clothing is always associated with high heels, you should try it. Etsy or Amazon Handmade are your best bets if you're on a budget.
Corset Dress
They are both sultry and sophisticated. Corset dresses will turn you into a fashion icon; they require little adorning and exude luxury. A corset dress combines the grandeur of Victorian fashion with the thrill of modern style.
Embellished Fishnets
Fishnet tights have been typical in the past, and they may be your favorite style this season. On the other hand, fishnets with embellishments are ten times more finely detailed and a hundred times more beautiful. This accessory can transform any appearance from drab to gorgeous in the blink of an eye! Because manufacturing attractive floral fishnets is a skill that few people have mastered.
Bracelet
A Stylish and hot woman should consider, wearing a tennis bracelet, watch, and silver or gold bangles (one heavy or several delicate gold or silver with metal or leather bands).
Necklaces And Rings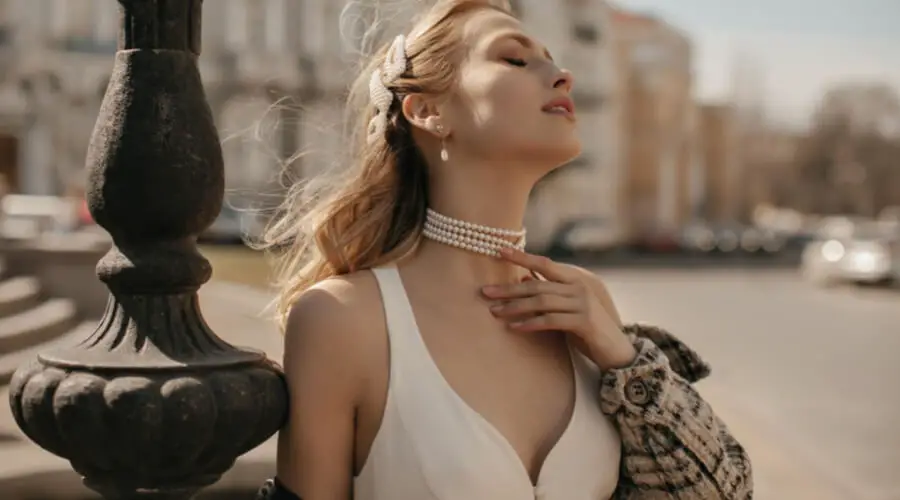 Go for a necklace made of long pendants, pearls, a diamond solitaire, and across. It's not required to wear a ring but choose something delicate or bold if you do. Thin bands, diamonds, and ancestral rings are acceptable, and everyone should have at least one cocktail ring to wear to events or to dress up jeans. 
Scarves
Women can use scarves to add color and visual appeal to a hot ensemble. Cotton, silk, and wool are the most incredible fabric selections, especially if the scarf is bright or has an attractive design.
Shoes
Shoes are a fashion trend! Solid neutral pumps, flat sandals, ankle boots, or boots in cream, navy, or black are your best bet. They all go with a wide range of clothing, so you won't have to spend a fortune on a shoe collection. 
However, don't believe you can't be bold with your shoe selections; every woman should own a pair of red shoes, and an animal print never hurts to make any outfit pop.
Make-Up
If you are hoping to expand your essential wardrobe with classic, timeless pieces made of fabrics that will last well for a long time, it'll help. Cotton, wool, linen, and silk are just a handful of the materials available. When these textiles are cleaned and pressed, they become softer. They tend to exude a sophisticated aura on their own. 
Apply mascara to open your eyes, blush to give your face vitality and dimension, and a bold lip to provide a pop of color to your face.
Keeping everything nice, clean, and essential is the key to dressing sophisticatedly. Ensure the clothes you're wearing are flattering to you and that the colors and patterns are well-balanced. All of the clothing should be wrinkle-free and color-coordinated.
References:
https://www.panaprium.com/blogs/i/attractive-outfits
https://www.quora.com/What-is-the-hottest-piece-of-clothing-that-a-woman-can-wear