Last Updated on March 17, 2022 by
The banana republic is not a high-end clothing brand but a mid-level clothing brand. The store is part of the Gap Empire, although it is more upscale than Gap and Old Navy. The banana republic is roughly comparable to Tommy Hilfiger and Polo Ralph Lauren, strictly mid-level. The brand offers quality outfits and accessories at a great price. Regardless of the store where the product is manufactured, every product is made of top-quality leather and fabrics.
Does The Banana Republic Sell Luxurious Items?
Gap Inc. acquired the banana republic in 1983, and it eventually rebranded it, making it a mainstream luxury clothing store. Most of the things that the retailer sold at that time were phased out and replaced with more luxurious and unique products, which the brand currently sells. 
Have you ever wondered about the customers targeted by the banana republic brand? The banana republic targets customer ranging from 15 to 65 years. Every client through the door is a potential sale or repeat client. The brand's target market includes fashion-forward ladies and gentlemen aged 20 to 60 years looking for work and leisure clothes at a more affordable price.
Has The Banana Republic Been Rebranded?
The Banana Republic has been underperforming at Gap, which has led it to revamp its brand identity since September 2021 to concentrate on democratic, open, and inclusive luxury. The brand's new positioning is reflected through their campaign known as Imagined World. 
The campaign reflects the brand as it was before. The brand was more of a fictitious territory, and therefore the company has been creating new product stories for the physical stores and social media platforms. The banana republic has also been refreshing the brand's designs and fabric. 
The New Look campaign that debuted on September 7 featured work and casual attire emphasizing leather, suede, Italian merino wool, silk, shearling, and cashmere.
The brand has modernized its physical stores across the country, aligning with the new identity. This has been made possible through styling services, revamped shop design, and improved merchandising. The modernization also aims at creating a more immersive experience on all the brand's digital channels through inspirational imagery, videos, or music.
The Banana Republic Brand History
The banana republic was launched in 1978 by Mill Valley Cali. The store was meant for consumers with an expedition wear passion. 
It was founded by very progressive entrepreneurs embodying the San Francisco pioneering spirit. The founder loved traveling and collected the extra clothing outfitting the stores. They also provided a unique award-winning traveling-oriented catalog known as a travelogue.
In 1983 Gap Inc discovered this middle-level brand and bought it promising to maintain its unique spirit. The Banana Republic is a premier destination for modern garments without any boundaries. The brand is rooted in an explorer's spirit, which has made it a global lifestyle brand.
The banana republic, through its website, commits to making wiser decisions when it comes to its products and practices. The brand commits to ensuring sustainability in the new designs and sourcing premium fabrics globally. The banana republic is a bold, curious and innovative brand focusing on delivering improved and affordable fashion pieces for contemporary shoppers.
What Is The Quality Of Banana Republic Products?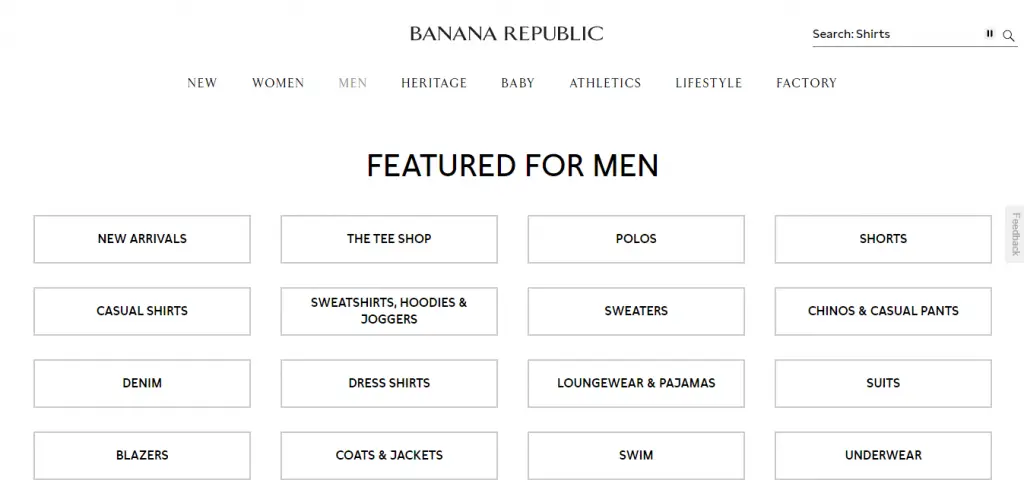 While Banana Republic is a famous brand, the retailer is a mid-level outfit brand. It is part of the Gap empire, but it is more upscale than Gap or Old Navy. Nonetheless, it can be compared to other brands such as Tommy Hilfiger and Lauren, both mid-level brands. 
The banana republic has some cool styles with good sales for quality. The brand's price point range is more affordable than most brand label stores. The quality of Banana Republic products is good, and consumers enjoy shopping in the store.
For example, banana republic sells a Pima cotton t-shirt for $19.0. The fabric is soft and comfortable. It also justifies the relatively high price and is more agreeable according to its classy positioning. The same t-shirt, when sold in other stores such as Ralph Lauren, costs much more than this.
The Banana Republic And Gap
Your style is sometimes more like your body language. For example, when you are happy and cheerful, you may prefer brighter colors to dull ones to demonstrate that you are cheerful. Gap and the Banana Republic have some similarities; however, there are significant differences.
The Banana Republic sells more high-class work outfits, but Gap sells more casual and back-to-school styles. Although the Banana Republic also sells simple garments, it has more unique styles and high-quality materials.
On the other hand, Gap is more famous for its incredibly long-lasting and well-fitting jeans. Gap provides a great selection with more unique textured clothes and accessories. Consider your budget when selecting whether to buy from Gap or Banana Republic. Gap sells more affordable clothes than the Banana Republic.
Is The Banana Republic Ethical?
Many brands under the Gap umbrella are making progress towards building a sustainable future. The Banana Republic is impacting the environment in several ways.
Environmental Impact
The banana republic uses some eco-friendly materials like recycled fabrics. The brand has set a goal to utilize more sustainable fabrics and minimize greenhouse gas emissions from the company's operations and supply chain.
Labor Conditions
The banana republic has taken some commendable steps to reduce its effect on the planet, but it still has a long way to protect its employees. The brand's supply chain is not certified by labor standards ensuring worker health and safety and more labor rights. 
Although the banana republic publishes information regarding suppliers, audits, gender inequality, etc., it still lacks the vital transparency and action to receive a high score.
Animal Welfare
Banana republic's basic formal policy agrees to protect animal welfare. The brand doesn't use fur, angora down, and exotic animal skins. However, it still makes its leather, wool, and exotic animal hair. There is no evidence that the banana republic traces animal products to its first production stage.
Is The Banana Republic A Fast Fashion Brand?
The banana republic is a perennial fast fashion favorite. Many brands, including the Banana Republic, are trying to promote sustainability nowadays. Big brands should always take steps towards improved labor and environmental standards. The global apparel and accessories brand offers versatile contemporary classics with an enduring style. 
The brand provides a closet of favorites to class or wears in new ways through its thoughtful designs. Buying banana republic garments from the factory is cheaper. Crew factory stores can only sell products made specifically for the outlets. 
The outfits are still stylish, although they are made to be sold cheaply. An outlet product at the store usually has three diamonds on its label. The merchandise sold at an outlet store may be of a lesser quality than those sold at the non-outlet stores because they are manufactured exclusively for them.
As mentioned earlier, banana republic sells excellent quality garments that make them durable. The merchandise is definitely worth the price. Banana Republic clothes are fashionable and made of the best quality. Its staple pieces can last in the closet for many years as they are durable. The banana republic has made excellent sales with excellent customer service gaining trust from its shoppers and repeat customers.