Last Updated on September 3, 2023 by Reiner Chase
The popular pre-teen retail store, Justice, is indeed going out of business. An announcement was made by Ascena Retail Group, the parent company, in July 2020 while filed for Chapter 11 bankruptcy which prompted the close of all Justice stores.
Why Did Justice Close Down Business?
1. Shift in Consumer Behavior:
The primary reason behind the closing of Justice was predominantly driven by changes in consumer behavior. More and more customers have been transitioning towards online shopping rather than the traditional in-store experience. This shift has impacted many retail businesses that were heavily reliant on footfall traffic.
2. The COVID-19 Pandemic:
The global health crisis has caused a dramatic drop in in-store sales due to lockdowns and social distancing regulations. The retail industry, specifically those without a robust online presence, was greatly impacted. In Justice's case, the pandemic only accelerated the problems it was already facing before 2020.
3. Management Decisions:
A string of decisions made by the management at Justice contributed to its downfall. They failed to adapt to evolving industry trends and consumer preferences in time, resulting in a stale store experience.
4. High Operating Costs:
The cost of maintaining physical stores has been escalating, making it difficult for businesses like Justice to stay profitable. Coupled with falling in-store sales, these high operating costs quickly became unsustainable.
5. Bankruptcy of Ascena Retail Group:
Ascena Retail Group, the parent company of Justice, filed for bankruptcy in 2020, citing financial strain caused by the pandemic and changing shopping habits. The group decided to close all Justice stores as part of their restructuring plan.
6. Increased Competition:
Many similar brands catering to the same demographic have emerged over the years, offering competitive pricing and quality. Additionally, these brands have smartly leveraged digital marketing strategies to establish a robust online presence. This has carved a large portion from Justice's share in the market.
7. Failing to Capture the Online Market:
Despite the trend shifting towards online shopping, Justice failed to upgrade and create a comprehensive digital shopping experience for its customers. They were unable to optimize their digital channels for sales, thereby losing their competitive edge.
8. Legal Troubles:
Justice had its share of legal troubles, which negatively impacted its reputation. They had to settle a lawsuit accusing the company of deceptive pricing practices, an event that understandably led consumers to question their trust in the brand.
In conclusion, the closure of Justice was a combination of internal business decisions, external economic factors, and the quickening pace of digital transformation in retail which the brand could not match up with.
Are Justice Stores Still Operating in 2023?
Justice, a favorite shopping destination for legions of tweens, made its mark on the retail industry. However, in recent years, there's been significant speculation about the state of its operations. As of 2023, here's an update on whether Justice stores are still operating:
1. The Omnichannel Experience
While the traditional brick-and-mortar retail stores of Justice have significantly transformed, they certainly have not totally disappeared. Justice has shifted to a hybrid retail model that balances both physical touchpoints and digital platforms to provide an extraordinary omnichannel customer experience.
2. Collaboration with Major Retailers
Instead of standalone locations, Justice has ventured into collaborations with other major retailers. In 2023, customers can find Justice-branded merchandise in numerous department stores, which allows the brand to leverage existing infrastructures and reach wider audiences.
3. Focusing on E-commerce
Justice has invested heavily in its e-commerce platform. The company's rapid shift to digital retail ensures it keeps up with evolving consumer requirements—timely, agile, and convenient shopping experiences.
4. Franchise Operations
In selected global markets, Justice's retail presence continues via franchise operations. They follow Justice's ethos, delivering the same exceptional products and experiences.
5. Pop-Up Stores
Justice has been testing the waters with pop-up stores. These seasonal or event-oriented footprint allows Justice to connect with their customers without the need for permanent physical stores.
| Store Strategy | Status in 2023 |
| --- | --- |
| Brick-and-Mortar Stores | Transformed |
| Collaborations with Other Retailers | Active |
| E-commerce | Highly Active |
| Franchise Operations | Active |
| Pop-Up Stores | Active |
In essence, yes, Justice continues to operate in 2023 but with a refreshed strategy. They've adopted an agile retail approach, combining physical retail's tactility with e-commerce's convenience. By doing so, Justice remains a significant presence in retail for pre-teens, marking a successful pivot from the traditional retail formats of the past.
Has Justice Opened Its Door Again?
In April 2021, Tween Apparel launched a different website known as ShopJustice.com. The website features an assortment of outfits and accessories for young girls. Ralph Gindi, the co-founder of Bluestar Alliance, stated that their goal is to create the best shopping experience with great products for Tween girls as they expand Justice's reach and footprint. ShopJustice.com is the company's opportunity to speak directly to their consumer, and it is a great channel for reaching their dedicated customers and moms where they are already shopping easily. The site seeks to provide the latest trendy products across various categories.
Bluestar is a well-known brand management and marketing organization with a brand portfolio including Hurley, Bebe, Tahari, Brookstone, Limited Too, etc. The retail footprint of the organization includes over 250 stores, shops, and distributors worldwide.
Bluestar announced in a release that it plans on expanding the Justice brand into different product categories that include unexpected accessories, technology, homes, etc. The company is very excited to bring its products back to its customers. The brand has a strong connection to its customers and has been trying hard to bring the mom and girl the variety, quality, and experience they long for and are searching for from Justice.
Were Justice's Clothes Good?
Justice began operation about ten years ago with Tween Girls, Inc. At the brand's peak, they had retail stores in North and South America. The brand worked on creating fun, comfortable, age-appropriate, and affordable clothes for young girls. In 2020 Justice Clothes switched up after closing all its brick-and-mortar stores and went online.
Justice clothes are made for young ladies aged between 6 and 12. The store provided a measurement chart under all items to figure out the perfect size for a tween. Justice designs come from a place of comfort and affordability. 
Moreover, all designs have an age-appropriate mindset. You could find everything from daily wear, such as leggings. Sweats. Jeans and tops. All these clothes were adorned with a feminine, cute flair. Justice also sold other items, including swimsuits, shoes, and accessories. Therefore, Justice Shop was a one-stop choice for moms who want their girls to have a little bit of everything at budget and kid-friendly prices.
Justice Clothing Customer Reviews
A Justice clothing review cannot be fully complete without mentioning consumers' thoughts about the brand. When a parent watches her child admire herself in the mirror, they write testimonials to help other consumers who may want to buy from the brand. 
Most of their brand's clothing reviews are 4 stars and above out of 5-star ratings. One parent says that the clothes are cute and soft and that her daughter put them on right away, although it was very hot outside.
There are a few comments from shoppers who could not take their girls into the Justice stores. One customer wrote to the brand to bring back the stores as they were amazing. The stores were also fun, youthful, and vibrant, so the parents loved shopping there with their little girls.
Another shopper left a review of Justice in Chick Advisor and commented how much she loved the brand's sales and clearance prices. She gave parents some tips on saving more money.
 Was Justice Brand Worth It, Or It Was Overhyped?
Justice brand was a hit among young girls who found their garments and accessories fun and exciting. Children love patterns, styles, and sizes, which were all offered by Justice. Although the brand closed its stores and the fun shopping experience at the retail store is no more, Justice was worth it. 
Since Justice is no longer available, you can find the girls' collection online at ShopJustice.com. The brand also sells some of its clothing at Walmart.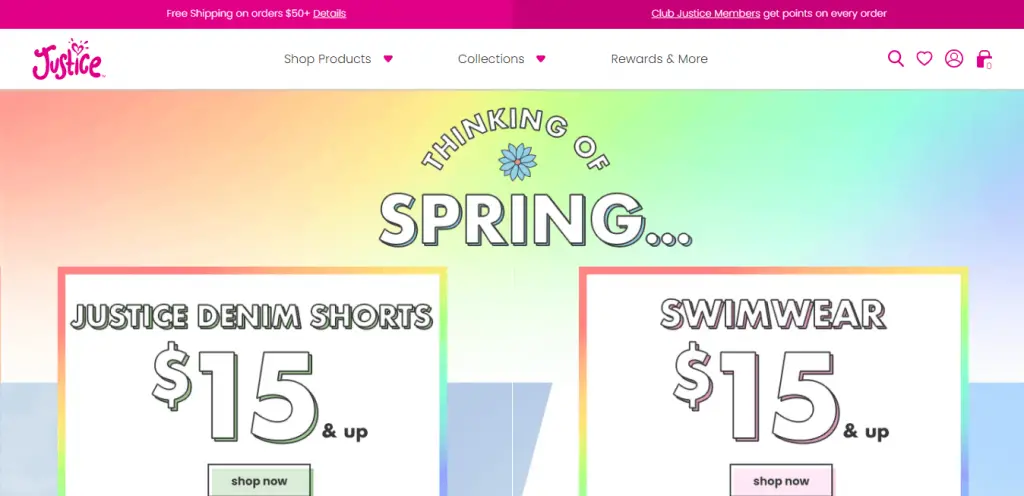 The size of Justice's clothes typically ranged from 5/6 (XS) to 20 Plus (XXL). Some moms found the items to fit smaller than most girls' clothing shops. Regardless of the fitting, the store did well in providing shoppers with a measurement chart to check the sizes before making the final decision.
Did Justice Have A Shipping Policy?
Justice only delivers within the US, with free ground shipping on purchases above $75. Under this cash, $5 was the shipping fee. Shoppers who wanted to receive their orders within a two-day shipping time would have to pay an extra charge of $20 and next-day shipping of $30. 
Justice used USPS or FedEx as their delivery services. After shoppers place an order, they will be given tracking information through a confirmation email. It only took the brand 4-8 days for ground shipping to be processed and delivered. Shoppers who placed their orders before 2 p.m. received next-day shipping.
Justice also had a return policy where a shopper could return an unworn clothing item within 45 days of purchasing it. Once the shopper placed an order, they did not have an option of canceling or changing it. A final sale item was non-refundable.
References:
https://footwearnews.com/business/retail/justice-closing-all-stores-2021-1203075898/
https://discontinuednews.com/is-justice-going-out-of-business/