Last Updated on September 2, 2023 by Reiner Chase
Clothing from Gap Outlet tends to be of slightly lower quality than items from regular Gap stores. It often includes past-season or lower-tier products, which are priced lower to attract bargain shoppers.
History Of Gap Outlet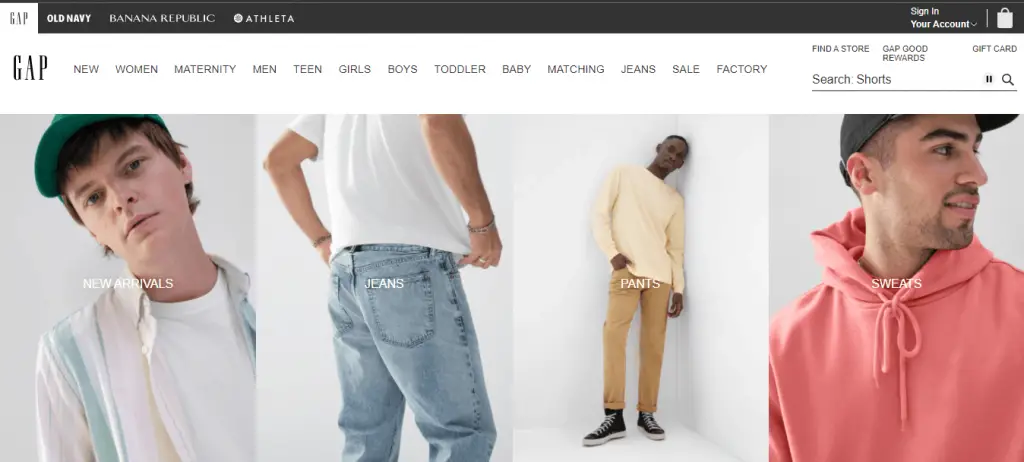 The company has expanded immensely over the past fifty-three years and now has seven brands. Men's Levi jeans and record tapes were the only items on sale when the first outlet opened. In less than three years, the outlets had expanded and had twenty-five stores operating. In 1983, the Gap stores purchased the Banana Republic, which sold safari and travel products. 
In 1987, Gap opened outlets in London, and in 1990 Gap introduced kids' clothes in San Francisco. In 1991, Gap stopped selling Levi's products, and in 1994 the Gap outlet opened a retail store called Old Navy. 
A bar in Paris inspired the retail shop's name. In 2001, the Old Navy opened stores in Canada. RED and Gap partnered in 2006 and released a line of products from which half the profits supported disease-fighting programs in Africa. In 2013, Gap bought off Intermix, a thirty-two-chain store of luxurious boutiques all through North America. In 2019, Gap celebrated its fiftieth anniversary.
Brands Of Gap
The Gap became famous because of its simple designs, great fits, and affordable prices. The Gap is now a huge international clothing retailer and brand. Along with Intermix and Old Navy, it also owns the Banana Republic and Athleta. 
Originally, Gap sold clothing targeted at the younger generation. It expanded and sold clothes, accessories, and personal care products for men, women, and children. Gap has about one hundred and thirty-two thousand employees. Approximately, three thousand company-operated stores and two hundred franchise stores Operate under Gap, including Gapkids, babyGap, Gapmaternity, and Gapbody. 
The Gap is one of the biggest brands that shaped retailing and consumer culture in the 1990s. It had popular advertisements that imposed themselves on the larger culture, influencing how people dressed. Brands such as Gap, Calvin Klein, H&M, Zara, among others, are all designer-inspired and do not create trends. 
Difference Between Regular Gap Shops And Gap Factory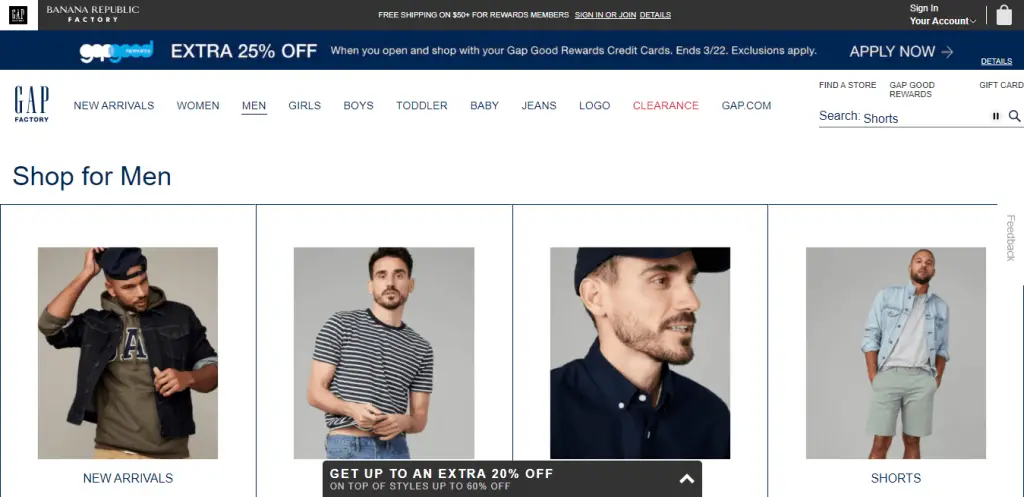 The reason outlet stores are cheaper than retail shops is because of the quality. Consumers have to differentiate between Gap outlets and regular Gap stores because the products look identical, although there is a difference in fabric and garment construction. The label will tell the difference as all Gap outlet labels have three square dots. The Gap uses the best fabric to make babies' and kids' clothing.
Consumers who are Gap cardholders can earn and redeem rewards at the Gap factory store. Consumers can redeem the card for merchandise at Gapfactory.com, bananarepublicfactory.com, and Gap.com, and gain additional value at any Gap Old Navy, including factory and outlet stores.
Products bought online from Gap, Banana Republic, Old Navy, and Athleta merchandise can be returned at the respective stores, but consumers cannot return to the factory or outlet stores. Please note that products marked 'mail only' should be returned via mail.
Qualities Of Clothing From Gap Outlet
Consumers have to differentiate between Gap outlets and regular Gap shops because the products look identical, although there is a difference in fabric and garment construction. Below are the differences in quality.
Durability
The clothing from the Gap retail shops is more durable as it is straight from the factory, but the durability of Gap's outlet's clothing isn't guaranteed because it sells recycled clothes that the retail shop didn't sell. 
Since the clothes are recycled, it lose out on durability. But consumers buy kids wear clothes from the outlets because, with time, the kids will outgrow them. Gap's regular shop's clothing is more durable than its other brands, such as Old Navy. The clothing material is soft, has a better hand feel, and has a longer lifespan. 
Although Old Navy's clothing material is much better than Gap's outlet, it isn't recycled.
Pricing
Gap outlet stores are cheaper than retail shops because of the quality. Unsold goods of the retail shops are recycled, manufactured, and sold at the outlets; hence, the cost is less.   
Design
Gap retail shops' clothing design is simple yet classy. Consumers have to differentiate between Gap outlets and regular Gap shops because the products look identical. However, there is a difference in fabric and garment construction, and the label of the Gap outlet has three square dots. 
In the 1990s, the Gap's designs were exclusive. There was no other brand that had clothing like Gaps', and that's why Gap has been popular ever since. But as new brands have come in with better designs, Gap hasn't managed to cope. Unfortunately, since 2017, Gap hasn't been as famous because it isn't keeping up with trends.
Colors And Size
Gap outlets and its brands have clothes of all colors and sizes. Its fitting is much better than Old Navy as it's accurate. The sizes available are from XS to XXL.
Exclusivity
Gap outlet's position is for sophisticated consumers, whereas Old Navy is tailored toward middle-class consumers. In the 1990s, not many people could afford Gap's clothing; hence, the management introduced Old Navy. 
Type Of Fabrics And Raw Materials
Gap's factory uses raw materials and fabrics that are more sustainable. The manufacturers use natural fibers and plant-based items such as cotton and linen. It also uses animal-based materials such as wool, leather, cashmere, synthetic fibers including polyester and spandex, and manufactured cellulosic fibers. Each type of fabric has a social and environmental impact.
Things to Consider Before Buying Clothes from GAP
1. Quality:
The quality of the clothing from GAP is one of the main things to consider. Consumers need to ensure that they're investing in items which would stand the test of time. Examining the fabric choices and sewing quality can provide a good idea about the long-term durability of the garments.
2. Style & Design:
Understand the style of the clothing that GAP offers. GAP concentrates on basic, versatile designs that are fashionable yet timeless. For individuals who prefer more daring, current fashion trends, GAP might not be to their taste.
3. Fit & Size:
While GAP offers a wide range of sizes, potential buyers need to ensure that the clothes of interest fit them properly. Gap provides comprehensive size guides – an asset that could be used before purchasing.
Price:
Even though GAP is a high-street store, its prices can be relatively high for some buyers, especially those looking for fast-fashion prices. However, GAP often has substantial sales and promotional offers where potential buyers can get good deals.
5. Sustainability:
GAP has been making efforts to be environmentally conscious and responsible. By 2025, GAP aims to derive 100% of their cotton from more sustainable sources and to save 10 billion liters of water. Customers interested in sustainably made clothing should consider this.
6. Return & Exchange Policy:
Consider GAP's return policy before making a purchase. GAP has a broad return window of 45 days from the shipping date. The firm accepts returns both in-store and through mail, though this can differ based on your location.
7. Customer Reviews & Ratings:
Finally, buyers ought to pay attention to customer reviews and ratings. These often provide an accurate image of the product quality, durability, and overall customer satisfaction with GAP products.
Success Rate Of Gap In 2023
The Gap is struggling these days to increase its sales because it faces stiff competition from Target and Walmart. These outlets sell clothing that is cheaper and of better quality. Gap tried to be in business with mid-range jeans and t-shirts. It always has sales going up to sixty percent. The designs aren't as unique as bigger brands such as Zara and Kohl's. 
References:
https://theadultman.com/fashion-and-style/gap-review/
https://www.quora.com/What-is-the-quality-of-clothing-from-The-Gap-Outlet