Last Updated on March 19, 2022 by
Nautica sells men's and women's sportswear. There is a vast selection of accessories, with the store offering fashion that's practical, sporty, and energetic. The styles are also luxurious and do not compromise important trends for people who adore lifestyle. Nautica was born in 1983, and the brand assumed its name from Nautilus, an ocean yacht that was fast during its days. Nautica has a catalog of clothing spanning years of iconic American style.
Does Nautica Sell Good Clothes?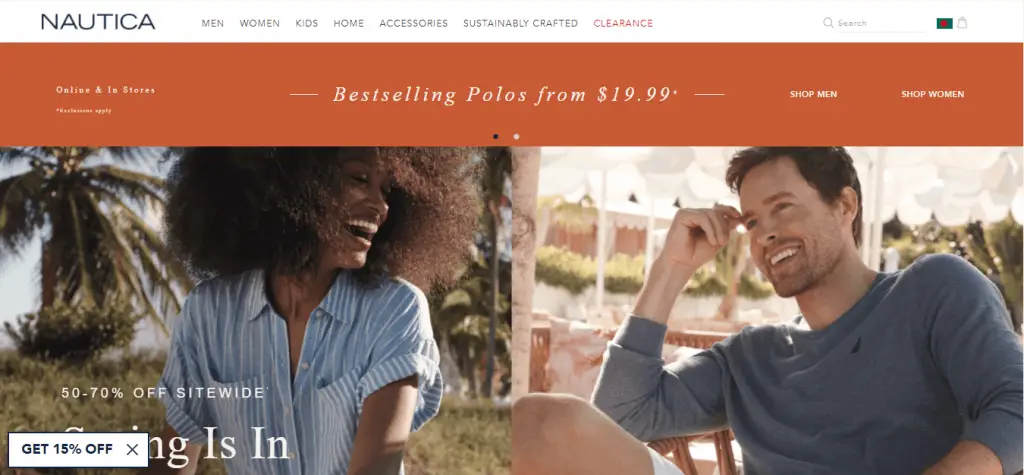 Nautica is a designer brand selling durable and comfortable clothes. Their clothes feature soft and comfortable fabric. The brand mainly uses top-quality embossed cotton jacquard fabrics when manufacturing t-shirts which are a favorite among consumers. Nautica clothes and fragrances are well known among the masses. 
Their merchandise sets a benchmark in the fashion industry with their many products ranging from polo shirts, jackets, and classic casual t-shirts. The good thing about this famous brand is the diversity in its products and their availability. Their other garments, including robes and polo shirts, are also popular.
Reasons Why Nautica Is So Popular
Nautica brand is famous for its polo shirts and has made this brand recognizable. Their polo shirts have gained an overwhelming response from consumers. The polo shirt collection is a favorite among the male gender due to its easiness and comfort. You can easily wear polo shirts with a suitable fitting that are warm and soft. 
The shirts have no uneasiness or discomfort. This brand sets the benchmark for the longevity of polo shirts. They are of good quality and can be worn for years without the fear of wear and tear.
Nautica has also been a benchmark for men's fragrance that deserves mention, although the brand extensively focuses on the apparel range. After consumers use the Voyage fragrance, they can get addicted to it as it stands out well. 
The perfume is unique and long-lasting, making people turn heads. The packaging is also appealing hence a wonderful gift for your loved ones.
Although the headquarters for Nautica is in New York City in the US, the manufacturing locations are in Asian countries. Nautica manufactures its clothes in different countries, including Hong Kong, China, India, Turkey, Spain, Singapore, Malaysia, and the Philippines.
 Nautica is owned by Authentic Brands Group along with 32 different brands, including celebrity, lifestyle, and entertainment.
Is Nautica A Luxury Brand?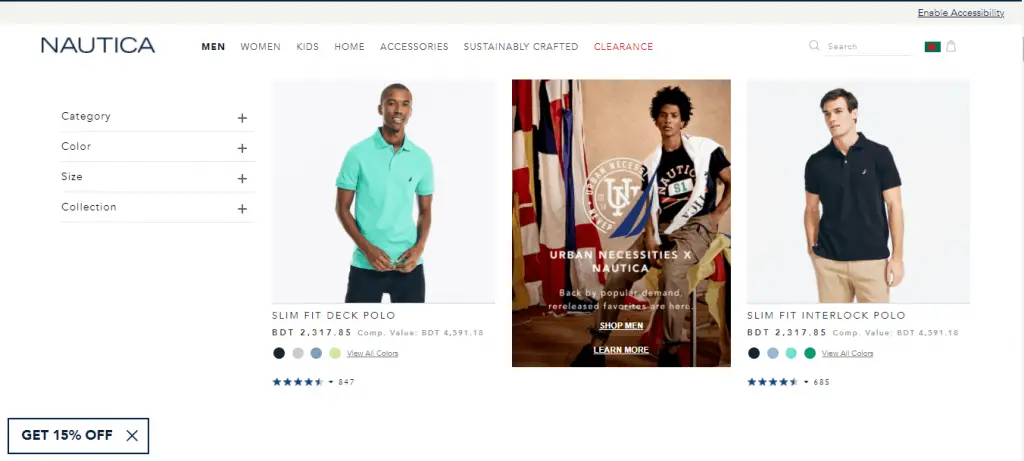 Nautica is not a luxury brand as in the fashion world; luxury equals expensive, high quality, and exclusive items. Nautica does not cut when it comes to all these properties that make a brand luxurious. Although Nautica is a fashion brand that began its popularity in the 90s, the brand no longer provides the exclusivity and indulgence various luxury brands do.
Nautica is an excellent brand for people interested in getting budget-friendly brands. If you are one of them, you should consider getting the Nautica brand. The products sold at Nautica will serve you for a   long time until you decide to throw them or send them out for recycling. Apart from selling men's, women's, and sportswear, Nautica sells pajamas, polos, robes, and fragrances.
Although Nautica can fully be a high-end brand, it provides its customers with sophisticated, fashionable products. Since the brand is not entirely high-end, any middle-income earner who wants to look expensive can afford the brand's pieces. A high-end brand is often characterized by top quality, high cost, and great designs. 
Although the fashion pieces sold by Nautica are also elegant, they do not pass for a high price tag and the exclusivity that displays luxury.
Is Nautica Part Of Ralph Lauren
Ralph Lauren does not own Nautica. However, the brand is usually placed somewhat above Ralph Lauren Corporation's Chaps Brands and below Tommy Hilfiger or Ralph Lauren's Polo Ralph Lauren brand.
Nautica was founded and developed by David Chu. He molded the brand and made it a renowned global lifestyle fashion store. Since the brand's advent in 1983, it has managed to have 35 categories of fashion pieces in over 65 nations. Authentic Brands Group eventually started owning Nautica, and since then, the brand has experienced a major downsize market repositioning.
Is Nautica Still Trending?
Nautica is among the most recognized brands in America and worldwide today. However, some organizations and clothing industries in America say that Nautica has already lost its cool and distinct touch. 
Authentic Brands Group is trying to relinquish this belief by making a comeback. The organization is relaunching the jeans line with unique styles. Nautica will now cater to a novel jeans line and complementary products for men, women, and children.
The Brand also offers a vast selection of colorful and monochrome garments and accessories that ladies and gentlemen can wear for a stylish look. For instance, many retail shops that sell Nautica products have significant sales where customers can acquire items at a much cheaper rate than usual.
Does Nautica Sell Quality Watches?
Nautica is a fashion brand. Nonetheless, the brand also sells accessories apart from clothes. Watches are one of the brand's products. Despite the brand being based around the ocean, its watches are unsuitable for diving. 
Although their models are highly water-resistant, creating a dive watch that can withstand pressure costs more money. Since Nautica is a fashion brand, people may not wear their watches for various activities, including scuba diving. Therefore, it would not be worth it for this brand to invest in this type of technology.
Where Are Nautica Watches Manufactured?
Nautica watches are manufactured in China. When making the watches, the brand uses Miyota movements in every one of its watches. The Miyota movements are common with other fashion brands when making watches, including Michael Kors, Hugo Boss, etc.
Timex makes Nautica watches on their behalf. Timex also manufactures watches for other brands, including Guess and Versace. Such a scenario is often common in the fashion industry because setting up a watch brand with no expertise is extremely hard.
Nautica watches typically cost between $75-$200 from online retailers like Amazon. If you buy from brick-and-mortar stores, the range may vary between $150-$400 since stores have more overheads and are smaller businesses looking to make profits.
Are Nautica Watches Durable
Nautica watches are pretty durable. The watches are made by times who have the expertise; therefore, the quality control is high compared to Chinese fashion companies. Nautica utilizes different materials for their watch cases and straps. 
The brand does not use sapphire crystals to make its watches. Instead, it uses cheaper mineral glass, although the overall price of the watch will reflect this. The watch's movement will last for about ten years, but you may need to change its battery every two or three years. You may get bored with your watch first or purchase a new one before the Nautica one stops working. 
Consumers who are not convinced by the durability of the watches should know that Nautica provides a 5-year US warranty. The extended warranty will remove the doubts that the watches are not of decent quality.
Nautica watches are outstanding value for your money; comparing the brand's watches with other fashion brands, you will realize that they are considerably cheaper and of the best quality.