Last Updated on September 5, 2023 by Reiner Chase
Not all people love wearing khaki pants, although sometimes that can be necessary in our modern business world. Moreover, they may also represent a sizable portion of a sophisticated man's wardrobe, and they can be much more fashionable and versatile than many men realize. You can wear khaki in just about any situation suitable for a denim shirt. However, they represent a recognizable upgrade in a person's style and class. 
This article will take you through the type of shirts you can wear with your khaki pants. Read on!
6 Ideal Shirts To Wear With Khaki Pants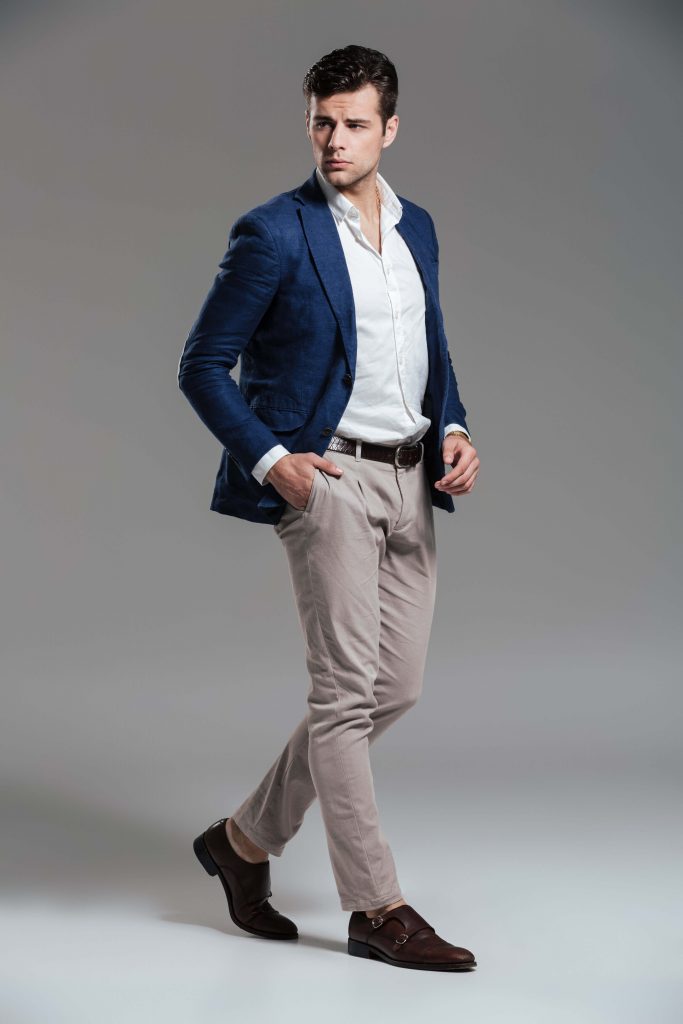 Khaki pants come in different designs and materials; therefore, if you are not a fan of these pants, you may also find khaki denim or other thick materials that provide extra utility. It is your responsibility to choose the variety of khaki pants to have in your wardrobe, although it should also depend on your job and social life level.
1. Chambray Shirt
Chambray is a light denim staple in many men's wardrobes since the 16th century. The shirts were developed in Cambrai, France, and they are usually light in weight with a plain woven cotton cloth that makes it perfect to layer or swelter the summer nights. 
Chambray is comfortable and versatile, with an effortlessly stylish feel to it. There are numerous ways you can wear and pair that favorite chambray shirt, and one of the best ways is pairing it with khaki pants.
Pairing khaki pants with any denim is a perfect style for many occasions. It gives a casual vibe. A chambray shirt is a perfect to-go-to shirt for wearing with your khaki pants during hot weather. The look will be great and appealing.
Traditionally chambray shirts come in plain colors and designs though you may go for those with prints. Since the khaki pants are plain, choosing a shirt with prints will also work well. The pants will also go with a chambray shirt of any color.
2. Button-Down Shirt
Khaki pants also go well with a plain button-down shirt. Plain button-down shirts are wardrobe staples that can never fail with any khaki pants. The shirts come in different colors. Whichever you choose, their fundamental nature allows the wearer to pair any color with just about any bottom you like including plain khaki pants.
The shirt can be folded in the sleeves to achieve a unique look. Women can tie their button-down shirts into a knot at the bottom end. Another option is to wear high-waisted designs to get an edgier and fun design with your khaki outfit. If you go for a plain button-down shirt, you can accessorize as much as you would like.
3. Granddad Collar Shirts 
By their name, you may think that the granddad collar shirts are some retro shirts for gentlemen only. This is a collarless shirt with a neckline of something like a clerk neck cutting or a mock neck cutting.
Although a white granddad collar shirt is quite iconic, there are different colors to achieve the best look. For instance, you can pair a blue pleated collar shirt with a pair of khaki pants and black ankle boots for a tougher and rougher look.
A granddad collar shirt with khaki pants keeps it less formal. You can also team your shirt with a colored sweater or a pair of sunglasses to get a better look. As an alternative to khaki pants, you can go for slim-fit combat-style khaki pants with extra pockets perfect for the phone and travel cards.
4. Flannel Shirts
Flannel shirts are men's shirts designed from a soft woven fabric like wool or cotton. Flannel shirts are typical in plaid or checked patterns, although the fabric's versatility goes beyond these standard designs. 
Flannel shirts have been around for numerous years and are best known for providing warmth to the wearer. The shirts have become more mainstream after the fabric, and the shirt's edgy style has become popular with fashion icons.
A flannel shirt is made for a casual occasion and is generally easy to wear. If you want to achieve a casual look, you can pair your flannel shirts with khaki pants and add sneakers to make the outfit ideal. 
A flannel shirt is also made for layering; therefore, you can add a white t-shirt beneath to provide a classic look that will keep you fresh during summer. Although you can wear any shirt under it, your undershirt helps soak up a sweat keeping your body cool. Therefore, if you have a pair of khaki pants in your wardrobe, you can go for this look.
5. A Classic Short Sleeve Shirt
A Classic Short Sleeve Shirt also pairs well with khaki pants. You can tuck in the shirt if your pants have belt loops. You must also wear a belt or tuck in the shirt in the khaki pants. Ensure that your belt matches your shoes unless you are wearing white sneakers. If your khaki pants came with a belt, for instance, the canvas belt often accompanying the pants and shorts, wear the pant with them. 
Since you can wear khaki pants in warm seasons, it's good to pair them with light and breezy summer wear, including the classic short sleeve shirt. The look gives you an ideal and appropriate outfit for various outdoor activities and get-togethers.
6. A Denim Shirt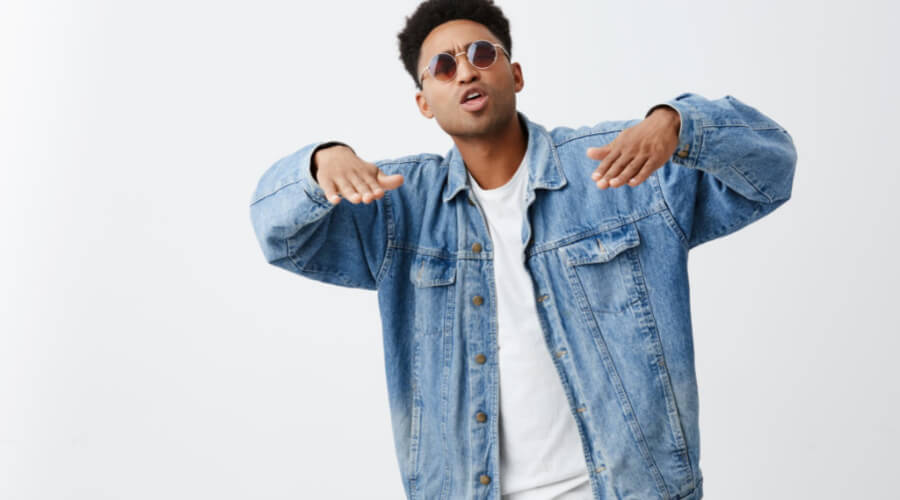 A denim shirt is a classic and versatile wardrobe staple that you can wear with any bottom, including khaki pants. Different colors of pants also go well with denim shirts. You can create casual and relaxed ensembles by pairing denim with khaki pants or representing a savvy and classy look. 
Layer your denim with a sweater, cardigan or experiment with different accessories to create a perfect look that you will love.
Choose skinny khaki pants to get a more feminine look. You can get a masculine pairing with well-fitting khakis and denim shirts. The good thing about wearing light khaki pants is that you will have the chance to pair most denim washes with them; even a light-washed top will look good in khaki pants, but a dark wash will also pop.
What Colours To Wear With Khaki Pants
Khaki pants are a versatile addition to any wardrobe. However, pairing these trousers with the right color can sometimes be challenging. Below is an enlightening listicle highlighting various colours that can be paired effectively with khaki pants.
WhiteWhite maintains an unwavering spot at the top of the list of colors that pair well with khaki. The contrast created by crisp white against earthy khaki creates an air of simplicity and sophistication for both casual and formal arrangements.
BlackBlack offers depth and elegance to khaki pants. The contrast between black and khaki provides a pleasing aesthetic, perfect for both business casual and semi-formal settings.
BlueFrom sky blue blouses to Navy blue jackets, various shades of blue complement khakis exceptionally well, exuding a relaxed contemporary style suitable for most occasions.
PinkA soothing light pink shirt or sweater adds softness when paired with khaki pants, ideal for springtime or summer outings.
Pastel ShadesColors such as soft lavender, light opaque yellow or pastel green add a fresh and vibrant touch to your overall look when worn with khaki pants.
RedThough bold, a tasteful splash of red coupled with plain khakis shows confidence in personal style – creating an adventurous yet sophisticated look.
Denim BluePairing your favourite denim shirt or jacket with khakis results in a timeless casual ensemble that is both comfortable and stylish.
BurgundyFor those who enjoy deeper tones, burgundy offers rich contrast and elegant pairing possibilities for your Khaki trousers.
GreenGoing tonal by pairing shades of olive or forest green with your khakis can lead to a chic monochromatic outfit reflecting the color palette of nature itself.
What Coat Should I Wear With Khaki Pants?
Choosing the right coat to pair with khaki pants depends on the occasion, weather, and personal style. Here are some coat options to consider:
Trench Coat: A classic choice that works well with khaki pants. It's great for a business casual or formal look. Opt for a khaki trench coat for a coordinated outfit or a contrasting color for a stylish pop.
Peacoat: A navy or black peacoat contrasts nicely with khaki pants, creating a polished appearance. This combination is perfect for colder weather and can be dressed up or down.
Denim Jacket: For a casual and trendy look, pair khaki pants with a denim jacket. This combination is excellent for a laid-back, stylish vibe.
Leather Jacket: A black or brown leather jacket adds a touch of ruggedness to khaki pants, creating a fashionable contrast. This combo is suitable for a stylish, edgy appearance.
Bomber Jacket: Bomber jackets in various colors and materials can work well with khaki pants. They offer a sporty and relaxed style, perfect for casual outings.
Blazer: If you're aiming for a business casual or dressy look, consider wearing a blazer with your khaki pants. Navy, charcoal, or even a lighter-colored blazer can complement khaki pants nicely.
Puffer Jacket: For cold and snowy days, a puffer jacket provides warmth and comfort. Opt for a neutral color like black or gray to balance the outfit.
Parka: In extremely cold weather, a parka with a fur-lined hood can be a practical and stylish choice. Olive green or navy parkas work well with khaki pants.
Overcoat: A tailored overcoat in charcoal gray or camel can create a sophisticated and elegant ensemble with khaki pants. This combination is perfect for formal occasions.
What's The Best Khaki Color?
Although a khaki of previous years may feature a washed-out, light color, other colors, including a dark tan, will work well with dark fall and winter hues. During the spring and summer, you can go for the light shades of khaki, also known as stone and off-white. As all shades of khaki will technically work no matter the season, you should get a standard medium color that will work well all year round.
Conclusion
People will always tend to judge you based on the clothes you wear. That's why it's crucial always to dress neatly and according to the occasion. Having a pair of khaki pants is a must for every man's wardrobe. It is an excellent pair that works well for all seasons, mainly with neutral shades such as tan. There are different options to go for when it comes to khaki pants, including lighter-weight khakis for spring and summer and heavy wool fabrics for other seasons. You can never lack an option.
References:
https://www.pennypincherfashion.com/what-color-goes-with-khaki-pants/
https://www.yourgirlknows.com/what-color-shirts-goes-with-khaki-pants/