Last Updated on September 6, 2023 by Reiner Chase
Planet Fitness membership costs typically range from $10 to $22.99 per month, depending on location and membership type. Additional fees like an annual fee (around $39) may apply. Prices may vary, so check with your local branch for exact rates.
About Planet Fitness Costs
Compared to other professional gyms, Planet Fitness is the most affordable. That's partly because it's made progress as a publicly traded company, so it makes it easy for more people to join.
Apart from their attractive fees, they also have robust in-house codes. For example, PF is judgement-free, meaning that no one should make you feel intimidated. So, when you're cleared for either the PF Black Card or Classic membership, you'll join a safe space to help you grow without shaking you up.
In this article, we will give you the different Planet Fitness membership costs. You will know how much the different levels ask of your wallet and how the annual and monthly payments play out. Then, we will top everything off with an exclusive section showing how each branch (or club) charges. That should save you the trouble of asking around and getting half-baked info.
Now, let us see what Planet Fitness offers, and hopefully, you will know the best package for yourself, depending on your needs.
MenNStuff 101:
You should know that Planet Fitness offers membership in three different tiers. Here they are:
1. The Black Card membership, which is top-tier and the one with the most benefits;
2. The Classic membership, which is level two and misses many perks that the PF Black Card offers;
3. And the No-Commitment membership, which is a special package for anyone who doesn't want contract-based commitment.
Planet Fitness Startup Fees
Planet Fitness will charge you for starting your commitment, and here is how the fees are going to play out:
1. To start your PF Black Card Membership, you will only pay $1 for yourself. Planet Fitness makes its best package easy to access because it will give you the most benefits. Also, you'll have to commit for 12 months.
2. For Classic Membership, it is $10 a person. Like the Black Card, you will also commit for a year.
3. For the No-Commitment Membership, starting up is $15 for one person. This tier has high startup fees because you can cancel at any time, and Planet Fitness won't have a problem with you.
Planet Fitness Monthly Fees
When you start, here's how much each membership tier will take from you each month
1. PF Black Card Membership is $22.99 a month for one person. The cost is higher than the rest because this package offers you the most excellent benefits.
2. Classic membership is $10 per month for you only. It's cheaper than the No-Commitment (see below) because PF is sure they will charge you the next month.
3. The No-Commitment membership asks you $15 every month you choose to commit. If you're asking why non-commitment is more expensive than classic membership, it's because you don't guarantee Planet Fitness that you'll be there next month.
Planet Fitness Annual Fees
PF charges a base annual fee for the two commitment-based memberships. So, before you start using your PF Black Card or Classic access, you'll pay a $39 yearly membership fee. That activates the commitment and makes your agreement with PF formal. 
The commitment fee is charged to your billing account about eight weeks to three months into your subscription. That way, Planet Fitness gets money to cater for upkeep, repair, and club maintenance.
PF Black Card Membership Perks (After Paying Around $23)
After you pay the $22.99-a-month fee (exclusive of taxes), here are some of the benefits you get from the PF Black Card:
1. You'll be able to walk into any PF across the world and use the services there. For example, if you're taking a vacation in Panama, you'll be able to walk into the club at On D Go, La Chorrera, and keep up with your fitness journey.
2. Then, you get unlimited access to your home club of choice. So, whenever it's open, you can go and stay for as long as you want.
3. In select locations, you'll get Free Wi-Fi. That means you can tune in to your favorite workout show and stream while you work out. All the while, remember to use your headphones or earpiece because musical noise is against PF policy.
4. Also, you get to enjoy the tanning services that will improve your appearance and enhance your mood. However, Planet Fitness may restrict your time at the fitness bed because UV light overexposure may trigger skin cancer.
5. With the $23 you pay each month, the PF Black Card allows you to bring in a guest every time you visit. So, if you have someone who wants to test PF's services, the Guest Pass is an excellent way to introduce them.
6. In some locations, the PF Black Card opens you up to hydro-massaging. Such relaxing body care will help improve your recovery and prepare you for the next workout.
7. Also, your membership allows you to use massage chairs, which make your workout life worth living. Indeed, everyone wants to enjoy the buzzing effect that those chairs give.
8. Finally, you get special discounts like 50% off on some drinks and between 10% and 20% off on some sites like Reebok.com. PF has different partners, and they come together to give you attractive benefits that will make you pay $22.99 every month without faltering.
PF Classic Membership Perks (After Paying Around $10)
The Classic tier is Planet Fitness's basic package, and it only comes with three benefits:
1. Unlimited access to your member club (the one you signed up at)
2. Free fitness training by one of PF's professionals. So, if you're a newbie who wants to understand how working out works, this should be an attractive benefit. It will help you flex those muscles while minimizing injury and improving recovery.
3. If your PF has Wi-Fi, the Classic Membership is your password. Yes, you have unlimited access, meaning that you can FaceTime your fans while you lift those weights. However, ask before filming anything because it may be against policy, and you may infringe upon PF's copyright.
PF No-Commitment Membership Perks (After Paying Around $15)
The No-Commitment Membership is like the Classic one, except that you can quit whenever you like. So, the perks are unlimited access, free training, and unlimited Wi-Fi.
Canceling Membership (Are There Any Fees?)
If you're not satisfied with PF's services, you can cancel and cease paying the monthly fee. But, it can get complicated if your membership type is contract-based.
To explain, you'd have to pay a cancellation fee of up to $58 if you're in a 12-month commitment program and are in the middle of it. It's painful, but it fits the bill because your cancellation is equivalent to a contract breach.
But, if you're subscribed to the No-Commitment program, quitting is as easy as falling off a log.
To exit, you'll need to do it in person or through certified mail. Planet Fitness has attachment issues, so you can't just quit on them via text.
Charges Based On Different Branches
At MenNStuff, we decided to do some scut work and bring your membership cost from different membership clubs across the US. That way, you can get a glimpse of what Planet Fitness at the corner will charge you when you walk in.
Here is the table:
| | | |
| --- | --- | --- |
| Gym Location | PF Black Card Cost  | Classic Membership Cost |
| Abbotsford, Canada | $24.99 per month | $15 per month |
| Saskatoon, Canada | $24.99 per month | $15 per month |
| Ottawa, Canada | $24.99 per month | $15 per month |
| Seattle, Washington State (US) | $22.99 per month | $10 per month |
| Dewitt, New York (US) | $22.99 per month | $10 per month |
| St. Joseph, Missouri (US)They offer a $199-a-year package known as Paid in Full. | $22.99 per month | $10 per month |
| Santa Isabel, MexicoThe annual fee for both types of membership is $750 and is deducted monthly | $429 per month | $229 per month |
| Little Havana, Florida (US) | $22.99 per month | $10 per month |
| Monterrey (La Estanzeula), Mexico | $429 per month | $229 per month |
How to know the Fees of clubs near you?
1. Visit the Planet Fitness Website here.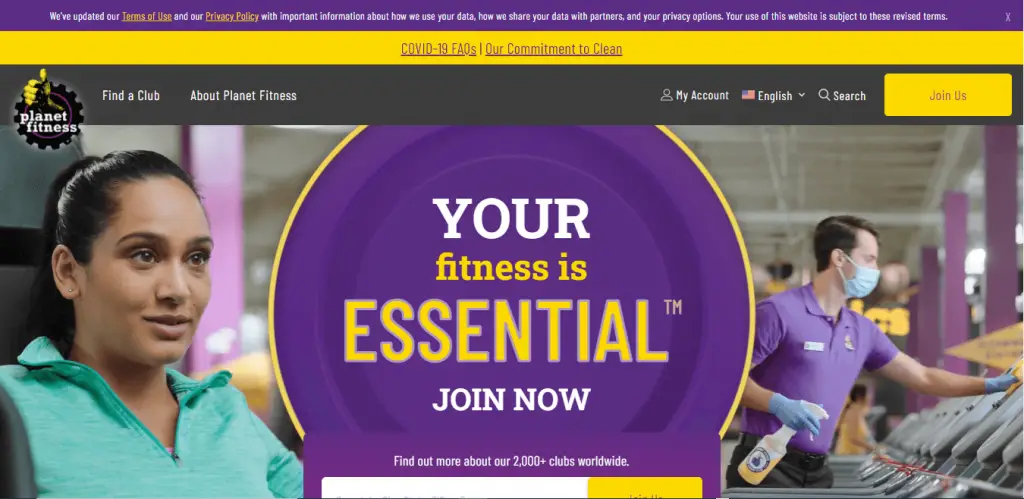 2. On the home page, right in the middle, click on the Join Us page. Don't start the search yet.
3. When the Gyms Near Me page opens, zoom in and out of the map to choose your location.
4. Once you find a club in your state, click on the purple dot. That should open a special menu on the left.
5. Click View Membership, and Planet Fitness will open you up to that specific club. There, you'll be able to see something like this:
Going through those steps should help you get the exact membership costs and plan for your fitness journey.
Related Questions
How Much Is Planet Fitness Annual Fee?
On average, the annual fee is around $38. Planet Fitness charges it eight weeks into your subscription, so don't worry about having a lump sum for your first month to go well. 
Does Planet Fitness Charge An Annual Fee And Monthly Fee?
Yes, but not for the No-Commitment membership tier.
Monthly fees are applicable for each package, but the annual prices are based on commitment. So, if you're a PF Black Card on Classic member, there's a $39 charge each calendar year.
How Much Does Planet Fitness Cost A Month For Users?
Regardless of the membership type, you'll pay between $10 and $22.99 each month. 
Does Planet Fitness Ever Waive Their Annual Fees?
From this document, you'll realize that, yes, Planet Fitness does waive its annual fees. They host programs and select a few participating locations that charge zero yearly fees.
Can You Negotiate With Planet Fitness?
With luck, you can negotiate a Planet Fitness contract with the person at the front desk. A personal finance journalist confirms it, saying that he has researched several gyms, and they're always willing to bend their rules to fit your budget.
Conclusion
You know that the Planet Fitness membership cost is between $10 and $23 a month and $39 every year. From the table, you've also figured out that clubs charge differently, but the deviation isn't significant.
So, prepare yourself to pay startup and monthly fees. Then, after eight weeks, be ready to receive an annual fee charge on your checking account.
Since gym contracts are negotiable, go with your proposed figures in mind. That way, you can pitch an attractive agreement that the club manager will like. If it doesn't go through, choose to commit. That's because Planet Fitness gives you the best packages under the sun.
And that was it!
If you found the content informative, don't forget to share the link to this article. Copy and paste it to your fitness forums and help people research before they test the waters at Planet Fitness. It'll go a long way into preparing their budgets.
If we missed any details, especially regarding the fee, mention them in the boxes below. We'll use your info to better the content, and we'll thank you for life.
Now, as you leave, check out these related articles that will contribute to your fitness journey:
1. The complete guide to 10 of the best cooling undershirts | we've got you! 
2. Does Planet Fitness have showers at the gym? good things about showering after the gym at Planet Fitness 
3. What is the Planet Fitness lunk alarm? 
4. What are the benefits of 50 pushups a day? (applicable for both men & women) 
5. The complete guide to 8 of the best compression shirts | all you need to know
Thanks for reading, and we'll see you in the next ones!
References:
https://www.planetfitness.com/gym-memberships
https://www.drworkout.fitness/planet-fitness-prices/