Last Updated on August 30, 2023 by Reiner Chase
Armani Exchange offers trendy, affordable fashion, targeting young adults. Emporio Armani embodies modern elegance, targeting a younger demographic. Giorgio Armani, a luxury line, focuses on timeless sophistication. With 270+ boutiques, Giorgio Armani stands as the flagship brand.
Comparison between Armani Exchange, Emporio Armani, and Giorgio Armani
| Facts | Armani Exchange | Emporio Armani | Giorgio Armani |
| --- | --- | --- | --- |
| Brand Identity | Contemporary and trendy fashion | Casual luxury and accessible designer fashion | High-end luxury and timeless elegance |
| Target Market | Youthful and fashion-forward individuals | Sophisticated individuals seeking quality and style | Affluent individuals looking for luxury and exclusivity |
| Price Range | Moderate | Moderate to high | High |
| Product Range | Fashion apparel, accessories, and watches | Fashion apparel, accessories, watches, and fragrances | Couture fashion, accessories, watches, fragrances, and cosmetics |
| Store Experience | Modern, trendy, and vibrant stores with a youthful atmosphere | Sophisticated and elegant stores with a luxurious ambiance | Exclusive and luxurious stores offering a personalized shopping experience |
| Design Aesthetic | Expresses urban style and streetwear influences | Embraces elegance, simplicity, and a modern twist on classic designs | Known for timeless and sophisticated designs with an emphasis on quality and craftsmanship |
| Celebrity Endorsements | Collaborations with popular influencers and celebrities | Collaborations with renowned artists and personalities | A favorite of Hollywood celebrities and prominent figures in the fashion industry |
| Brand Legacy | Established in 1991 as a more accessible diffusion line of Giorgio Armani | Launched in 1981 as a bridge line between high-end Giorgio Armani and mainstream market | Founded by Giorgio Armani in 1975 and has become one of the most iconic luxury brands worldwide |
| Signature Product | Iconic logo T-shirts and denim | Tailored suits and accessories | Exquisite evening gowns and red carpet-worthy designs |
| Brand Philosophy | Embraces individuality and self-expression through fashion | Balances style and quality, providing accessible luxury for everyday wear | Believes in creating enduring styles that transcend trends and reflect timeless elegance |
Who Owns the Three Armani Brands?
Armani today is one of the leading fashion houses and has been operating for almost a century. The brand gained a reputation for being one of the most luxurious and exclusive brands globally.  
Armani and Emporio Armani are two different brands owned by the same parent company, the Armani family. On the other hand, Giorgio Armani is Giorgio Armani S.P.A- the Italian fashion house's parent company. They are also known for their exclusive and luxurious clothing, accessories, jewelry, and perfume. 
The Armani family established the Armani brand in the 1950s, and since then, the label has grown and diversified into different categories and product lines. The Armani family owns several other fashion brands and labels, including Emporio Armani, Giorgio Armani, and Armani Exchange.
Exploring the Differences between Armani Exchange, Emporio Armani, and Giorgio Armani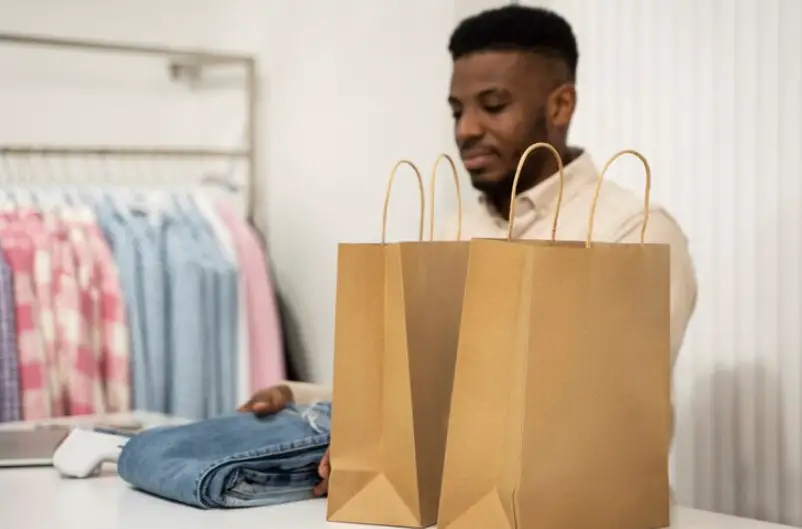 Armani Exchange
The Armani Exchange line offers more affordable clothing and accessories designed to appeal to young women. The brand's most famous pieces are classic dresses and tops, leather jackets, and structured trousers. It also offers shoes, bags, and women's accessories, and it keeps up with street style trends quality-wise.
Giorgio Armani launched the Armani label in 1975 as a contemporary, urban label. It quickly gained popularity and was later rebranded with Exchange in 1985. 
The Armani Exchange line is one of the most well-known and widely recognized labels in the fashion world and is found in many stores and online retailers globally.
Armani Exchange (A/X) is a clothing line for the masses with trendy, casual, and fun styles.
Armani Exchange Design and Style
Giorgio Armani doesn't design Armani Exchange, but it is a youthful fashion brand that targets the American market. 
Giorgio Armani created Armani to serve as an extension/sub-brand, catering to younger members of society who can't access all levels of the design house's luxurious products due to their price. 
The demographics for Armani Exchange are much more youth-oriented than Giorgio's product. A/X markets its designs with flashy colors and distinct prints in vibrant that cater to the contemporary tastes of customers between eighteen to thirty years old.
Armani Exchange Material & Durability
Armani Exchange is an economical brand of Armani manufactured in China. The quality has been proven to reflect what you would expect from an actual Armani item. 
Items under this label are mostly cotton and polyester-free, meaning they're durable. It helps extend the lifespan of products, which increases their value by having plenty more wear left on them.
Emporio Armani  
Giorgio Armani and a group of investors launched Emporio Armani in 2000 as they saw the brand's potential to expand market share beyond the eyewear and bags it was known for. The investors also wanted to add a more contemporary feel to the brand, where Emporio Armani's signature gold coin motif originated.
The change in design direction and focus to a more contemporary feel also led to Emporio Armani's move from its original Milan headquarters to a more modern and prestigious new headquarters in the Turin area. 
Despite the investors' hopes for a more contemporary design, the Emporio Armani brand has not been able to catch the attention of consumers outside of Italy. That is likely due to the brand's lack of affordability and exclusivity.
Emporio Armani is a sub-line of the Armani Exchange label. He named the term for the modern women 'the Emporio women' and includes ready-to-wear, knitwear, accessories, and fragrances. 
Emporio Armani Signature pieces include the Emporio Embrace collection, the Emporio eyewear range, and the Emporio shoes, whereas it offers casual menswear and accessories for men. 
Some of the most popular Emporio Armani pieces include the Emporio t-shirts, the Emporio sweaters, the Emporio trousers, the Emporio runners, the Emporio watch, and the Emporio belts.
Emporio Armani Design and Style
Armani created some accessories such as watches with luxury in mind. The brand is best suited for the younger audience- young adults or college students trying to get into the high-end world of fashion without spending too much money because they know they can invest more into their wardrobe. 
The line even pays attention to the finer details, like getting each detail perfect, making them elegant but expensive.
Emporio Armani Material & Durability
Emporio Armani is a fashion line with good quality and an affordable price point, although, the quality of the fabrics isn't as good as Giorgio Armani and Armani Exchange. Today's Emporio Armani is half-canvassed, cheaper than Giorgio Armani, but still has an excellent design. 
Giorgio Armani
Giorgio Armani is the head brand of the Armani family that was launched in 1975 in Italy and is known for its luxury products, including the notable Armani Collezioni and Armani Jeans lines. The Armani family also owns the Giorgio Armani S.P.A fashion house and has been operating since 1986. 
Giorgio Armani is one of the most expensive brands in the world. The collection includes Armani Collezioni, the Armani Jeans, Armani Exchange, and Armani Prive lines with over twenty unique Armani fragrances. 
One of the essential differences between Armani Exchange, Emporio Armani, and Giorgio Armani is that Giorgio Armani is quite an expensive brand globally.
In 2017, Giorgio Armani restructured his company, and therefore he closed two of its fashion labels, Armani Collezioni and Armani Jeans. Armani Collezioni unified back into the Giorgio Armani line. 
At the same time, Giorgio mixed Armani Jeans with the Emporio Armani line because they had similar styles and utilized the same logo. 
The current Armani brands are Giorgio Armani, Emporio Armani, and A/X (Armani Exchange), which manufactures and produces different goods.
Clothing is their main product and accounts for most of the company's sales. However, they also have other lines like watches and accessories that they license their name to. 
They have brand names under which they produce home goods, for example, Pottery Barn, hotels such as Hilton Worldwide, or resorts such as Marriott International. 
The company also has a cosmetics line branded as 'American beauty,' but this line does not account for any significant portion of its revenue stream.
Giorgio Armani Design and Style
Giorgio Armani has said that a 'minimalist' style is essential to true elegance. The most fashionable people look like they don't put any effort into how they dress, which appears effortless and elegant. 
So, simple things are more attractive than complicated ones. In reality, people want clothes with bows or ruffles on them, even if Giorgio says it's not necessary because it enhances an aura of charm and beauty. Besides, he started his career as a fashion designer by designing bow ties.
Giorgio Armani Material & Durability
Giorgio Armani is a luxury label that uses the best quality materials to make its products. Their lines may be modernist, but their materials are often sumptuously sensual, even voluptuous. The dissimilarity between style and fashion lies in high-quality items like Giorgio Armani's. 
The specialty of this brand is perfect cuts and soft fabrics that offer an enjoyable experience every time they are worn.
About the shoe collection at Armani, there's also an assortment of types- from flats to boots and models with 'Made in Italy' tagging, which offers a comfortable fit for customers everywhere who have tried or purchased them online.
References:
https://www.differencebetween.com/difference-between-emporio-armani-and-vs-armani-exchange/
https://www.extrabux.com/en/guide/6492427