Last Updated on September 5, 2023 by Reiner Chase
Planet Fitness is budget-friendly with basic amenities and a "Judgement-Free Zone." Gold's Gym offers more extensive equipment, classes, and personalized training but tends to be pricier. Planet Fitness has 2,000+ locations, while Gold's Gym has 700+ worldwide.
What Are The Differences Between Planet Fitness And The Gold Gym?
There are many differences between Planet Fitness and Gold's gym, ranging from cost, having a spa or pool area, having childcare services, and offering classes or a range of courses. The table below shows the difference between Planet Fitness and Gold's Gym.
| | | |
| --- | --- | --- |
| Differences | Planet Fitness | Gold's gym |
| The cost of the gyms | Planet fitness has very affordable pricing as follows: To become a member, you should pay an upfront payment fee of $10 per month. Also, start-up fees solely depend on your location. If you don't want to sign a membership contract, you have an option of paying $15 a month, which you can do away with at any given time. | Gold's gym has inconsistent pricing in different locations. The best way is to find the pricing in your locality. However, Gold's gym has other bronze, Gold, VIP, and basic packages. The package pricing will depend on choosing the locations and the package you want. |
| Do they offer Child care services? | For those who want a helping hand while they do their extreme cardio, unfortunately, there are no childcare services offered at Planet Fitness. You should find a babysitter or even take the child to daycare before you hit the gym. The gym is for those who want a child-free environment. | Yes, it offers childcare services. The childcare is known as Kid's care, where you can drop off your child while you partake in your exercises. The prices may include your membership, but this might still vary with your locality. |
| Are there classes offered for members? | There are no group fitness classes in Planet Fitness; However, it offers a basic introductory course to help you jumpstart your gym life and learn how to navigate the gym and use the available equipment. | The Gold's gym has a variety of fitness classes. Many classes a day or even more, depending on the membership sign-ups. The fitness group exercises include; group workouts, boot camp styles, silver circuit, and Zumba, among many others. |
| Do they have spas and pool areas for their members? | Planet Fitness is well known for not having many amenities. This way, they avoid the extra costs of maintaining the gym. | Here, it solely depends on what your local franchise branch offers. Some Gold's gyms contain saunas, pools, and spas, while others do not. Again, it depends on your location, and you should make inquiries about this. |
The above table shows all you need to know about choosing your preferred gym regarding preferences. If you want cheap, extreme cardio workouts, 24-hour access, kid's free environment, then Planet Fitness is the place to be. If you want lots of access to a weightlifting gym with amenities like saunas and childcare services, then your local Gold's gym is the place to be.
What Is The Importance Of Cardio And HIIT Exercises That Planet Fitness Offers?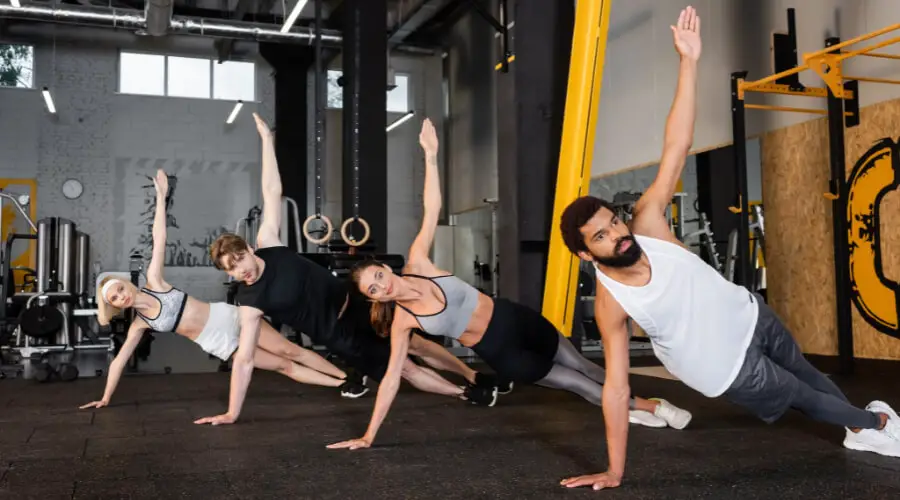 High-intensity Interval training has so many benefits. First, HIIT is done within a limited time, which is 20-30minutes. It helps in: 
1. Burning calories in the said limited time.
2. It also reduces the heart rate and blood pressure. The HIIT exercises balance the heart rate and enhance the normal blood pressure levels. If you want an activity that helps reduce blood pressure, this is the one to go to.
3. It heightens your body's metabolism for hours after doing the HIIT exercises religiously. A high metabolic rate aids in weight loss if you want to lose that weight.
4. It reduces blood sugar as you reduce fats and allow your body to adjust. This can go hand in hand with a good weight management regime if you plan to lose weight.
Cardio Exercises are movements that increase your heart rate which improves your oxygen flow. Cardio can be low or high-impact exercise; however, low cardio exercises include swimming, rowing, walking, and cycling. The high-impact exercise might be skipping a rope or running. 
What Do The Cardio Exercises Do?
They reduce body fats, waist, and hip circumference and improve the heart's stability, supplying oxygen to the rest of the body.
What Is The Importance Of Weight Lifting That Gold's Gym Specializes In?
Weight lifting is significant if you want to build your muscles and strengthen all the body muscles. The importance of weight lifting include;
1. It helps you lose the stubborn fat that you always wanted to lose. If your goal is to lose the weight that has always given you insecurities, you start lifting weights.
2. Weightlifting maintains your muscle tissues and helps you build the muscle you want to develop. It is almost the same as bodybuilding. Any muscle you want to establish will be aided by the weight lifting you do.
3. Weight lifting also strengthens your bones and assists in the improvement of your overall bone health. Bone health is an essential virtue as it makes up most of our bodies.
Pros and Cons of Planet Fitness And Gold's Gym
| Aspect | Planet Fitness Pros | Planet Fitness Cons | Gold's Gym Pros | Gold's Gym Cons |
| --- | --- | --- | --- | --- |
| Pricing | Affordable membership fees | Limited amenities | Extensive equipment | Higher membership costs |
| Amenities | Clean facilities, basic equipment | Lack of advanced equipment | Many classes, advanced equipment | Crowded at peak times |
| Atmosphere | "Judgement-Free Zone," non-intimidating | Limited personal training services | Diverse clientele | Potentially intimidating |
| Locations | 2,000+ locations nationwide | Fewer locations in some areas | 700+ locations worldwide | Limited international presence |
| Personal Training | Limited personal training options | Basic personal training services | Extensive personal training options | Additional cost for trainers |
| Additional Services | Tanning, massage chairs, hydro massage beds | Fewer services overall | Childcare, nutrition counseling | Additional fees may apply |
Frequently Asked Questions. (FAQs)
Is The Gold's Gym Good For Starters?
Gold gym specializes in weight lifting but also offers other gym activities. The gym offers group classes and HIIT exercises. At Gold gym, the classes vary from location to location, so the best way is to find out what they offer in your local franchise.
Does Planet Fitness Have Exclusive Showers?
Planet Fitness has showers. The showers are not as luxurious as you want them to be, but they have separate showers with privacy curtains. They also have lockers for securing your items before showering.
Conclusion
Between Planet Fitness and Gold Gym, your goals will determine the gym you want to subscribe to. On this page, we have highlighted the differences between the two gyms. For instance, if you wish for exclusive cardio and HIIT exercises, Planet Fitness has the amenities for that. However, if you want weight lifting and bodybuilding, Gold's Gym has the necessary amenities and the exclusivity of those exercises. Finally, the choice of the gym will depend on what activities you want to do and the affordability of the exercises you enjoy.
References:
https://trustyspotter.com/blog/golds-gym-vs-planet-fitness/
https://luxeluminous.com/golds-gym-vs-planet-fitness/