Last Updated on September 6, 2023 by Reiner Chase
Planet Fitness has a simple dress code: No Gymtimidation. Members can wear comfortable workout attire, but no jeans, boots, or open-toed shoes. This judgment-free policy is embraced by over 14 million members across 2,000+ locations.
What is the Planet Fitness dress code?
Planet Fitness does not allow clothing that others may see as offensive, intimidating, or revealing. Also, it won't let you in if your outfit has the potential of damaging equipment or presenting any safety hazards. To give context, some clothes that shouldn't see the gym's inner walls are:
Sandals and open-toed shoes
Greasy, soiled, or mud-caked clothes or footwear
Pants and jeans bearing loud grommet
Outfits with inappropriate messages
Like any other gym around, Planet Fitness has a dress code. But, unlike their judgment-free slogan, expect the staff to single you out and put you aside if you wear anything that doesn't meet the set standard.
Since we don't want you to face what Alana did, this article will detail the Planet Fitness dress code. First, we will confirm if they have clothing rules and answer any related questions. Then, before we close, we'll give you a detailed guideline on what to wear. That way, you'll avoid getting in trouble and missing out on your workout at Planet Fitness.
Now, see yourself until the end for that and much more.
Does Planet Fitness Have Clothing Rules?
Not explicitly.
Aside from a brief chunk on their club FAQ page, Planet Fitness doesn't mention any clothing rules. That's because it would be too prescriptive, and members would feel out of breath.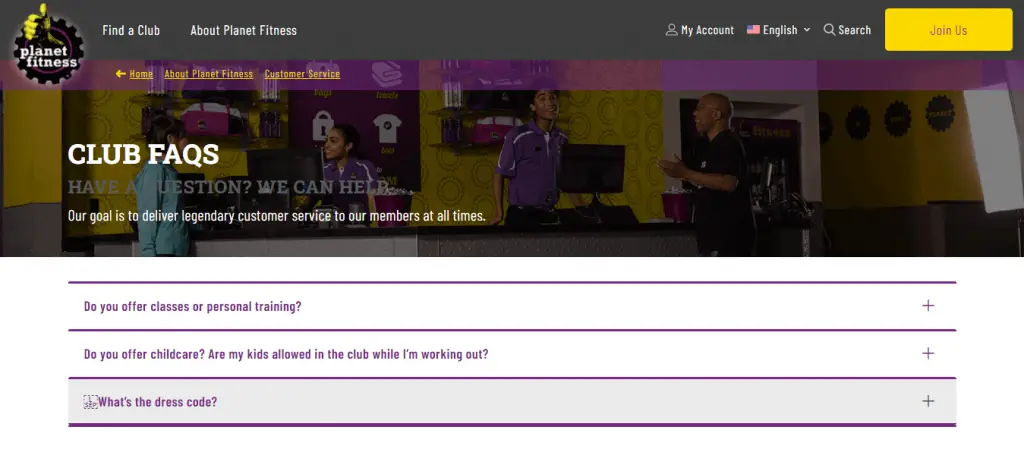 However, in a community article, they try to explain why they don't prefer members wearing certain clothes and shoes. Here's a rundown of what Planet Fitness advises in the read:
1. Wearing sandals makes it easier to catch your foot in the machines. Also, your open toes will suffer the most if weights drop on them.
2. Jewelry is fabulous, but hoop earrings and hanging necklaces could slide into the equipment. That would probably break it, making it useless and getting you surcharged.
3. Also, you shouldn't wear too baggy clothes because when your workout builds up, you'll start feeling uncomfortable.
4. Then, rethink your devotion if your outfit is 100 percent cotton. If you don't, you'll soak in sweat, and you'll smell. That may make the gym stinky, and you don't want that to happen.
5. Finally, avoid outfits that choke your skin. That's because tight clothes may bunch in some areas, which will keep you pulling it down or yanking it up. Since you went to the gym to work out and not fight with your clothes, do the right thing 😉.
Can I Wear A Sports Bra At Planet Fitness?
Yes, but Planet Fitness thinks you should go for other easier options.
The discussion on workout clothes for women is a difficult one to have. That's because they are so many options, and no one knows where to draw the line.
For the sports bra, though, we can say some things. For starters, some of them are hard to take off. So, when you're done with your workout, you'll start another one just to remove the sweaty mess over you.
So, always pay attention to how challenging it is to take the bra off. That way, you'll know the right support to choose.
Are You Allowed To Wear Crop Tops At Planet Fitness?
Yes.
Planet Fitness policy doesn't discourage you from wearing a crop top. In fact, it is a better option than some sports bras and multi-laced bralettes.
But, we advise that you first the staff at your club. That way, you'll avoid making the headlines like Alana, who was cautioned for wearing a crop top to the NJ club in Fairfield.
Are Jeans Allowed At Planet Fitness?
No.
From the Planet Fitness dress code, jeans with prominent grommets are disallowed in their gyms. Know why below.
Why Is Denim Not Allowed In Gyms?
Jeans and other pants that have it rough like denim make the gym equipment wear out quicker; that's why.
So, gyms do not permit them because a worn-out item, like a bench, means immediate replacement. And that's not something they want to do soon because of your size 28 Levi's jeans.
What Shirts Are Allowed At Planet Fitness?
All types.
However, Planet Fitness advises that you don't wear 100% cotton shirts. That's because they are stinky sweat monsters and will cause irritation every time you burst into a cardio workout.
Why so? Well, cotton absorbs sweat quickly and retains it for a long time. So please, don't be that uncomfortable.
Can You Be Shirtless At Planet Fitness?
No.
Planet Fitness is a judgment-free zone, and being shirtless can be intimidating to other people who want to have their workout.
Picture it this way. You're well built, so you look fabulous without your shirt on. But, there's a lean guy who's starting their fitness journey. He's seated at the corner bench, watching you, and feeling bad for himself. If he doesn't have strong self-esteem, he may walk out of the gym, never to come again.
So, no being shirtless at the gym. If you try, the staff will call you out for breaching the policy. For more details, you can check the Planet Fitness policy details in one place here.
Can I Wear Spandex To Planet Fitness?
Yes.
Spandex is an elastic fabric that clothing makers use to put together yoga pants and other stretchy outfits. It is excellent for a workout with a high motion range like weightlifting, and Planet Fitness wouldn't have any problem.
But, ensure that it doesn't hold on to you too tightly, or you could expose yourself inappropriately.
How To Dress When Going To The Gym (Both Men And Women)
After looking at Planet Fitness's clothing guides, dos, and don'ts, let's teach you how to dress to the gym. Keep in mind that anything you wear should be flexible and breathable and keep you safe.
If you put on ill-fitting clothes, you risk developing rashes, itchy skin, and other, more severe injuries.
But we won't allow that. So, see yourself through and pick up our curated tips. 
Women First
1. Wear Something Light On Top
It could be a sweatshirt, a lightweight t-shirt, or a tank top. Remember that your workouts may get sweaty, which is why you need all the air you can get.
However, don't be too revealing with your top as it could land you in trouble. Instead, ask at the front desk to know what to wear.
MenNStuff 101:
If you have an amazingly full bust, consider wearing a sports bra. It will give you the extra support you need, and you will feel comfortable the entire time.
2. Then, Get A Pair Of Elastic Bottoms
It could be anything from simple yoga pants, track pants, gym shorts, and sweatpants. Just ensure that they're flexible enough to accommodate full-range workouts. That is because something too snug could leave you embarrassed once it rips. Indeed, that's not what you want to happen.
If you put on shorts, be sure that people won't see you. Use a mirror and see their view to avoid being inappropriate.
3. Clos Everything Up With A Pair Of Excellent Shoes
Choose your footwear depending on the workout you're going to do. For example, cardio will require you to wear rugged soles. Then, running on the elliptical will need runners, and training weights will want shoes with excellent arch support.
MenNStuff 101:
Avoid open-toe shoes because they are a hazard.
Men First
1. Start With A Pair Of Sweats Or Shorts
Whichever bottoms you choose, ensure that they make it easy to move however you want. Also, think about how much you'll sweat and how hot things can get at the gym.
If you can, avoid shorts that extend below your knees for more than an inch. If you have a longer short, it will restrict your range of motion.
Also, don't let people see the inside of your shorts. Machines like the leg press encourage that, so check yourself.
2. Then, Don A Flexible, Air Tee
Any mixed-fabric t-shirt will suffice, but it's better if you choose a polyester shirt that wicks moisture effectively. Also, consider getting gym wear such as a cooling undershirt or a compression shirt.
MenNStuff 101:
Don't wear a tank top if you don't want to show off your arms. Instead, go for a t-shirt to get that modest look.
3. Finally, Wiggle Your Feet In The Nicest Kicks
Before slipping on a shoe, figure out how your workout will be. That's because cardio, training weights, and running on the treadmill all need different shoes.
If you're going to be doing all of them, wear running shoes.
Advice For Other Clothing
1. Wear Light Socks That Breathe Easily
Depending on your taste, choose between high or low socks. However, when it comes to weight, go for the light ones, preferably cotton.
Then, ensure that the socks fit well. If they are too tight, they will choke your feet, and your blood will not move fast down there. Moreover, if they are loose, you will feel them sliding all the time, which is uncomfortable.
MenNStuff 101:
1. High socks are excellent if you want to wick away moisture.
2. On the other side, low socks will keep your leg feeling airy.
3. Have Your Towel With You The Entire Gym Time
As you move from one machine to another, have your towel strapped on your neck. That way, you will clear the sweat and avoid wetting the equipment.
Also, have a towel to clean a machine before you use it. That will disinfect the area and save you from picking up any bacteria that may be lingering there 
4. Finally, Wash All Your Gym Clothes Immediately After A Workout 
Leaving you sweat on tops, pants, and shoes can breed bacteria, which isn't good news for everyone. The odor won't be impressive, so save yourself from stinking by immediately throwing the clothes in water, especially if the washing machine isn't working.
References:
https://www.planetfitness.com/communitypf/articles/what-not-wear-workout-clothes-dont-work
https://luxeluminous.com/planet-fitness-dress-code/