Last Updated on September 7, 2023 by Reiner Chase
No, most Planet Fitness gyms do not have basketball courts. Planet Fitness typically focuses on cardio and strength equipment, with limited additional amenities. While some locations may offer unique features, basketball courts are not common across their facilities.
Why There Are No Basketball Courts In Planet Fitness Locations [A Detailed Explanation] 
As Planet Fitness is the biggest gym franchise, you expect them to have all the facilities, traditional and modern. I mean, They have over 1000 locations spread across the United States, Canada, Mexico, Panama, the Dominican Republic, and Australia. With that outreach, you expect that 30% may have basketball courts. However, that's not the case.
With both their membership plans, Planet Fitness only offers in-house amenities. That way, they can keep all their business under one roof.
1. Basketball is an under-30 sport, so to speak, but Planet Fitness targets people over 30. Their clientele tends to be moms who want to stay or get back in shape or older people looking to stay fit and protect their health. Generally speaking, most PF members are from all walks of life and want to start their fitness journey. Basketball, however, is a more mature sport that requires hard work and talent.
2. Basketball courts consume a lot of space. For example, an NBA-standard court covers an area of over 4,000 square feet. If you take the average size of a treadmill (3 by 6 feet), you will find that a basketball court can fit at least 200 treadmills, 150 comfortably. Therefore, the people at Planet Fitness would rather have over 200 people engaged than two teams of 5-a-side.
3. Courts do not have the element of adventure. On paper, having a basketball court doesn't add any wow factor to the gym. That's why Planet Fitness would rather have a red light therapy booth and hydro massage beds. That way, the members find it thrilling and upgrade to the Black Card plan and pay about $23 every month.
4. Finally, basketball courts are not everything people look for at the gym. We understand you love the game, but most fitness regimens build around machines and routines rather than spaces. So, Planet Fitness will continue to use cardio machines and ellipticals because that's what fitness experts tell people who want to live healthier lives.
Now that you understand why Planet Fitness gyms don't have basketball courts, it's time you know what they have.
What Planet Fitness Has [Apart From Zero Basketball Courts]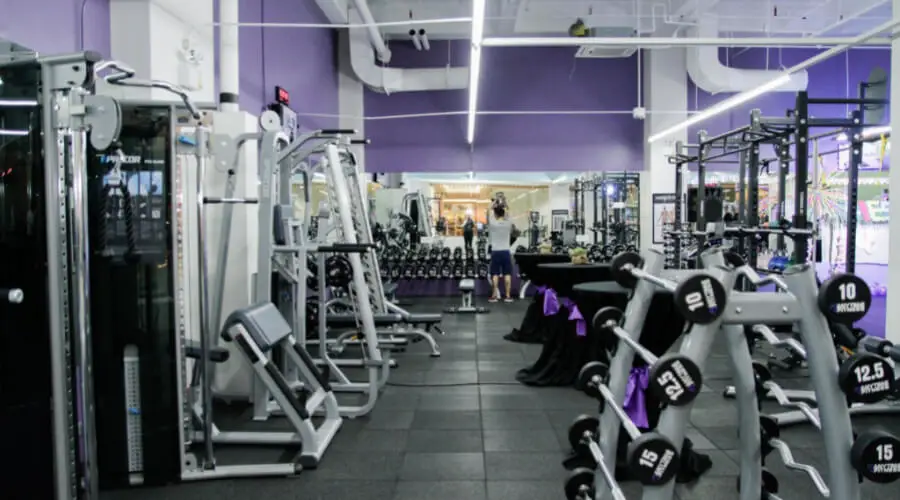 As the biggest gym franchisor globally (arguably), Planet Fitness indeed has something to offer you. So, this section will tell you what PF has and how you can make the most of your membership.
The Staff At Planet Fitness Is Well Versed And Quite Hospitable
Not many gyms can brag about having expert staff, but Planet Fitness can. Their people will help you complete your membership well, and they'll ensure that no machines intimidate you. On top of that, they are qualified and certified, meaning that you can always rely on their advice.
The Basic Membership Gives You Unlimited Home Club Access
For $10 a month, you can walk in and out of your local PF club however much you want. Also, you can sign up for the PE@PF classes, where exceptional trainers put you in a group and take you through specific training sessions. Finally, you can stream a workout live, thanks to unlimited Wi-Fi.
The Premium Membership (Black Card) Opens You Up To Special Amenities
They include hydromassage beds, tanning booths, and massage chairs. The massaging spaces will come in handy after workouts, and they will help you recover for the next one. Hydromassages, for example, will help relieve muscle tension and calm your back pain.
In addition, some Planet Fitness gyms have Total Body Enhancement, which is a particular type of therapy. Basically, it is a booth that has vibration tiles and red light therapy. Those two features combine to give you these benefits:
1. Skin rejuvenation, which leaves you wrinkle-free and feeling youthful
2. Weight loss, because the red light energizes cells and makes it easy for you to engage in calorie-burning exercises
3. Muscle toning to help you recover for your next workout and show how good you look
Discounts At Select Stores And Items
As a PF Black Card member, you buy select drinks for half the price. We're sure that's good news, seeing that everyone likes a cool drink during their workout.
Also, you get 20% off of all products you buy on Reebok.com. Any fan of the Reebok line of products would be screaming so hard right now because that is a very juicy deal.
Despite the lack of basketball courts in their gyms, Planet Fitness has a lot to offer. But, if you're still obsessed with the ball, read on to see the gyms that do have basketball courts.
Other Gyms Near You That Have Basket Courts
You came in here looking for gyms at Planet Fitness, but you didn't find them. So, we've decided to show you other big-box gyms with courts.
Please note that the gyms listed here offer small courts, not the ones you watch King James play. So, prepare yourself to bounce the ball in a bare minimum space.
Now, let's see the gyms and what they hold:
We know that the YMCA isn't the best gym around. If you compare its random locations, you'll find the franchise lacking. But, if you pin down specific clubs, you'll see the YMCA in a different light.
Some of the locations have basketball courts and even more. You'll find outdoor pools, batting cages, and racquetball courts. So, consider checking them out.
Clubs belonging to this franchise are mostly short on space. However, some of their clubs are pretty big, and it is in those, you will find indoor basketball courts. So, visit your nearest Gold's Gym location and check if they have them.
Please note that you may need to book the court in advance. But, if you find it occupied, you can always join in and make new BBBs (basketball buddies).
Stop and stay at any Life Time Fitness club if you want to play ball so badly. That's because they have quality courts, and the allied facilities are also the cream of the crop.
First, Life Time Fitness uses hardwood floors, much like what you see in the NBA. That makes it easy for you to jump higher and shoot hoops without stressing your joints too much.
Then, the gym itself is involved in organizing games for its members. There is always a pickup game scheduled at the different locations, and regularly, you'll get organized tournaments.
For kids, Life Time Fitness offers training camps that help them shoot. That way, they can constantly improve their game as they grow up.
So, if the entire family wants to play basketball, you know where to go.  
This is another big box gym with basketball courts in some locations. However, it will all depend if you're in a big or small city.
People in big cities will find a court in almost all the 24 Hour Fitness locations. But, people in smaller ones may opt for special membership where they can drive from their home club to a big-city club.
The courts are usually clean, and you won't find any sweat or dust on the floors
LA Fitness combines reasonable prices and unique facilities to become one of the best gym franchises. You may not get a restaurant or spa there, but you'll appreciate how good their courts are.
To use the playing spaces, you'll use the LA Fitness App. Also, you can join club tournaments, and the app will track your progress for you.
Every two months, a tournament is always going on. So, you have a chance to focus on the game, thanks to ongoing practice. 
Equinox brands itself as a luxury gym, and it meets that standard. It has the best basketball courts you will find at any gym. You'll like the cleanliness, lighting, and aesthetics, which give you the feeling of an NBA finals night, Game 7. Indeed, you'll want to stay on the court for longer than you wished.
If you join the gym, you'll have to book the court in advance. That's because many members always want to use it, and you may not get a chance until you save your spot.
Note that the courts there are built to meet and exceed the FIBA standards. So what does that tell you about Equinox? They're an expensive gym. 
Are you allowed to take your shirt off at Planet Fitness?
Planet Fitness generally has a "no judgment" policy, which means they discourage behaviors that may make others uncomfortable, such as excessive grunting, dropping weights loudly, or taking off your shirt in the main workout area. Rules may vary by location, so it's best to check with the specific gym's guidelines. Typically, it's more acceptable to be shirtless in designated areas like locker rooms or while using tanning booths if the gym offers them.
Do all La Fitnesses have basketball courts?
No, not all LA Fitness locations have basketball courts. LA Fitness facilities vary in size and amenities, so the presence of a basketball court depends on the specific gym. It's advisable to check with your local LA Fitness or their website to confirm if a particular location offers a basketball court.
People Also Ask
Is Planet Fitness A Good Gym For Beginners?
Yes.
The gym has the most traditional exercise equipment, making it the best place to start your fitness journey.
Can a 12-Year-Old Go To The Gym Planet Fitness?
No.
Planet Fitness only allows 13+, and anyone under 18 should have a parent or a legal guardian with them. 
Does LA Fitness Have Basketballs To Use?
Yes.
If you've booked the court, ask for the balls at the front desk, and they'll help you.
Does Planet Fitness Have Everything You Need?
For beginners, yes.
However, more experienced gym-goers like powerlifters may not find Planet Fitness a fulfilling place. That's because it doesn't have free weights you see in other gyms. Still, it has other amenities that you may find admirable.
References:
https://www.quora.com/Do-most-Planet-Fitness-gyms-have-basketball-courts
https://dunkorthree.com/planet-fitness-basketball-court/