Last Updated on September 7, 2023 by Reiner Chase
Planet Fitness typically sets its age limit at 13 years old. Younger individuals may be allowed with parental consent, but this varies by location. Planet Fitness aims to create a welcoming environment for all, with age limits in place to ensure safety and comfort for members.
The Planet Fitness Kid Policy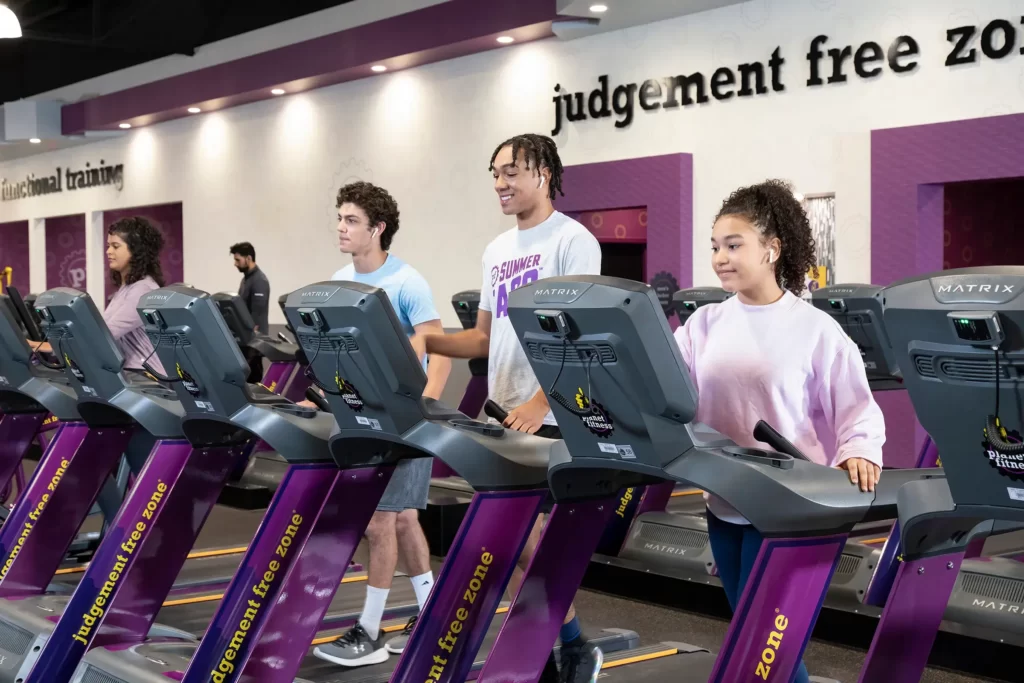 You should know that PF does not offer any exceptional and specialized childcare. So, when you're working out, your kids won't be allowed in the club. Planet Fitness does that to keep its membership costs low for you.
They ask you politely not to bring in any child under 13 because of safety issues. And, if that creates problems for you, PF tries to keep their clubs open until 10 p.m. to accommodate your schedule.
So, sadly, your toddlers can't go with you to the gym. But, you can always choose a time outside your schedule, especially if you're a working mom.
The Planet Fitness Parental Consent And Waiver
We've mentioned that teenagers between 15 and 17 might come with a waiver instead of actual adults. And what is a waiver? This section will explain the details you find in such a document and how to prepare it.
The Waiver Is An Agreement Of Your Liability
By signing the document, you enter an agreement with Planet Fitness. In that case, you should understand that any failure on your part or the child may force PF to revoke club privileges. So, you agree to whatever the club says, and the club makes you liable for your teenager's deeds and misdeeds.
Also, Planet Fitness makes you assume all risks of illness, injury, or the sad loss to the minor and their property. If he loses his gym bag, you won't barge into the club and go Karen on the person at the front desk.
You Complete It Yourself
Most waiver documents will require you to give these details:
Your name (the legal guardian or parent)
The name of the minor child
The street address of where the child lives, plus the city, state, and zip code details
The home phone and any other phone 
Such details may be beyond your minor's knowledge, so fill them then in the block and with a good run of ink.
You Should Teach The Minor Rules
Most waivers make it your responsibility to make your kid aware of the rules and regulations. So, you should take the Planet Fitness policy document and read it from A to Z. Then, boil everything down into a language that the minor can understand.
When signing the waiver, PF may give you the posted rules, so explaining should be easy. Make sure you go over each regulation multiple times for the kid to master it. If they get anything wrong, remember that the waiver is an agreement of your liability.
So, take your time and go through the waiver form at length. That way, you'll know what it says and what to tell the minor. The rules are essential, so make sure they understand how those work. Even the simplest explanation will keep them safe at the gym and save you from paying gym-related damages.
MenNStuff 101:
For a sample consent and waiver form, see this one by Fitness Works in Philadelphia (not Planet Fitness). Then, for the full Terms and Conditions of Use, visit here.
Related Questions
Can A 15-Year-Old Go To Planet Fitness Alone?
Yes, if the parent or guardian signs the waiver form. But, although the adult is away, liability is on them in case anything goes wrong with the teenager. 
Note that anyone between ages 15 and 18 can go to any PF club in the US. But, the club needs to be the one they sign up to, not any other.
Can 14-Year-Olds Go To Planet Fitness?
Yes, but they will need adult accompaniment as they enjoy PF's facilities.
Does Planet Fitness Ask For Age?
Yes.
PF will require you to give an ID or a driver's license when signing up. That should help them verify if you are an adult and eligible for any of their membership tiers.
If Planet Fitness did not ask about age, they wouldn't know by looking that someone is 13+. If they chose to look, though, many minors would be in there trying to lift weights. That's because the equipment seems so fancy and attractive, and anyone would want to be there.
Can A 12-Year-Old Go To Planet Fitness With A Parent?
No.
The gym asks parents to keep all kids under the age of 13 away for their safety. If they get, they may stumble and fall on the heavy, metallic equipment that could injure them severely. 
Can I Take My 11-Year-Old To Planet Fitness?
No, due to liability reasons.
Can A 16-Year-Old Go To The Gym?
Yes, especially if they are edging towards the athletic side of life.
The teen years are mostly physical, so we recommend that the young one do aerobic-energy exercises. They include swimming, running, and dancing, which don't need a gym or related facility.
Can A 13-Year-Old Go To The Gym Alone?
Can they? Yes. Should they? No.
A fresh teenager is more likely to underestimate the size of weight. When that happens, he may bite more than he can chew and thus get injured in the process.
Any teenager shouldn't go to the gym
Should A 15-Year-Old Go To The Gym?
Yes, as long as they are responsible for their stay there. Remember that gyms will make you, the adult, sign a waiver. So, if the teenager does anything wrong at the gym, your phone will ring. And maybe, your checking account will shake.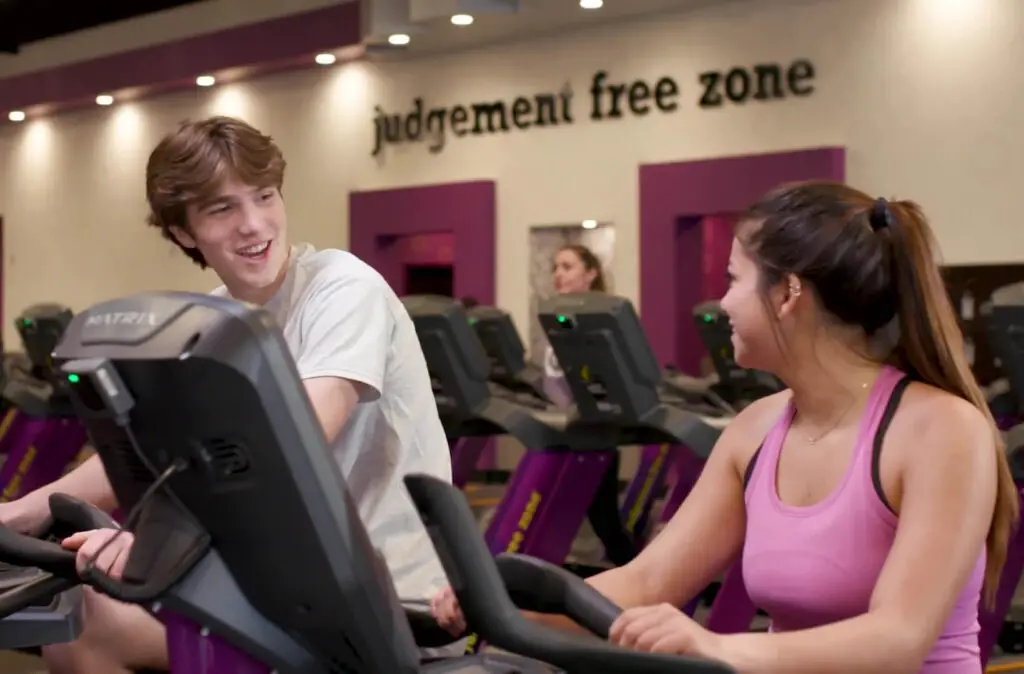 Conclusion
The age limit at Planet Fitness is 13 years. Before that, the gym advises against bringing any minors into the club. That's because of their safety, which can easily be compromised if some equipment gets in the way.
Once the kid hits 13, they can sign up for a PF membership but with the help of their guardian or parent. And when they hit 15 and don't want you watching them, you'll need to sign a waiver. That way, Planet Fitness relieves itself of any liability and places it on your head in absentia.
After 18, PF will consider the teenager an adult and treat him as such. They can have their membership preferences and schedules and will not need a pair of eyes watching their back.
For your 15-to-17 kid, we advise that you talk to them about the rules before signing the waiver. You can also ask the staff at Planet Fitness to explain anything in a way that the big child will understand. That will improve his level of responsibility, and you can rest assured that everything will be okay.
And that is all we had for today!
If you found the article rich, informative, and thus valuable, share it with others. You'll help more people know about Planet Fitness. But, more importantly, you will help them make a financial decision, especially if they're looking for a gym solution for the entire family.
Then, if you find anything inaccurate, let us know in the comment section below, and we will be quick to correct it. You will have helped us improve the quality of the article and the experience of all the others who come after you.
References:
https://www.planetfitness.com/about-planet-fitness/customer-service/membership-faqs
https://www.quora.com/Can-a-15-year-old-go-to-Planet-Fitness-without-a-parent-going-with-them-every-time