Last Updated on March 19, 2022 by
Fashion has evolved incredibly for many years, and fashion companies have been aiming to change what fashion should be about and how it would look. It is indeed worthy to say that Gucci and Louis Vuitton brands gradually climbed the ladder of success. They have managed to be the top designers worldwide. The Nagging question is which is a better brand? Determining a better brand between these two fashion giants depends on individual preferences.
What Are The Significance Of Louis Vuitton And Gucci Brands?
They have been and are setting templates for what fashion should be among the very stiff and high competition with other emerging fashion companies. Both brands have managed to win the hearts of fashion and trend lovers. This is regardless of their costs that made the two brands high-end luxury designers. 
The two brands have become an inspiration for upcoming clothes and accessories in the fashion industry. They have also used the opportunity on creative designers, artisans and conserved good working relationships between workers under their employment. In addition, they have created job opportunities for the most talented and creative individuals and given them a platform to launch their startup line and business ideas to apply them in the future. 
This page explores the comparison between Gucci and Louis Vuitton to answer this simple question; "Which brand is better, Gucci or Louis Vuitton?" Are you ready to find that brand? Well, let's get started!
Creation And Development Of Gucci And Louis Vuitton
Gucci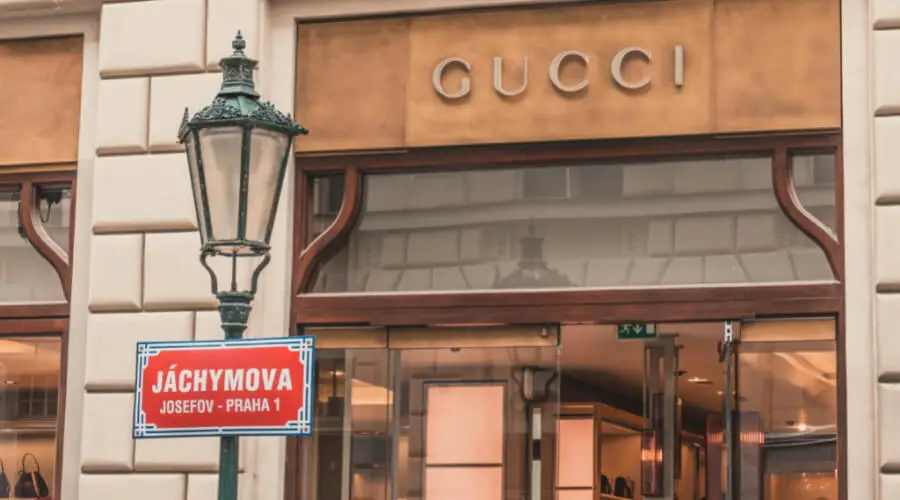 Gucci is located in Florence, Italy, and is a recognized Italian fashion that specializes in the production of handbags, footwear, make-up, ready-to-wear, accessories, and home décor. 
The Gucci brand was founded in 1912 by Guccio Gucci in Florence, Tuscany. It became popular worldwide under the administration of Aldo Gucci (son of Gucci). In the 1980s, a family crisis befell Gucci and went on up to 1993, which resulted in the removal of capital superiority from the grasp of the family. 
In 1999, Gucci was acquired by a French Conglomerate Pinault Printemps Redoute. Currently, Gucci is a subordinate to the French Luxury Group, Kering.
Louis Vuitton
Vuitton founded the French brand in 1854 in Paris. It is a brand of fashion and luxury that produces high-end trunks, ready-to-wear, shoes, leather, books, and accessories like watches and jewelry. It is counted among the top and recognized fashion houses worldwide. Louis Vuitton opened the most well-known travel store on Champe- Elysees. According to Rebecca Robins, global chief learning and culture officer at the consultant group Interbrand, "Louis Vuitton is a testament to how you have to be a really strong brand with absolute clarity and conviction in who you are and what you stand for, internally and externally." 
Individual Selling Points
Gucci Brand
1. Gucci sells authentic and original Italian items and heritage in different forms.
2. Sells luxury, durability, and class.
3. Emphasizes detailing.
4. Gucci uses high-quality raw materials and high production by creative and talented workers.
5. Partners with top designers all around the world.
Louis Vuitton
1. Louis Vuitton sells luxury, durability, and class.
2. Partners with top designers all around the world.
3. Effective enactment of celebrity endorsement strategy.
4. Sells luxurious French Items and heritage, and also, it has never deducted the cost of their products to comfort the public in general.
Similarities And Differences Between Gucci And Louis Vuitton
Similarities
1. Gucci and Louis Vuitton both sell luxurious commodities.
2. Both brands have a strong patent.
3. Gucci and Louis Vuitton are both worldwide recognized brands.
4. Gucci and Louis Vuitton make ready-to-wear bags, jewelry, shoes, accessories, and watches.
5. Gucci and Louis Vuitton collaborate with top designers and have strong draws in the fashion industry.
6. Gucci and Louis Vuitton both are great fashion influencers. 
7. Gucci and Louis Vuitton both sell luxury cultural heritage.
8. Louis Vuitton and Gucci have been at the forefront of fashion for many years and have not interfered with their high quality.
9. Gucci and Louis Vuitton both have similar price points, and also their target market is the same.
10. Gucci and Louis Vuitton have been ranked top brands since the year 2000.
11. Gucci and Louis Vuitton have a meaningful social media presence through fashion magazines, celebrities, runaways, collectors, and brand acceptance.
Differences
1. The Gucci bags designs are more discerning, while Louis Vuitton is more formal and civilized. Therefore, Louis Vuitton bags are more flexible.
2. Gucci is more creative with the designs they produce, while Louis Vuitton is said to be "A timely touch and a better investment in quality."
3. Gucci produces aggressive and adventurous designs and is always experimenting, while Louis Vuitton is more flexible, confident, graceful, and satisfied with their designs.
4. Gucci features Italian design roots, while Louis Vuitton has French design roots.
5. Gucci has encountered more backlashes on their designs than Louis Vuitton.
6. Gucci does more collaboration with celebrities designers than Louis Vuitton
7. In terms of partnership and collaboration, Gucci is competitive with other brand designers than Louis Vuitton in terms of competition.
Target Market, Luxury, And Comfort.
Gucci and Louis Vuitton have the same target market. Therefore, they use 4 different target markets, namely, Geographic, Behavioral, Demographic, and Psychographic. 
The target group for Gucci is high and middle-class customers aged 20-50 years. Their wide social media presence and followers ensure they are always in the focus of the public. They create awareness on their marketing with the assistance of celebrities. Still, their target group is those with strong financial backgrounds, celebrities, fashionistas, and high-income earners.
Alternatively, Louis Vuitton targets males and females. Rich middle-aged men and women are aged 35-80 and stylish young females aged 8-34. It also gives room to people who can afford the Louis Vuitton brand's luxury. Both offer maximum comfort and durability.
Which Brand Is More Expensive?
Louis Vuitton is more expensive than Gucci when it comes to bags. This is because of having a more grounded reputation in bag and trunk. They have been marketing it for 167 years. Louis Vuitton gives one a sense and feeling of ageless styling and elegance passed down from one generation to another. 
Therefore, it has managed to retain its top-notch premium quality. At the same time, Gucci prices are scantily lower but luxurious. 
Brand Rank
Louis Vuitton is ranked as the world's number one luxury brand, and with a brand valuation, it has managed to top over $30 billion. In contrast, Gucci is ranked number 4 luxury brand.
Growth Rate
"Gucci (the 33rd most valuable brand globally in all sectors) has a $ 15.949 billion brand valuation and saw 23% growth, making it the taste-growing luxury retailer. Conversely, Louis Vuitton has a $32.223 billion brand valuation, signifying a 14% growth. 
This implies that Louis Vuitton is the most valuable luxury brand globally. In addition, it was also the 17th most valuable brand in the world across all sectors." 
Important Facts
The ranking in Media Impact Value (MIV) insinuated that from the period of April to June 2021, "Louis Vuitton was forth in both the US and Europe achieving a Media Impact Value of $ 69.9 million in America and a total of $ 169 million on the other side of the Atlantic.
On the other hand, Gucci with a Media Impact Value of $ 190.5 million and in the US, Gucci slipped into second place with a Media Impact Value of $ 85 million."