Last Updated on September 4, 2023 by Reiner Chase
Wearing prestigious college gear like Harvard hoodies signifies affiliation, pride, or aspiration. It can symbolize academic achievements, personal goals, or simply serve as a fashion statement.
Why Would A Person Wear Prestigious College Gear Such As A Harvard Hoodie?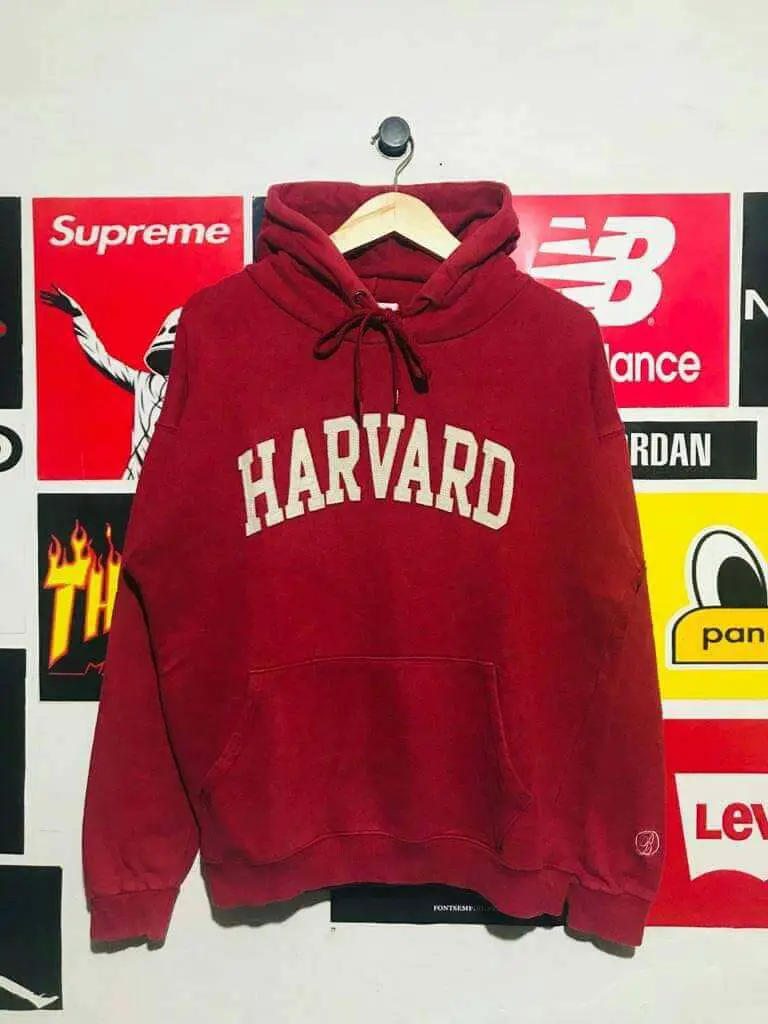 People will wear a college-branded hoodie such as a Harvard Hoodie if they are students in the institution. Colleges usually give their students some gear in different activities they partake in. You can go to basketball games wearing the Hoodie and represent the school. 
So a person who wears a college hoodie might be a student in the university—wearing the Hoodie as a student makes you an ambassador of the school. The school primarily gives prestigious gear to the student as a badge.
Be aware that not everyone who wears prestigious college gear like the Havard hoodie is from that institution. Some people admire the institution and want to buy a hoodie branded with their favorite college name. Some people may see students of that college performing well in all their activities and would love to wear the Hoodie as fans. 
For others, they say a Havard hoodie is just a regular hoodie with a logo, and they would want to wear it. Maybe they have seen the Hoodie as very appealing and liked the branded logo. This prompts them to buy it because of the versatile look it brings about.
What are people portraying when they wear prestigious college gear? People who wear hoodies might be students, fans, or just a person who likes the style of that branded Hoodie.
What Are The Advantages Of Wearing A Branded Harvard University Gear?
1. A Feel Of Prestige
If you wear prestigious college gear like a Harvard hoodie, you will feel prestigious as you are wearing a respective brand. You will have the attention and feel of being in the best institutions in the U.S.
2. A Feel Of Belonging
Whether you are a university fan or a student, when you wear the branded Hoodie, you will feel that you belong to that institution. For instance, when you aspire to join a college, you wear their apparel in manifesting; you always look forward to going to the school and being part of it. The feeling of belonging somewhere is out of this world.
3. Representing The College In Sporting Activities To Show Teamwork
If you participate in sporting events like basketball, baseball, or even football as a student, wearing the same clothes branded with the school logo is the best thing to show teamwork and support. When you are a team and dress the same, you represent the school well wherever you go.
4. Wearing It As An Affiliation To The Institution
When you have been on the basketball team, finished, and want to support your fellow basketballers, you can wear the Harvard Hoodies. Once you are watching the players do their best. You can cheer them up with your friends as you are in donning the Hoodie to show support. A morale boost comes when an alumnus supports the team while wearing the team's branded gear.
What Are The Disadvantages Of Non-Students Wearing The Harvard University Hoodie?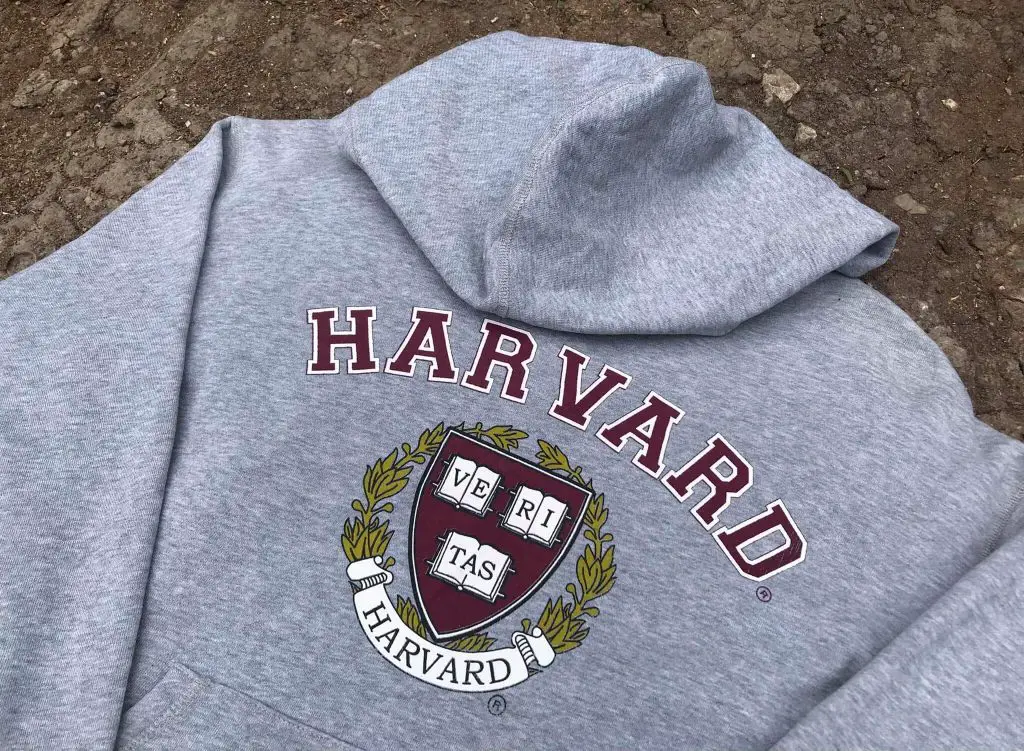 Wearing the branded prestigious Hoodie as a non-student is not bad. It gets worse when you get involved in trouble while cladded in the Hoodie. 
Wearing the Harvard Hoodie in public portrays that you are an ambassador of the school. Once you are engaged in a disastrous public activity like being caught while stealing when dressed in a Havard Hoodie, then you have involved Havard in your shenanigans. The Havard Hoodie will be all over the news, and Havard will be engaged in tainting activities.
What To Consider Before Wearing A Hoodie at a Prestigious College Such As Harvard University
Wearing a hoodie belonging to a renowned institution such as Harvard University is one thing. Living to the expectations of the hype that surrounds the college is another thing altogether.
Therefore, before choosing to wear the institution's branded hoodie, here are the factors you must ponder:
1. Would You Be A Good Ambassador? 
This primarily applies to the non-students who like to dress in Hoodies. Do not do anything that will jeopardize the reputation of the brand you are wearing. It is crucial as renowned brands will make headlines if anything newsworthy happens.
2. Does It Add Any Value To You?
A high school student manifesting Havard University can clad the college outfit. A fan or alumni and a student also can wear hoodies. So, what value is it adding to your dress code? For stylish and versatile individuals, does it complement your dress code? If it does complement your look, then you go for it. If the fashion sense is out, there is no need to wear it. It will all depend on the value it adds to you as an individual.
Frequently Asked Questions (FAQs)
Are People Who Wear These Prestigious College Gears Worthy of Recognition?
Students who wear the gear are worthy of your recognition if you decide to recognize them. The fans clad in these gears and attend sporting activities or other related events; must be seen as fans. The alumni who wear the college gear should also be recognized as they have done a great job to have been there and graduated from such prestigious colleges. There is no need for recognition for the public who wear the gear for fun.
Where Are the Prestigious College Gear Bought?
You can buy this college gear from school shops and online shops. You have to be extra vigilant when you purchase them from online shops as those con people have infiltrated the market. When buying from the school, you can explain why you are buying and getting your prestigious college gear!
Conclusion
Cladding in prestigious college gear is not a new thing as you can find anyone wearing particular clothing apparel without being affiliated with it. For instance, a person can love a specific institution, say Havard, and buy their apparel. A student might be wearing branded clothing in support of the institution. 
Alternatively, a fan might buy the branded Havard hoodie to support their favorite team in that particular institution. So there are many reasons why a person might choose to dress in specific prestigious college gear. If you want to buy the apparel, the article outlines where you can get them. If you are an alumnus, fan, or student, keep rocking that favorite prestigious college gear and be the best ambassador.
References:
https://www.quora.com/What-do-you-think-of-people-who-wear-prestigious-college-gear-such-as-a-Harvard-hoodie-Is-it-obnoxious-to-constantly-show-off-your-college
https://www.scmp.com/lifestyle/fashion-beauty/article/3046038/why-asians-love-harvard-apparel-so-much-even-when-theyre