Last Updated on March 6, 2021 by
The pros of thinning hair on a men's cut would allow a stylist to achieve texture within any style, either long or short. Or, if using thinning shears on a cut to take out the bulk would help the client to be able to recreate the style at home. For the cons, it's straightforward for a stylist to get carried away using a thinning shear, which results in some patchy spots and possibly sections that would stick straight up, especially around a cowlick.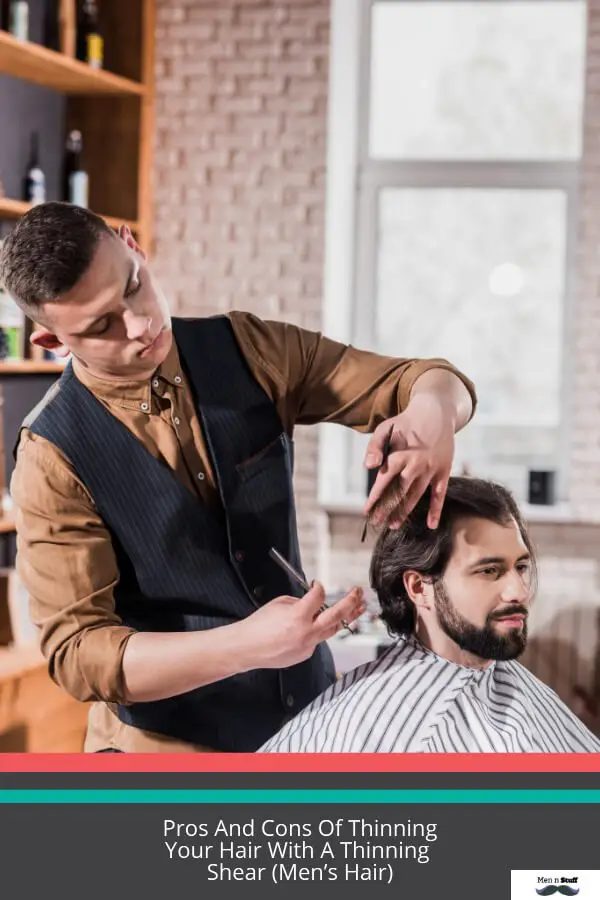 Pros And Cons For Thinning Your Hair In More Details
Hair thinning is such an excellent option as long as your stylist chooses the right type of thinning for your hair as some of them are not capable of doing it, which may ruin your hair texture and over thin it. No one can tell you what type of thinning would be best besides a stylist. 
Hair Being Thick Or Thin  
 Some people have very thick hair, and some people's hair is thin, and it is almost impossible to style coat, which is very dense because of their texture. My mother has very, very thin hair, which is also nearly impossible to style sometimes. Fortunately, once you learn some tricks, your hair would be a lot more accessible to style.
Some of the cuts and styles are better suited to thin or thick hair, so it is essential to know the kind of hair that you have. 
Difference Between Thick Hair And Thin Hair
You might sometimes think that your hair is thick if you have a lot of hair, but that is not necessarily true. Thick or thin hair does not always refer to the density of your hair. It refers to the actual width of each strand of hair. Simultaneously, density refers to how close the hair follicles are to each other on your scalp.
How To Tell If You Have Thick Hair Or Thin Hair
Telling the difference is very easy. You have to take one strand of your hair and look at it. If it is thin, you have thin hair. However, if it's thick, your hair is thick. If you are still unsure, you may ask your stylist or compare it to a friend's hair.
Things That You Should Avoid
If you have thin hair, you should try to use many products because it usually weighs down your hair. Also, do not ever cut your hair in layers. 
And for thick hair, DO NOT wash your hair every day. Try to avoid blow-drying your hair on a routine or weekly basis because it would add more volume.
What To Be Considered Before Thinning Out Your Hair?
 There is nothing more traumatizing than getting a bad haircut. You could even take hair vitamins, but it'll feel like it isn't working. Therefore it takes forever to grow back out. You may think you are ready to do it, but still, there are some things you need to consider first before you get your hair thinned out if you want to avoid any hair trauma at all costs.
I also have insanely thick hair, and I might be the first one to say that I've always hated it. It's too heavy to hold and take care of. It takes a lot of time to dry, in the summer it gets very hot and messy, which could go on and on. 
So if you're contemplating on thinning out your thick hair, here is a list of a few things you need to consider first.
● It Might Look Different
The grass is always going to look greener on the other side, but if you have never had thin hair before, it may seem like going to look very much different, depending on your hair texture. "Someone with a ton of curly hair is thinned out, you would not notice it quite as much as someone who has finer, straight hair would do so," says Garnier Celebrity, a Hairstylist, Ashley Streicher. "I will say to be very cautious when asking to have your hair 'thinned out,' because it could really make your hair look damaged and misshaped if it is overdone."
● It Will Get Dirty Faster
If you are the one who is used to it, like washing hair on the regs, this would not be a problem for you, but for all of the thick hair's inconveniences, it does have one good thing going for it that you could go way longer between washes.
● Beware Of The Method Used
If your stylist is using thinning shears, as long as they are using it correctly, you may avoid damage, but in case razoring, which is another popular method of thinning, could cause your ends to look dry and frizzy. "If over thinned, your hair could even look thin on the ends and bulkier at the roots looking like you have thinned split ends," Streicher explains, and unfortunately, there is no such method to treat that.
● The Grow Out Is Rough
Getting your hair thinned out is not like getting a haircut that is too short. It would look bulkier at the roots and thinner on the ends. If you want to get that thickness back, you would have to regrow the hair from your core. Imagine how long that would take.
● To Fix It, You May Have To Go, Blunt
If you don't want to live with thinner ends anymore, a quicker solution to waiting for it to grow is to cut your hair point-blank. Its end always makes your hair look thicker, but if you're a fan of layers or that 'V' shape, then you may have to cope with it for a while until your hair grows back and thickens.
Here Is A Table Explains The Different Methods In Details.
System Operation
Functioning Principle
Pros
Cons
The Layer Chromatography
Separation of a liquid mixture, where the stationary phase is a layer of solid particles spread on a flat plate.
High throughput
Low cost
Easy sample preparation
Low Chromatography resolution 
Low sensitivity
Capillary Electrophoresis
Separation of a liquid ionizable mixture in a silica capillary, due to migration of these ions on application of high electric field.
Economical technique
Optimized for larger Analytes
 Low solvent and sample consumption
Relatively poor detection limits
Gas Chromatography

Separation of a gaseous mixture into individual components (substance) on passing a gas flow through a thin silica column.
Robust technique
Gold standard for both screening and confirmation analysis 
High specificity
Laborious sample separation
(e.g. derivatization, cleavage of conjugates)
Limited utility for thermally stable, volatile species

Liquid Chromatography
Separation of a liquid mixture into individual components on passing a high liquid through a Steel column packed with a different particles layer (particles size less than 2 mm) of stationary phase.
Optimized for larger analytes
Rapid separations
Simpler sample separation
Higher maintenance
Matrix effect
Ultra high performance
Liquid Chromatography
Separation of a liquid mixture into individual components on passing a high liquid through a Steel column packed with a different particles layer (particles size more than 2 mm) of stationary phase.
Optimized for larger analytes
Ultra-rapid separations
Simpler sample separation
Expensive instrumentation
Higher maintenance
Matrix effect
 FAQs:
1. Is Texturizing Hair The Same As Thinning?
Texturizing and thinning both are very different things as they create very separate and distinct looks separately. 
2. Why Do Hairdressers Use Thinning Shears?
Thinning shears have a softer edge than hair cutting scissors, so you are less expected to hurt yourself or accidentally chop sections of the hair. 
3. Can Thinned Hair Become Thick Again?
Meanwhile, thinning hair caused by Male Pattern Baldness would not 'get thicker' again.