Last Updated on September 5, 2023 by Reiner Chase
To get authentic Nike shoes at wholesale prices, you can:
Partner with authorized Nike distributors.
Attend Nike's official trade shows.
Connect with Nike-approved wholesalers.
Explore online marketplaces offering verified Nike products.
Buy in bulk to access wholesale discounts from authorized retailers.
Where Are Nike Shoes Available At Wholesale?
Apart from buying wholesale Nike shoes from Nike itself, you can get them from other legit wholesalers. You can do this by negotiating their sale terms with them by convincing them to sell you products in bulk. Once you buy the products in bulk, they slash their prices, and it is like you got them for wholesale prices. 
The other way to buy Nike products at wholesale price is by buying them from Nike factory outlets. The outlets are the most affordable place to get Nike products. Depending on your country, you will find it in suburbs and cities. The prices are always half of that of the original sporting store's dealers. The factories are Nike-authorized dealers, so you should not worry about fake Nike products. It is the way to go if you are a retailer as it is the most authentic and cheapest. 
This article delves into where you can source authentic Nike shoes at wholesale prices. The process needed to be a Nike authorized retailer, and the marketplaces available for you as a retailer. 
What Is The Process Of Buying Wholesale Nike Products From Nike?
1. Application Process As A Nike Dealer Or Retailer
If you have a couple of years of experience in business, you can apply as a Nike authorized dealer and start selling Nike products. Although Nike is quite strict about companies with only an online presence, you should first have a physical shop and then deal online later. 
Signing up as a dealer is done online; below is the process to follow when signing up as a retailer.
1. First, you have to meet the basic requirements. It would be best to try a physical store to become a permitted Nike dealer. You should have a valid license from your country, whatever store you have. Besides, online stores are not eligible for business-authorized Nike dealers.
2. Before the application to become a Nike authorized dealer, registration is mandatory. Ensure you register your profile by creating a username and password.
3. Now you can start the application process. An application platform, the Electronic Retailer Application(ERA), is available. It is free to make an application as a Nike authorized dealer.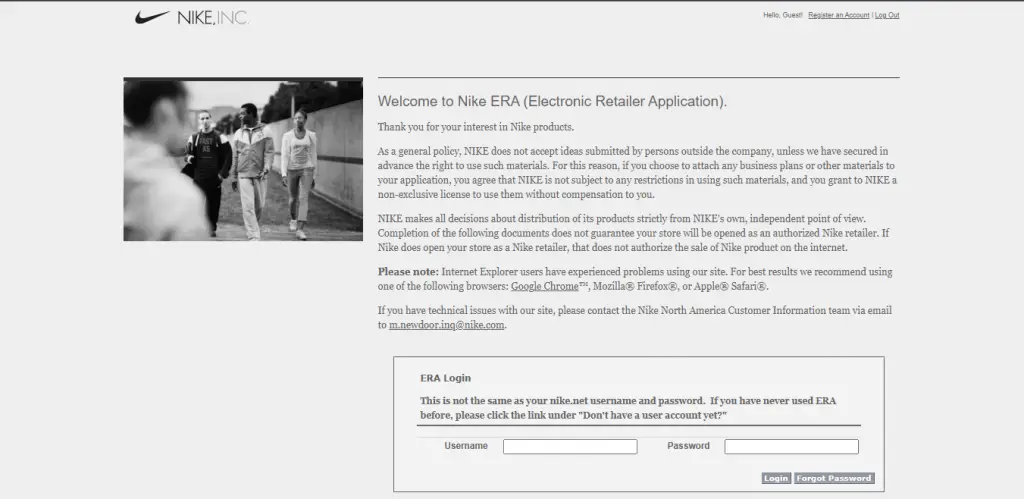 4. You should provide information about your business. Nike needs to know much about your business. To offer them the information, you must take a survey about the business. Some of the questions might include; Does the business have a physical store? Does the company have an online outlet? When you complete the application, save the application on the site.
5. When applying, you are required to provide general information. You will go to the available account information about the business and fill it in the section provided.
6. Then the next step is filling in the business profile. The business profile is part of the application where you enter the information about what type of business you have. You will identify the type of business you have so that Nike can ascertain if you are eligible as an authorized Nike dealer. There is a drop-down menu where you select the correct business type.
7. Provision of ownership information. This section should coherently provide the store and the owner's name. Also, if you are the owner, you should give the title you have in the company. This also depends on whatever position you hold in the company. It is needed data for credibility too.
8. You are required to provide appropriate information about the proposed stores. Also, you have to inform Nike where you exactly want to sell your products. The mandatory fields in this section include; phone number, country, address, city, state, and zip code.
9. The other requirement is to provide store photos as proof that the store exists. You are required to provide four colored images of the store.
10. You should upload your paperwork which is a mandatory part of the online application process. You will need to fill out Nike's resale certificate and Uniform Sales and Use Tax Certificate. The application automatically generates the links to the appropriate forms based on the business location. Here, you must diligently fill out the form and provide the epic information that Nike needs.
11. Now that you are done with the application process, you will review the information you have given and click submit. Most applications take a minimum of two months and a maximum of three months. Once you are approved, you are an authorized Nike dealer, and you can continue with the other needed processes. You can now review your pricing and the minimum order information required. If your application is not approved, you have to wait one year before reapplying again.
Can You Buy Wholesale and resell Nike Shoes Legally?
1. Understand Nike's Policy on Wholesale and Reselling
Starting with the basics, it's crucial to understand Nike's policy regarding the wholesale purchase and resale of their products. As per the company's terms of agreement, it doesn't allow unauthorized parties to purchase its products for reselling purposes.
2. Acknowledging Counterfeit Goods
The market is rampant with counterfeit Nike shoes that could tempt buyers because of the attractive pricing. It should be made clear that selling counterfeit shoes is illegal and against Nike's ethical policy. Buyers should consciously refrain from getting into such practices.
3. Getting Authorized as a Retailer
An individual planning to buy wholesale and resell Nike shoes must become an authorized Nike dealer. This requires a solid business plan, a physical or online store, and all necessary business licenses and permits from the relevant authorities.
| Steps for Authorization | Description |
| --- | --- |
| Business Plan | A comprehensive document outlining the plan around your business including target audience, marketing strategies etc |
| Physical or Online Store | A valid retail outlet (either brick & mortar or online) where products will be sold |
| Business Licenses & Permits | Mandatory legal documents validating your business in compliance with local laws |
4. Dealing with Licensed Distributors
When dealing with sneakers like Nike, attaining stock should happen through licensed distributors. These distributors hold agreements with brands like Nike to sell their products in bulk.
5. Staying Abreast with Legalities
Keeping in touch with legal nuances around selling branded items is pivotal since rules can vary from region to region requiring conformity to local laws around selling third-party merchandise.
6. Understanding Drop Shipping
Another approach might involve drop-shipping where wholesalers may ship directly to customers on the reseller's behalf, reducing risk about inventory management.
7. Exploring Global Marketplaces
Online platforms like eBay and StockX abide by the first-sale doctrine allowing certain resale practices but they come with certain regulations that must be adhered by sellers.
Overall, while buying wholesale and reselling Nike shoes can potentially be lucrative, it's crucial that interested sellers follow proper channels to ensure the legality of their operations.
How Can You Sell Nike Products After Purchasing Them As A Retail Outlet?
It might be overwhelming to find selling spaces as similar retail outlets are Authorized Nike dealers. So what are the options you have in selling them?
1. You Can Sell Your Products In A General Marketplace
Here you can list the Nike products in a public marketplace like eBay and Alibaba and send them to whoever buys them worldwide. Here you can account for shipping costs when you are pricing your products. Also, it would be ideal if you keep your product lists updated to avoid misunderstandings with your customers.
2. You Can Also Sell Your Nike Products In Individual Marketplaces
You can sell your Nike shoes on your marketplace stores like Facebook and Instagram. It is a suitable method as it allows you to contact the customers personally and even negotiate prices.
Frequently Asked Questions(FAQs)
How Much Is The Cost Of Becoming An Authorized Dealer?
Nike does not require any application fee from you. You should directly apply to Nike yourself without using any middlemen because they might charge you some small broker fee which is unnecessary. The Nike application instructions are pretty clear on the application process; you can follow and do it yourself. There is no shortcut to it.
Is Applying To Be An Authorized Nike Dealer The Best Way To Get Nike Wholesale Products? 
It is one of the suitable ways to get authentic Nike products at wholesale prices. You are assured of safety, original products, and affordable prices to allow you to resell Nike products at reasonable prices to your consumers.
Conclusion
You can get wholesale Nike shoes at Nike if you want to start a Nike retail business and wholesale shoes or other legit stores that will provide you with the correct prices. When buying Nike shoes at wholesale price, the costs, the originality, and a lasting deal are the things to look for. You wouldn't want to source your retail shoes from a wholesale seller that will run out in some time.
References:
https://thecleverbusiness.com/wholesale-nike-shoes-sneakers/
https://smallbusiness.chron.com/become-nike-retailer-17501.html