Last Updated on August 31, 2023 by Reiner Chase
Dressing a 12-year-old can be a bit of a challenge. Opt for versatile basics like jeans, t-shirts, and hoodies. Include a mix of casual and slightly dressier outfits. Aim for colors and styles reflecting their personality.
What kind of clothes should 12-year-olds wear?
When choosing clothing for 12-year-olds, it's important to strike a balance between comfort, age-appropriateness, and personal style. Here's a detailed guide:
Basics: Invest in staple items like jeans, leggings, and comfortable t-shirts. These pieces can be mixed and matched for various outfits.
Casual Tops: Opt for age-appropriate graphic tees, plain tops, and casual blouses. Avoid overly mature designs.
Bottoms: Choose jeans, shorts, and skirts that allow movement. Elastic waists or adjustable features can accommodate growth.
Dresses: Select dresses suitable for different occasions—casual playdates or slightly dressier events. Avoid overly formal styles.
Outerwear: Have a lightweight jacket, hoodie, and a versatile sweater for layering.
Activewear: Include comfortable activewear for sports, outdoor activities, or just lounging.
Footwear: Sneakers, casual shoes, and a pair of slightly dressier shoes cover various activities.
Accessories: Minimal accessories like a simple necklace, bracelet, or hair accessories can add a fun touch.
Colors and Patterns: Opt for a mix of neutral and vibrant colors based on their preferences. Consider their favorite colors.
Styles: Allow them to express themselves. Balance trendy pieces with classic styles.
Age-Appropriateness: Avoid overly revealing or mature clothing. Prioritize comfort and appropriate lengths.
Growth: Keep in mind that kids grow quickly. On average, children gain around 2.5 inches in height and 6 pounds in weight each year.
Comfort: Prioritize comfortable fabrics like cotton and stretchy materials. Avoid itchy tags or embellishments.
Seasonal Variations: Have clothing suitable for different seasons. Layering options work well for varying weather.
Personal Involvement: Involve them in the shopping process to ensure their clothing reflects their personality and style.
School Dress Code: Consider any dress codes the school might have when selecting clothing.
Functionality: Choose clothing that allows for movement and play. Kids at this age are often active.
Budget-Friendly: Kids outgrow clothes quickly. Opt for a mix of affordable and slightly pricier pieces.
Remember that 12-year-olds are developing their personal style, so allowing them to have some input in their clothing choices can boost their confidence and self-expression.
What Influence Does Fashion Have on 12-Year-Old Teens' Clothing Styles?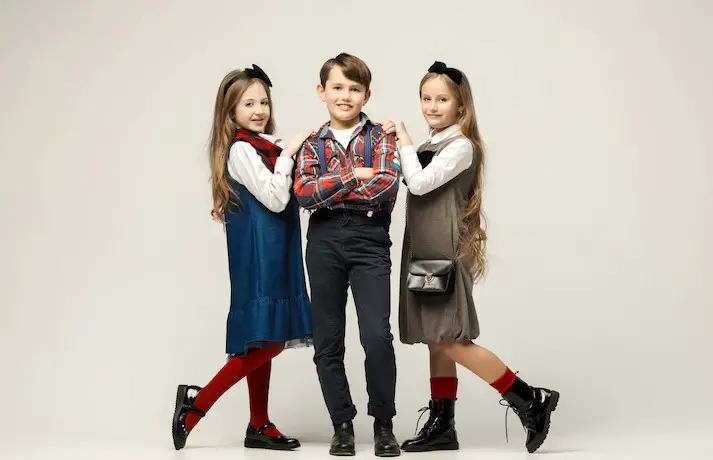 One of the fascinating ways people express their personality and character is via fashion. It's a fantastic approach to demonstrating your worth to others. Today, style is becoming an increasingly powerful instrument for people to communicate their messages. Thanks to its expanding popularity and impact, fashion is fast taking over the brains of young people who want to mimic whatever they see. 
Clothes are more than just items that keep us warm and dry; they help define who we are and what we value. Teenagers have always shown their passion through the style they choose to adopt, whether it's sport, music, art, or all three. Teen clothes are essential because we need to express ourselves and show off who we are at this stage of our lives. 
Things have changed so much in the previous 50 years, and there is so much inexpensive adolescent clothing accessible online at a discount. High-street retailers can still create a unique and powerful appearance that will leave a lasting impression on anybody who sees you, even on a tight budget.
What Makes Teen Fashion Clothing So Different?
Numerous factors influence teen fashion: music, television, films, sports, and even art can have a significant impact on the styles, colors, and designs utilized in teen clothing. Teenagers are intelligent; they know what they want and understand where cultural influences come from. 
From hip hop to grime, rock to dubstep, the clothes of various music scenes significantly impact how teenagers dress. Famous musicians' and vocalists' popular brands and styles are frequently a large part of every self-respecting music fan's outfit. 
Some of the most well-known musicians have their own clothing lines. Rihanna, Katy Perry, Jay-Z, and many more have effectively transitioned from music to the world of entertainment.
Teenage clothing isn't designed for the catwalk; it's designed for everyday use for style and functionality. Though every teen wants good clothes, they also need to be durable and long-lasting to wear at home, when out with friends, or at school or college. 
Fashion and function are no longer separate concepts. You can find a specific style that suits you and your friendship group without sacrificing the quality of the material used in the garments. Sporting equipment significantly influences urban and street fashion, so trainers are comfortable, and oversized jackets and snug hoodies keep us warm during cold days. 
What Should 12-Year-Old Teens Wear During Summer?
Summer staples include denim jeans, sleeveless shirts, flower designs, bright skirts, etc. The color scheme you chose should be specific to the season. Floral tops are ideal for summer since teenagers enjoy wearing bright and vibrant colors. 
For girls who enjoy wearing skirts, cropped skirts are a terrific option. For a unique and refreshing style, ensure you layer bright accessories on top of your dress top. Teenage girls' fashion is a diverse and colorful topic with various styles and colors. When it comes to teen fashion, there is so much variation that identifying one sort of dress as the season's defining ensemble is tough. Summer attire is soothing and pleasant.
Clothing Tips for Teenage Girls During Summer Season
Shirts and shorts are the most popular summer clothing items. They're also simple to combine. Denim shorts and skirts are the easiest to blend with shirts because denim goes with everything, so invest in a denim skirt or shorts for emergency plans if you need to dress up quickly.
Summer clothing must be bright and colorful. Although many teenagers favor black if they plan to spend a long time outside, avoid wearing dark colors or black because they absorb heat and make you hot and sticky.
Wear loose-fitting clothing that allows breathability to make you feel comfortable and light.
For regular wear, choose light hues. It will make you appear suitable and make you feel fabulous. Ensure you reserve dark colors for the evenings and nights.
Clothing Tips for Teenage Boys During Summer Season
As for teenage boys, your clothing's fit is equally as vital as its style, layering, colors, and everything else. Check to see if the clothes you're buying fit you! There are various outfits such as; 
Button Up, and Patterned Shorts: Shorts with a pattern are a terrific way to add a little style and vibrancy to your ensemble. Combine this with a well-fitting, short-sleeved, breezy button-up for the ultimate summer style!
T-shirt and Shorts: During the summer, a pair of shorts and a T-shirt is a simple and informal outfit that you can wear almost everywhere. This isn't your average pair of shorts or a T-shirt. These are comfortable to wear, and the colors complement each other nicely. The addition of a snapback hat to this ensemble completes the look and gives it a youthful and lively vibe appropriate for a youngster.
Floral Shirt and Jeans: If the weather permits, pairing a pair of jeans with a floral blouse is stylish and comfortable. Choosing a shirt with a delicate floral, fruit, or colored design is always a good idea in the summer. Again, baggy Hawaiian shirts are not permitted! To show off your ankles and keep cool, cuff (roll-up) your pants a little. Adding some style to your shirt sleeves is also a good idea.
Short Sleeves and Chinos: Chinos are an essential item in your wardrobe. When it's hot outside, it's a terrific alternative to jeans. On top, a simple, well-fitting tee looks excellent with chinos. Summertime is a perfect time to wear blue and white. With a watch, a snapback, and white sneakers, you may complete this trendy ensemble.
What a 12-Year-Old Teen Wears During Winter (Suitable for Both Boys and Girls)
Young girls adore dressing up and are constantly looking for fashionable outfits. However, in the winter, finding such items becomes a challenge. Wear jumpers, sweaters, and coats when the temperature drops below freezing to protect oneself from the cold. 
Winter clothing can be tedious, especially if you're often going and need something new. Changing the way you style an outfit is one method to make it more versatile. Over your jacket or woolen shirt, you can wear a scarf around the neck. 
You can also wear a jacket over a blouse and accessorize with a bold necklace. You can accessorize the outfit with any contemporary piece of jewelry to give it a new look. 
Finding some beautiful things for winter won't be difficult for a twelve-year-old teen. There are different alternatives to pick from. Here are some basic and easy techniques and tricks to take your outfit to the next level:
Clothing Tips for 12-Year-Old Teens During Winter
In the winter, leather coats and hoodies are the most popular choices. 
Wear a jacket to keep warm, but they can also make a fashion statement.
Keep up with the most recent cuts and designs.
Woolen sweaters have recently become fashionable. Wear them with a pair of distressed jeans for a laid-back look.
Sweaters and Blazers made of cashmere are also excellent for the winter season. For a unique style, pair them with patterned trousers or embroidered jeans.
Nothing beats a patterned or knitted scarf for style. Ensure you take this opportunity to stock up on some of the most popular types.
 The age of 12 is when the teens are testing out of curiosity and risk. It is a fact that we must face the messages that clothing sends. While some parents feel their daughters should dress as they wish, others disagree, arguing some outfits are too skimpy, too short, or not age-appropriate.
 Parents teach their children how to dress for different occasions, such as a friend's party versus lunch with Grandma. This isn't only about the women, and it isn't just a sexualized issue. Parents have discovered that society has preconceived notions about how we dress. There are stereotypes about females wearing certain things, just as there are stereotypes about boys wearing tracksuits or adults wearing pajamas to the store."
One way teenagers work out "individuation" is by creating their own identity and "detachment," The changing relationship with their parents as they become more autonomous is through clothing disputes.
References:
https://www.quora.com/What-are-some-pretty-outfits-for-a-12-year-old
https://www.wikihow.com/Dress-a-12-Year-Old