Last Updated on September 5, 2023 by Reiner Chase
To achieve a grunge style, combine distressed denim, band tees, and flannel shirts. Opt for dark, muted colors. Incorporate combat boots and layering. Roughly 90s-inspired, this look thrives on a mix of rebellion and nostalgia for a distinctive and timeless fashion statement.
What is a Grunge Dressing Style?
The grunge style is all about feeling comfortable and looking effortless. It's about mixing different pieces to create an extensive and unique look. The key to securing the grunge style is to mix tomboyish pieces with more feminine items.
Think ripped jeans, flannel shirts, and Converse sneakers paired with lace dresses or skirts. Mix masculine elements like leather jackets and aviator sunglasses with more girly attire like flowy tops, layered necklaces, or chunky jewelry.
To achieve this style, you'll need to be willing to spend some time browsing through racks of clothes at vintage stores or secondhand shops for that perfect item that will work for your new wardrobe.
The most critical element of the grunge look is authenticity; it can't just be something you bought from a store; it has to come from your heart!
The 10 Must-Have Grunge Clothing Pieces
Regardless of whether you are a college babe or a modern mom, you must have the following clothing pieces if you desire to go the grunge-style way:
Flannel shirts.
Baggy jeans.
 T-shirts with band logos.
 Oversized sweaters.
 Doc Martens.
 Jean jackets.
 Concert tees.
 Plaid skirts.
 Khaki pants.
 Combat or black leather boots, dark nail polish, Black lipstick, and dark eyeliners.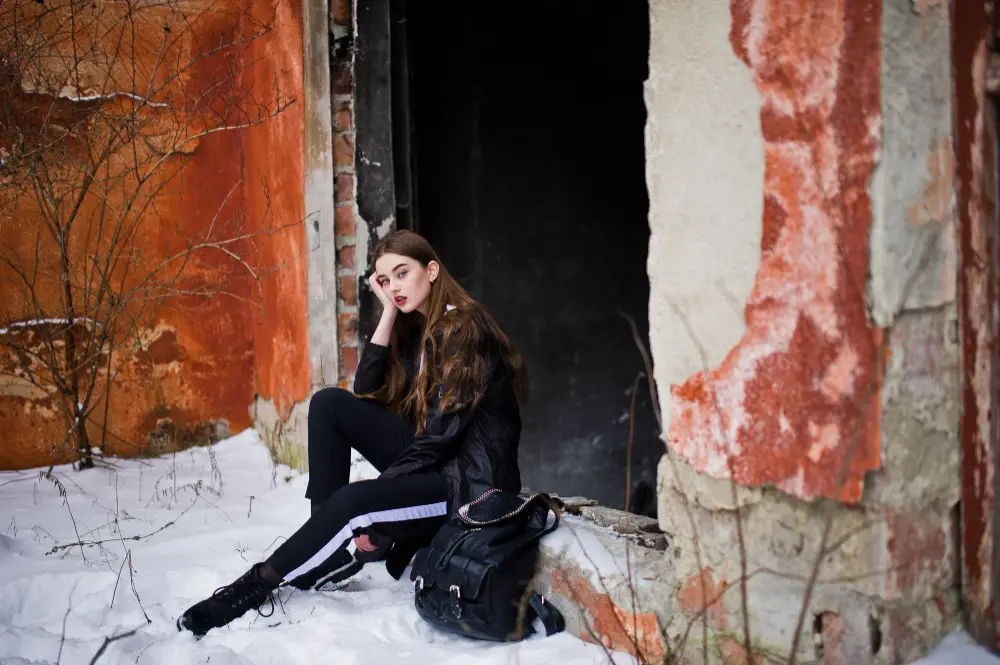 A Guide to Dressing in a Grunge Style: Step-by-Step
Step 1: Choose Your Grunge Clothing Items
When you think of grunge fashion, a few essential items probably come to mind: flannel shirts, ripped jeans, Doc Martens, and chunky sweaters. But you have lots of other options available.
You can mix and match different pieces to create your unique grunge style. Here are ideas to get you started:
Lose the dress shoes in favor of slippers or boots.
Tuck the shirt into the skirt or shorts instead of wearing it out.
Go with an oversize shirt that's tucked into some high-waisted jeans.
Try a suit jacket overtop a turtleneck sweater and a blazer combo.
Step 2: Know Where to Wear It
While the grunge style can be adapted to any clothing, there are certain places where it works best. For example, you wouldn't wear grunge clothing to a formal event or business meeting. However, it's perfect for days spent hanging out with friends, concerts, or running errands.
When in doubt, just ask yourself if the outfit looks like something a 90s grunge rocker would wear. If so, then you're good to go!
Step 3: Find the Confidence
Now that you have the proper clothing, it's time to find the confidence to rock your new look. This may seem the most challenging part, but it will be a breeze once you start. Here are a few tips:
Start by wearing your grunge clothes around your house. Get used to the way they feel and how you look in them.
Find a friend or family member who is also into grunge fashion and go out together.
Check out some grunge fashion blogs or Instagram accounts for inspiration on how to style your clothes.
Most importantly, just be yourself! The best way to feel confident in any situation is to be yourself.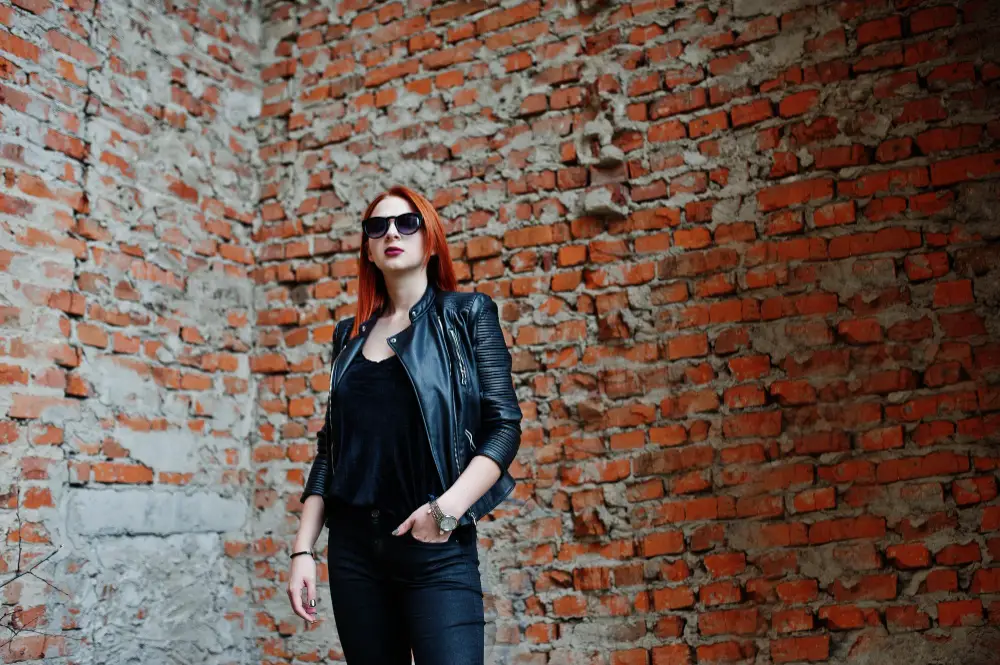 Step 4: Add Some Accessories
If you want to go for a grungier look, add some accessories. Boots are always a good choice; ripped tights or fishnets can add an edgy touch. Layer necklaces of different lengths, or try wearing a choker.
If you have any piercings, now is the time to show them off! Don't forget about hats – beanies, and fedoras are perfect for this style. Don't hesitate to experiment with new looks by adding these items to your outfit. It's a great way to spice up your wardrobe!
Step 5: Start Being Grungy
You can't wake up and decide to be grungy. It takes time, effort, and a lot of practice. Start by wearing comfortable clothes that you don't care about. That way, if you get them dirty, it won't matter.
Once you have the right attitude, the rest will fall into place. Next, start changing your hairstyle. There are many ways to create a grunge look with your hair, including dyeing it black or brown and giving yourself choppy layers.
Finally, dress in clothes that aren't too tight or too revealing; wear baggy pants or jeans and t-shirts without any logos.
How to Style Your Hair for a Grunge Look
Grunge represents individuality, rebellion, and free spirit. Known for its laid-back vibe, this 90s-inspired trend continues to impact various aspects of today's fashion, including hairstyles. This article will explore 7 ways to style your hair for a grunge look:
1. Messy Updo
A messy updo is the standard in grunge hair fashion. The carefree essence of grunge style reverberates in this casual hairstyle that appears effortlessly chic.
Start with dirty or unwashed hair to get the optimal messy effect.
Loosely gather your hair at the back, twist it around, and secure it with bobby pins.
2. Voluminous Curls
Voluminous curls offer a charmingly chaotic aesthetic that fits right into the grunge genre.
You can achieve this look by loosely curling your hair and teasing it for volume.
A spritz of hairspray can provide the desired hold.
3. Dreadlocks
Not just a symbol of Rastafarian culture, dreadlocks also fit nicely into the grunge trend.
Be mindful; this hairstyle requires a long-term commitment.
Regular maintenance is critical to ensure these locks remain neat and healthy.
4. Shaggy Bob
Streetwear and grunge fashion often feature the shaggy bob. Its uneven layers help create a rugged yet stylish look.
Start with texturizing your hair for the messy effect.
Ask your hairdresser for choppy layers to get the perfect grunge bob.
5. Crimped Hair
Crimped hair is another classic grunge look. Its eccentric texture play is quintessential to the grunge style.
Use a crimping iron to achieve this look.
Spritz some hairspray for lasting hold and shine.
6. Long and Straight
Consider this if you prefer something more low-key. A basic, long, and straight hairstyle radiates grunge vibes when styled correctly.
Use a straightening iron after blow-drying to ensure perfect straightness.
Keep it slightly undone for an effortless grunge vibe.
7. Pixie Cut
The pixie cut exudes rebellion commonly associated with grunge fashion, despite being considered more punk than grunge.
This cut works best on round face shapes.
Shaving or undercutting one side can amp up the edginess.
The essence of grunge is not conforming to pre-set beauty standards. So feel free to experiment and adapt these styles according to what feels right for you. After all, fashion and hairstyling are all about personal expression.
Cute Grunge Styles for Moms
Are you a mom who wants to create a grunge style? You can do it! With the proper clothing, you can create a stylish and edgy look. Here are some tips for making your unique grunge style:
Grunge Style for a College Babe
You must've seen those girls on campus with ripped jeans, oversized flannels, and Doc Martens. They look fantastic like they just rolled out of bed in a terrific, effortless way. Here are some tips if you're wondering how to get that grunge style for yourself.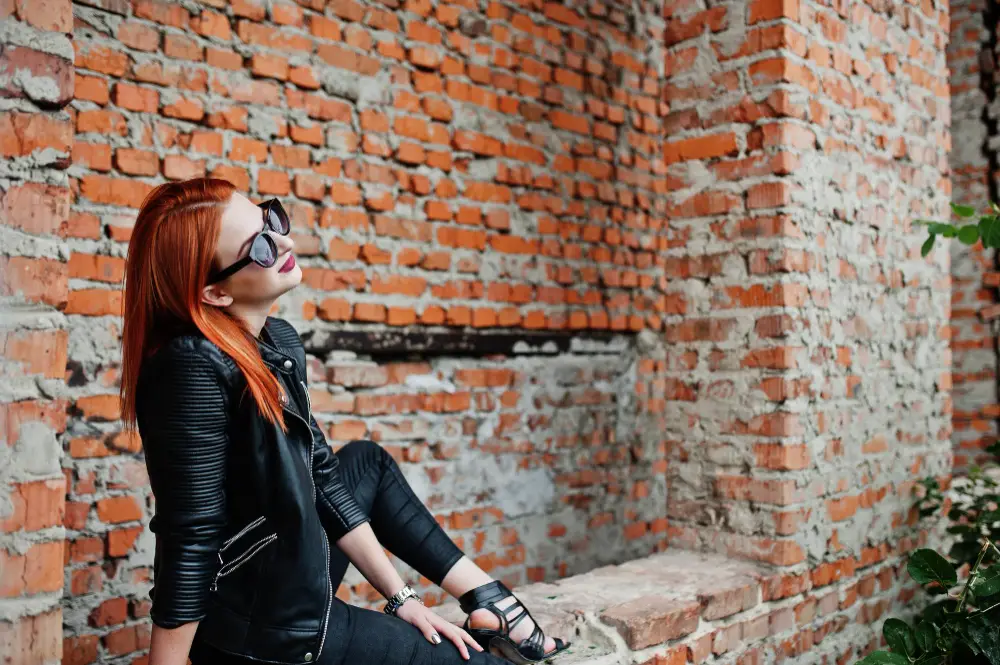 Start with the basics: ripped jeans, flannel shirts, and Doc Martens. These are the essential pieces for any grunge outfit. Once you have these items, you can experiment with different ways to wear them. For example, try layering your flannel over a t-shirt or under a dress.
Now get creative with the clothes you're wearing! To make a grunge outfit, all you need are dark colors that are usually too dressy for everyday wear (e.g., black and navy blue). Add tattered jeans or leggings and boots; try mixing layers such as t-shirts under sweaters; experiment with accessories such as chains, studded belts, combat boots, ripped denim jackets, and many bracelets.
If you're feeling adventurous, go for a layered look that includes ripped-up jeans over dresses, tights (or leggings), skirts, or shorts, all in different styles and fabrics.
Try mixing and matching different pieces until you find what works for you.
Punk Fashion Versus Grunge Fashion
| Punk Fashion | Grunge Fashion |
| --- | --- |
| Demonstrates rebellion and defiance. | Emphasizes comfort and individuality. |
| Known for its leather jackets, studded belts and band t-shirts. | Mainly consists of flannel shirts, band t-shirts and loose jeans. |
| Heavily influenced by BDSM aesthetic, incorporating latex or vinyl materials. | Derived from thrift shopping which incorporates 'everyday' apparels with an unkempt look. |
| Bright colors and loud prints are often involved. | Mostly hinged on neutral or darker tones like browns, greys, blacks or earth shades. |
| Boots, creepers, or other non-athletic shoes are common footwear. | Vans, converse, or combat boots represent grunge footwear. |
| Punk fashion often has distinct hairstyles such as mohawks, brightly dyed hair or with eccentric cuts. | Grunge hairstyles are often kept simple, relatively long or messy symbolising its laid-back approach. |
| Piercings and tattoos are widely popular in the Punk community. | The Grunge culture does not greatly emphasize on body modification. However, few may sport simple but meaningful tattoos or piercings. |
Evidently, both punk and grunge fashion tell different stories. Punk fashion is more about rebellion, eccentricity and challenging norms, while grunge fashion leans towards being functional, comfortable and maintaining a carefree yet individual style.
The Bottom Line
While the grunge style is not as popular as it was in the early 1990s, it has come back in recent years. Keeping a few things in mind to create a grunge style with your clothing would be cool. First, comfort is vital. This means you should choose clothes that are comfortable and easy to wear. Second, layering is essential. You'll want to layer different pieces of clothing to create an exciting and unique look.
References 1: https://www.belletag.com/fashion/style-guide/grunge-style-tips
Reference 2: https://www.wikihow-fun.com/Dress-Grunge